By Alex Trukan
This practice is designed to improve the quality of high intensity actions, developing speed and power to accelerate. It is relevant for all the positions, in particular, defenders (e.g. accelerating towards the ball played in behind) or strikers (e.g. getting away from defender). It has also a technical element of turning as well as shooting. For the players it is highly engaging and fun game that develops them physically, psychologically as well as technically.
Set up and Directions
Position two goals with the back to each other, 5 yards apart. Organise goalkeepers into goals. Divide the team into two groups, and set them next to the goals (half on one side, half on the other side). Prepare a good supply of balls in both goals. Put two cones at the end of each area as shown on the diagram below.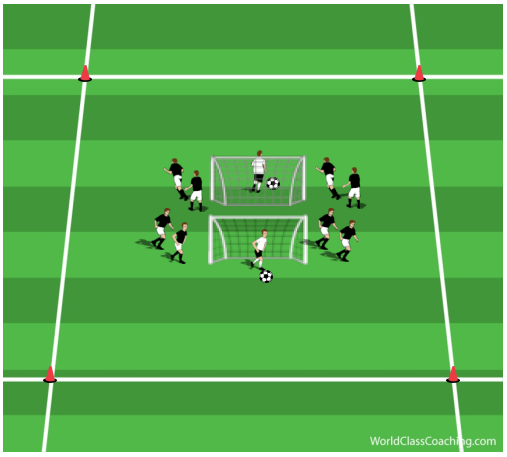 The game starts with a goalkeeper (two at the same time) playing the ball forwards into the central area, making sure it doesn't go out of play straight away.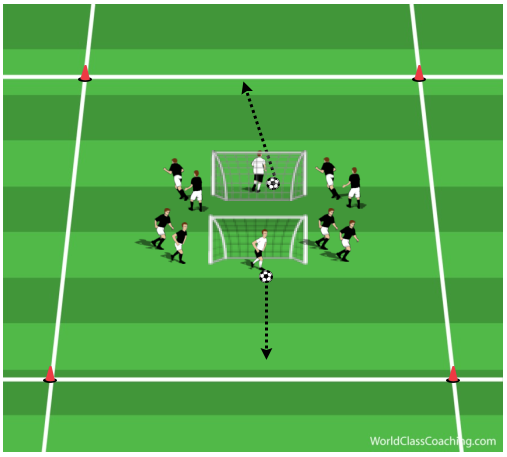 As the ball is played, two players, one from each side, spring to the ball and compete for it. It is crucial that players start as the goalkeeper makes a touch to pass the ball. Coach should monitor that.
[wpsharely id="1886"][/wpsharely]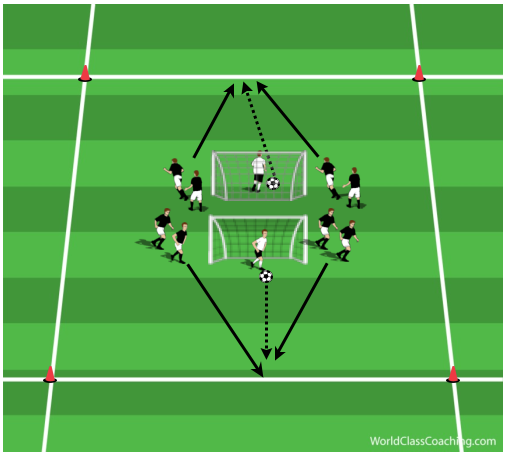 First player to the ball becomes attacker, and second one will need to defend. The challenge for the players apart from winning a sprinting duel is to turn away from the defender and score a goal.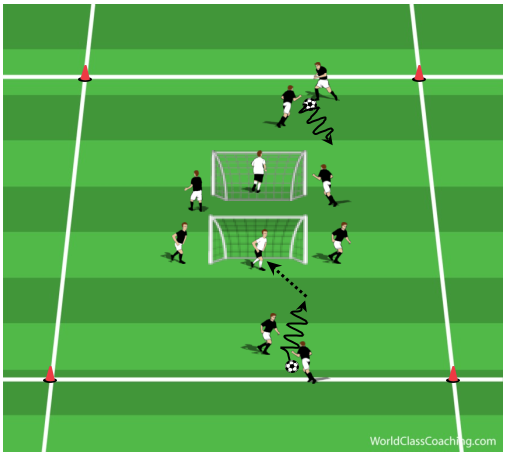 Timing
Each player should perform a duel 4-6 times in 1-2 series. The resting period between repetitions is 1 minute and between series – 4 minutes.
Variations
Increase/decrease the size of the area (will affect physical outcomes)
Attack the opposite goal
2v2
By Alex Trukan, Development Coach, Nottingham Forest