By Stevie Grieve, Author of Modern Soccer Tactics
On Wednesday 7th May 2012, Arsenal played AC Milan at the Emirates Stadium, London, needing to pull back a 4-0 deficit from the 1st leg in the San Siro, Milan.
Arsenal knew several things would need to happen if they were to claw back a 4 goal deficit, and force Extra Time, or do the unthinkable and win 5-0.
AC Milan have a very bad night and take the win for granted
Hope Ibrahimovic and Robinho have an off night
Arsenal play at their best level for the whole game
Score early, and hope for at least 2 goals in the 1st half to make AC Milan nervous
Arsenal scored on 7 minutes via Koscielny, Arsenal played at their top level for 70 minutes, AC Milan played terrible for the 1st half, and Ibrahimovic and Robinho looked less than interested in playing a game they felt was already won in Milan. Arsenal played very well but the lack of match winning players on the bench meant that the game ran away from them at 3-0 needing a 4th goal with no real quality to bring on. They went out, but had chances to get the 4 goals they needed in the 1st half – they got 3 of them – and had a few bad passes and decisions in the final 3rd when a chance was on to score. I will look at one of the glorious chances Arsenal passed up from a combination of a bad decision, poor quality pass and when the play was retrieved, a final pass was a let down.
Tomas Rosicky receives in the final 3rd, 2v1 on last defender.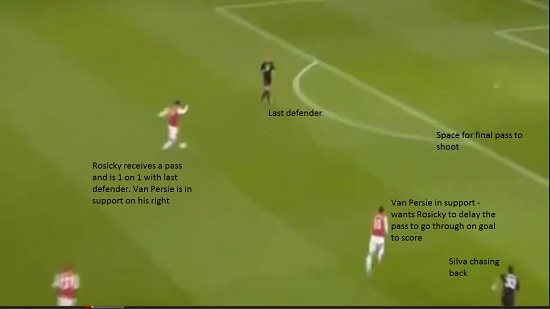 Bad Decision and a Bad Pass: Rosicky plays an unnecessary 1st time pass to Van Persie, and this prevents RVP from receiving a pass away from the defence and leaving him clean through on goal with no recovering defenders in the vicinity. RVP wants to penetrate the defensive line to score, but the bad pass stops this from happening.
Good Decision: If Rosicky takes a touch, and brings the last defender out to the ball, the pass for RVP to run through and score would've been easy for Rosicky to weight and direct and this would've been more beneficial for RVP.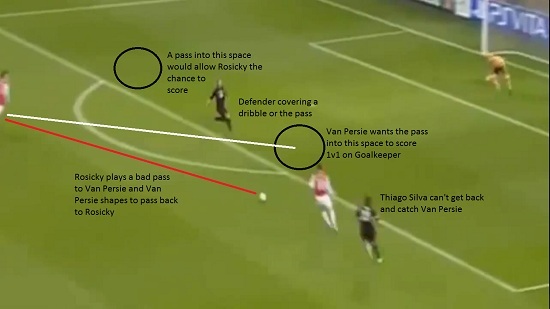 Bad Pass: Van Persie wanted the ball into the space circled, either 1 touch or 2 touches from Rosicky. As the pass is well away from RVP's stride and with Thiago Silva recovering, but unable to catch Van Persie, he plays it back to Rosicky 1st time, to keep the speed of the attack high to punish AC Milan for being caught 1v2 in defence.
Good Pass: Rosicky wants the pass into the circle to penetrate the defensive line – like RVP previously – but RVP plays a bad pass behind Rosicky.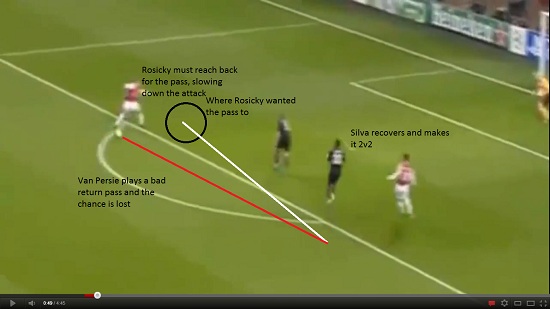 The ball is passed behind Rosicky and Thiago Silva is able to recover and cover the centre, it's now 2v2 and the advantage Arsenal had is now gone. If the ball is passed into the circle, Thiago's recovery is irrelevant with Rosicky 1 on 1 with the goalkeeper.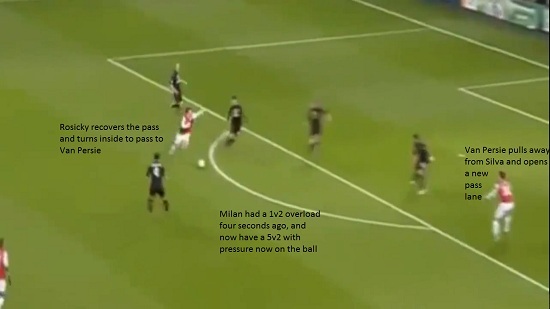 As Rosicky has to reach back for the ball and turn away from pressure, the AC Milan defence recovers in the 4 seconds between the bad passes. They now have a back 4 and covering midfielder. Again, Arsenal has a chance for a final pass from Rosicky to Van Persie for a chance to score.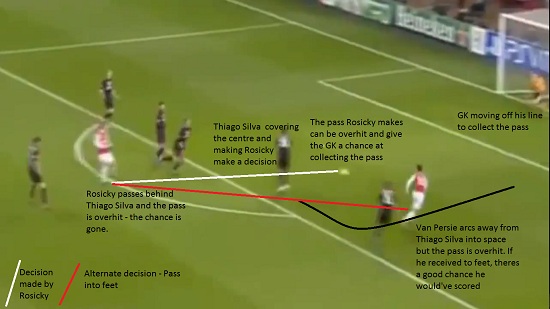 Rosicky manages to turn away from pressure and must make a decision – shoot himself, pass between 2 defenders for RVP to run onto, or pass directly into RVP's feet.
Rosicky made the hardest pass his decision and the chance was lost as RVP had to slide in for a 50/50 challenge with the goalkeeper which was always going to be given as a free kick to AC Milan.
In my opinion, had Rosicky made the best decision – Passing directly into Robin Van Persie's feet, Arsenal would've had a chance to score, and with the form RVP has been in for the past 18 months, a goal was inevitable. This chance was at 1-0, with about 20 minutes played. Arsenal scored through Rosicky on 27 minutes for 2-0 and Van Persie (penalty) for 3-0 at Half-Time. One can only wonder that if at 20 minutes the score had been 2-0 and Arsenal playing with intensity and momentum, could they have achieved the 4-0 win they wanted to stay in the Champions League? We will never know. I'm happy that as a Gooner myself, they went out of the competition with some pride re-gained.
This article shows us that, at any level of football, under 8s (4 a side), under 12s (7 a side), under 17s (11 a side), Amateur, Professional, or International Level, the final decisions around the goal are the ones that decide matches, and in this situation, we have shown bad decisions, poor execution and the consequences of not taking a clear chance when it arrives.
Stevie Grieve
This article is by Stevie Grieve, author of  Modern Soccer Tactics. and is actually an article from these books.  So if you like this type of article, then check out the books for lots more.