By Stevie Grieve, Author of Modern Soccer Tactics
On Wednesday 7th May 2012, Arsenal played AC Milan at the Emirates Stadium, London, needing to pull back a 4-0 deficit from the 1st leg in the San Siro, Milan.
Arsenal knew several things would need to happen if they were to claw back a 4 goal deficit, and force Extra Time, or do the unthinkable and win 5-0.
AC Milan have a very bad night and take the win for granted
Hope Ibrahimovic and Robinho have an off night
Arsenal play at their best level for the whole game
Score early, and hope for at least 2 goals in the 1st half to make AC Milan nervous
Arsenal scored on 7 minutes via Koscielny, Arsenal played at their top level for 70 minutes, AC Milan played terrible for the 1st half, and Ibrahimovic and Robinho looked less than interested in playing a game they felt was already won in Milan. Arsenal played very well but the lack of match winning players on the bench meant that the game ran away from them at 3-0 needing a 4th goal with no real quality to bring on. They went out, but had chances to get the 4 goals they needed in the 1st half – they got 3 of them – and had a few bad passes and decisions in the final 3rd when a chance was on to score. I will look at one of the glorious chances Arsenal passed up from a combination of a bad decision, poor quality pass and when the play was retrieved, a final pass was a let down.
Tomas Rosicky receives in the final 3rd, 2v1 on last defender.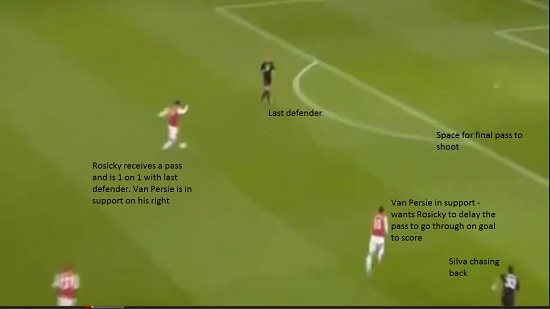 Bad Decision and a Bad Pass: Rosicky plays an unnecessary 1st time pass to Van Persie, and this prevents
Continue reading