By Stevie Grieve
One of the main benefits of playing with a 4-3-3 or 4-2-3-1 is that you can have a high level of flexibility using the 5 players in the midfield. We regularly see teams who like to press playing almost a man-man marking system, particularly in central midfield, where most attacks are constructed.
Another advantage is that defences are best protected via defensive triangulation between defence and midfield when close to goal, which covers most angles and forced 1v1 dribbles to make penetration opportunities.
Porto Midfield man-marking system
Here, Porto play 1v1 all over the field, meaning that 1 player is free from each team, so when Napoli are in possession, it is predictable as only 1 player is free and everyone can recognise this. This scenario will likely trigger pressing movements, or a withdrawl to force the free player to find a difficult pass, especially as everyone will be marked.
Porto withdraw defence – compact spacing - making play predictable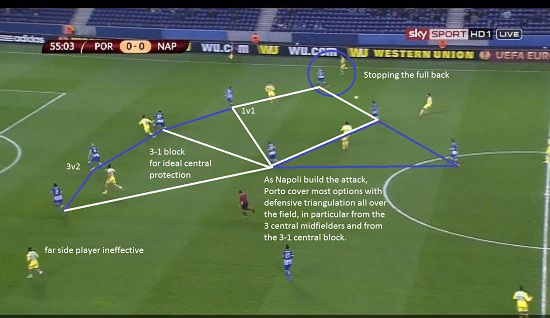 As the player in possession has no passing options, he chooses to take the far side switch option, who is ineffective when he is pressed quickly form the full back before the ball is received.
Defensive triangulation in a low block – containing play - forcing play back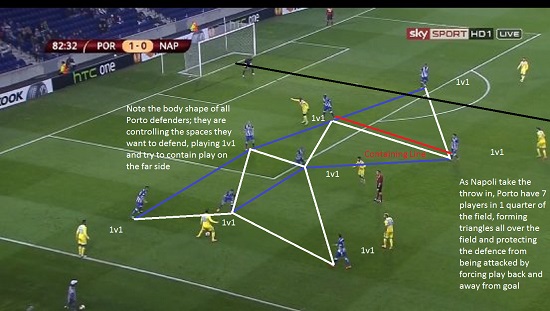 Here, Napoli have possession in a high, wide area. Porto press quickly with several players in close proximity to each other, making it difficult to break through the midfield line, protecting the defence
The body shape of the Porto players helps dictate the direction of the ball, the 1st player pressure is to force play back, the inside cover id ready to intercept any pass inside, while the 3rd central midfielder (red line connected with far side center back) is ready to press from behind and contain play on that side of the field.
By Stevie Grieve. (Follow on Twitter @steviegrieve)  Stevie is also the author Coaching the 4-2-3-1 and Coaching the 4-2-3-1 Advanced Tactics
[wpsharely id="2988"][/wpsharely]