By Dan Severn
The role of the defensive midfielder keeps evolving, but one key job that remains a major part of the role is to protect the central defenders. Defined in two major ways, the defensive midfielder can be a player that seeks out the danger and presses centrally to win the ball (think Claude Makelele at Real Madrid, N'Golo Kante at Leicester City), or a player that sits and protects (think Javi Martinez at Bayern, Xabi Alonso at Liverpool) by cutting off passes toward the striker, cutting off space for midfield dribblers and even dropping in as a center back when defenders get dragged out of position. Both variations of this role are typically included as part of a 3-man midfield, or even at the base of a diamond midfield.
We are going to look at the positioning of the defensive midfielder in key moments to see how they would typically show good protection for their center backs.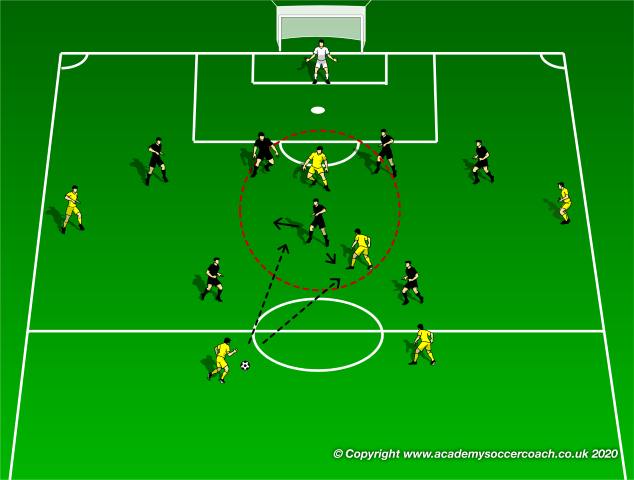 Here we see the striker for the opponents (yellow) working for space in and around the center backs. Our defensive midfielder sits centrally, listening for calls from one of the center backs or perhaps even on a half turn, so they can keep an eye on the strikers' movement. They shift across to screen a direct path for the ball to get to the strikers' feet, making the opponents either play elsewhere, or try to force a very difficult pass, which should be easy enough to cut out (as shown above). If the opponent chooses to play into the attacking midfielder instead, then our defensive midfielder should also be within good proximity to press right away.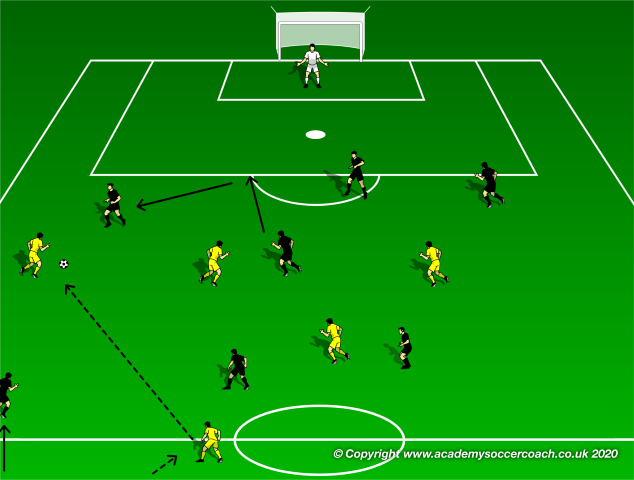 In the second image, we see a common scenario in the modern game in which our outside defender (right back, in this case) has been caught too high up-field and the opponents have hit a quick counterattack into that space. This quick attack has caused our center back to drift out wide to go and plug-the-gap left by our marauding right back, leaving further holes centrally. In this scenario, we expect our number 6 to go and fill the space left by our right center back. This helps our left center back keep better positioning (not having to have them go too far across to cover). Taking up this covering center back role needs good communication (from, and to, players around) and an acute sense of danger.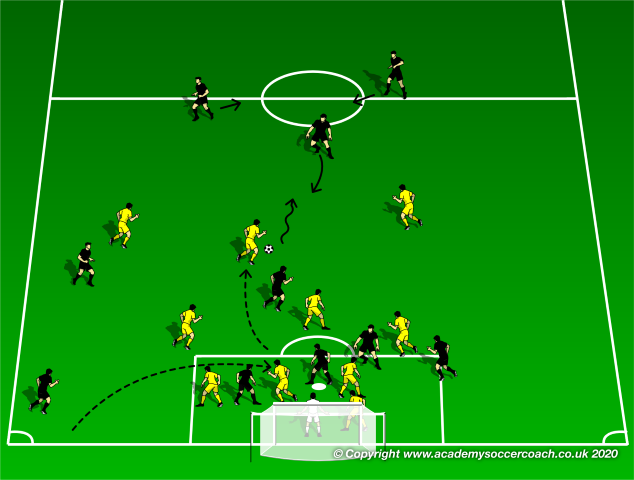 Lastly, above we see the need for our defensive midfielder to cut off space for opposing midfield dribblers to break into. In this instance, our defensive midfielder is helping to defend a counterattack after a corner kick and only has the outside defenders behind to act as cover. If the covering defenders stay narrow as shown, this limits the space for the breaking midfielder to dribble into and helps our defensive midfielder slow the opponent down. It is then the job of the defensive mid to try and guide the opponent to one side or the other (deciding where to allow a little space), whilst looking for opportunities to step in and win the ball!
Dan Severn has over 16 years coaching experience in both the USA and England.  He has the United Soccer Coaches Premier Diploma and has taken courses with the Deutscher Futball-Bund (DFB).