HOW THE MATCH WAS WON by Keith Scarlett
FIFA 2014 World Cup, Brazil
Monday, 30 June, 2014
Germany 2 v 1 Algeria
This second-round elimination match was another game of an underdog impressing and showing better form than the favourites, but still being sent home late after being punished for not taking their chances. Algeria entered this match with high hopes and the entirety of the African continent and the Arab World resting upon their shoulders. They weren't the normal minnows swimming in a passive shark tank, but instead more like just born barracudas who employed an attacking approach leaving many admirers in their wake. Unfortunately for the North African side, it ended-up being a less than impressive German side who took the chances the Algerians didn't and in turn; proceeded to the quarter-finals.
Prior to this match it was being built-up as possibly one of the more one-sided fixtures to ever come around second-round of the modern World Cup format. However, what took place over the 120 minutes was nothing short of amazing.
Germany were the highly favoured side and in the end they did claim victory but in truth, the result was in doubt for a good portion of the 120' and could have easily gone the other way, especially if Vahid Halilhodzic's men been more clinical in front of goal.
For the Northern African outfit, chances came and chances went. Sofiane Feghouli, Islam Slimani and El Arbi Hillel Soudani each had opportunities to break the deadlock in a performance that was the epitome of the Algerian spirit.
As the match continued on and with neither side able to produce a winning-goal; largely thanks to an inspired second-half performance from Rais M'Bohli in-between the Algerian posts, the match was poised to run over into an exciting half-hour of extra-time.
Algeria's missed chances proved to be key as Andre Schurrle and Mesut Ozil put the Germans up 2-0 in Porto Alegre.
Abdelmoumene Djabou netted a late consolation for Algeria; a just reward for battling the mighty Germans until the end.
Here's what I thought were the major tactical aspects that played a role in the outcome of this match. What are your thoughts? Please let me know what you think and what other tactics you think were a factor in this match in the comments section below.
Germany's backs were full of issues
One thing that has been consistent from their opening match of this World-Cup all the way through to this knock-out round contest was the fact that Germany's defensive back-line had four players who all were self-preferred centre-backs lined-up across the board – all. However, against Algeria, this consistent back four would have to change. Hummels would be out of this match with the flu and Shkodran Mustafi would be brought in for him.
Germany's problems began before the match even started when they chose to deploy a 4-2-3-1; or a 4-3-3 with four centre-backs; if you'd prefer. This placed Shkodran Mustafi into a position where he would be forced to go forward quite a bit – too much actually – for his own capabilities. This left the German backs unevenly spread out with a slow "right-back" who didn't possess the ability to track-back and defend properly.
Here he is just 111 seconds into the match already pressing forward and leaving space behind to be "potentially" exposed. A PRECURSOR FOR PROBLEMS LATER IN THE MATCH?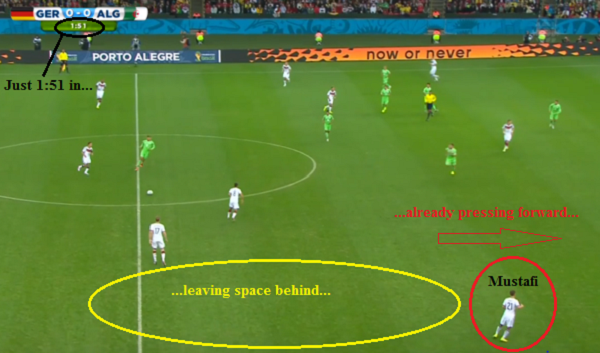 This was a rather strange move on Germany's behalf because, first: the Germans had Boateng available; someone whom is more than capable of playing the right back role. Inserting him there and then shifting Mustafi into the centre of the defense would have been the logical thing to do. Löw's decision bewildered many and his reluctance to make this change despite seeing the success of Algeria's attacks down his right side continued to make observers scratch their heads. What made his decision even stranger was the fact that he opted to play arguably the best right-back in the World, Philipp Lahm, in the centre of the midfield despite the above problems. Germany are in no way short of central midfield personnel, so the question I pose is why play Lahm there while your defense is so compromised?
Germany had to think they were facing a World Power when Algeria entered the final third?
The following graphic shows all of Algeria's passes into the final third and where they originated from: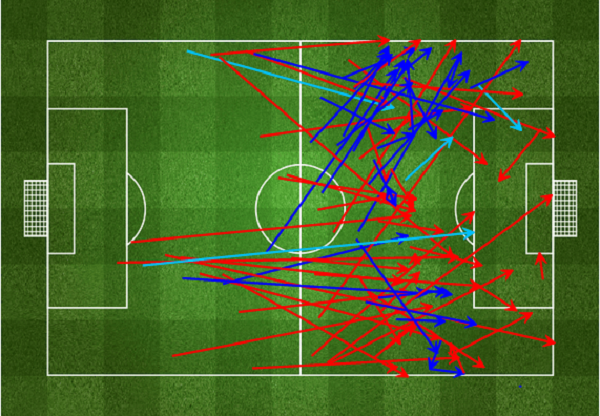 The Algerian's exposed a major weakness in the Germanic tribe; they are vulnerable to the long ball and Löw will have to look for a way to defend against that going forward. In the next image we see Jérôme Boateng get burned badly by an Algerian long ball and Neuer is once again the one who has to make sure that his side isn't punished by that long ball.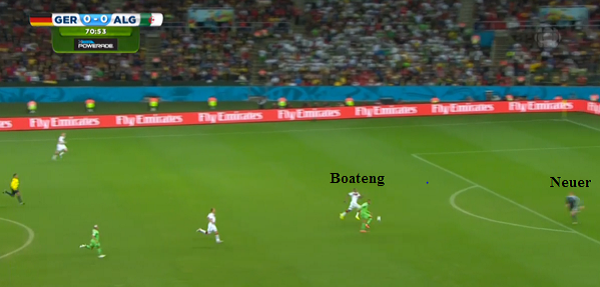 Even though the above image isn't really conclusive, there was a clear tendency from Algeria to attack down their left-flank due to the fact that they had identified an obvious weakness on that side of the German park. Putting a central defender at right-back and hoping he defends just isn't that simple at this level of the game. The whole methodology of reading the game from a central position is different to the same from that of out-wide. Löw never seemed to even look to change the system given the lack of natural outside backs. Howedes and Mustafi were required to get forward as much as any outside back would which just proved to be more and more difficult as their inability to balance out forward runs and tracking back was easily exploited by Algeria.
Case in-point: Even though he is receiving quality passes while out on the right side, Mustafi continues to consistently make mistakes with the ball. This simple back heel interception by an Algerian defender is one example of a horrible one. First; we have the poor pass from Mustafi: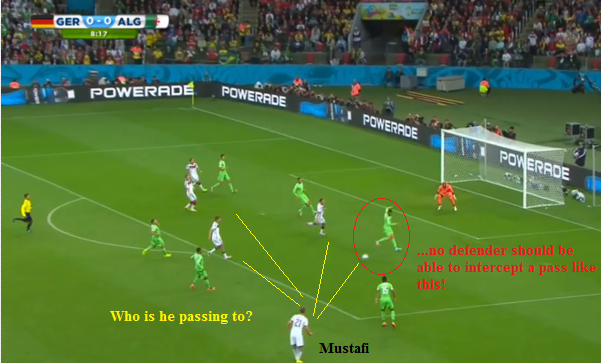 Second; Mustafi's lack of ability to win the ball in a one-on-one situation…AND…in an advanced position, I might add: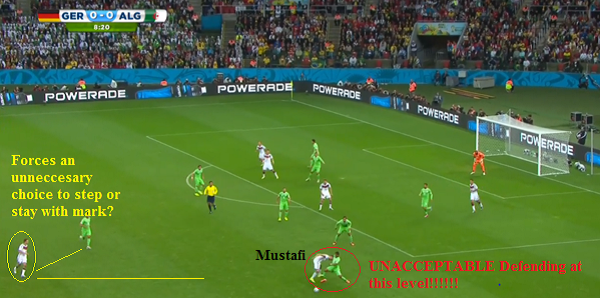 Third; the ensuing counterattack that a bunch of centre-backs are unable to contain: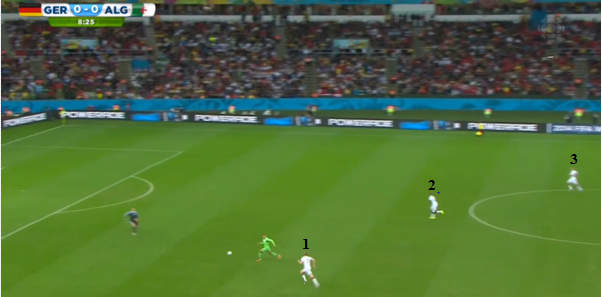 …and finally Fourth; Manuel Neuer has to intervene. One of what was many for what was quite the busy outing for one of the best keepers in the world: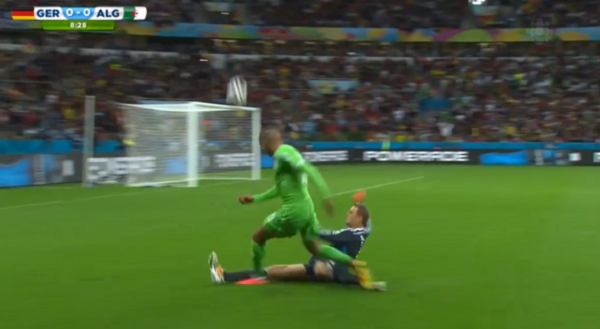 Neuer's role crucial in preventing Algeria attack
Germany's keeper Manuel Neuer put in one of the more remarkable performances of this match. However, what was different about his performance than the rest of the tournament where the goalkeeping has been top-level was on this occasion, Neuer was praised for his outfield play more-so than his work between the sticks. In truth, he effectively added himself as the 5th player in Germany's defence.
His role as a sweeper was particularly useful in this match because the Algerian attack proved to be quite a bit quicker than the four Germans defending ahead of Neuer. There were many times the Algerians played a ball either through or over them and looking increasingly threatening.
In fact, when we take a look at the following graphic of Manuel Neuer's passing chart we wold be hard-pressed to tell whether it was that of a goalkeeper or a deep-lying centre-back (i.e., sweeper)?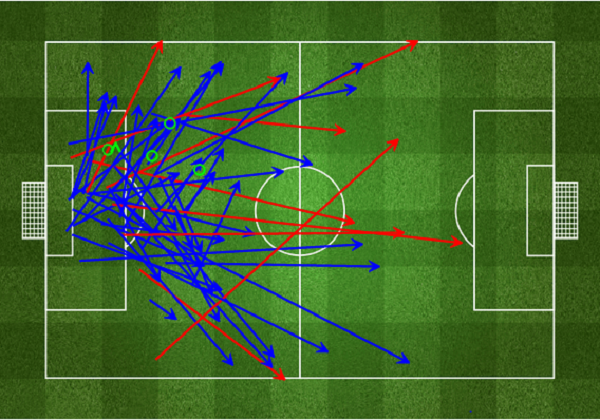 As a statistical fact, in this match Manuel Neuer completed more passes than the aforementioned Shkodran Mustafi, attacker Mario Gotze who started the game and Andre Schurrle who would go on to score the game-winning goal in extra time.
It's not very often that we see goalkeepers off their line this far as and as consistently as Neuer played in this match. However, not doing so would have easily allowed an Algerian attack to materialize given how fruitful they were finding ways to get in behind the German defense.
Defense wasn't the only issue the Germans had to overcome if they wanted to top Algeria in this match. With Muller all alone up top, it was imperative for Mario Gotze and Ozil to provide the support and aid Schweinsteiger in providing the hitman in attack.
For some reason there was a lot of hesitation in Germany's passing game against Algeria. An example of this shows in the next image where three German players hang back while leaving Schweinsteiger isolated in a 1 vs. 5 situation in the middle of the pitch. In addition, Mustafi is also cut off from the play. This hesitation makes it difficult for Germany to advance the ball because in order to send the ball forward, they will need extra support in most areas.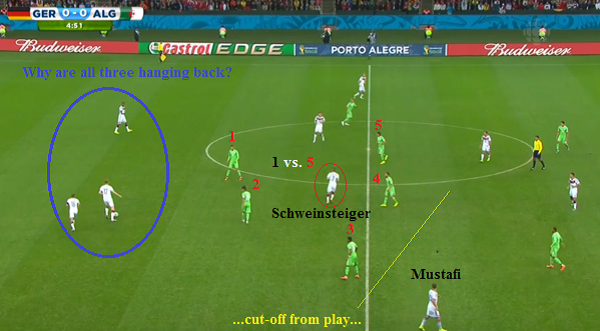 Not only was there much hesitation in the German's passing rhythm, but also such little positioning. Here we see Mustafi wasting a pass by playing it between the Algerian defensive line and their goalkeeper, without a clear target: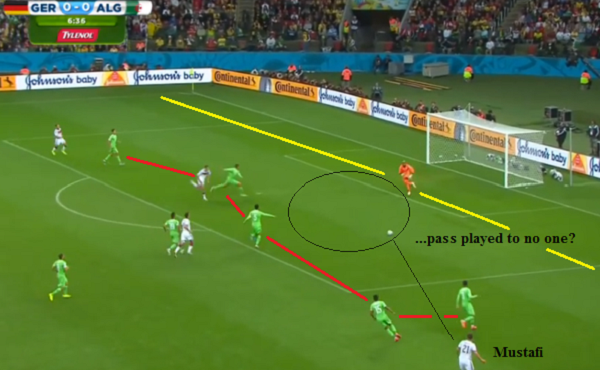 Toni Kroos was handed the joystick and given the green-light to provide the flair in the middle of the park that was to allow the Germans the best opportunities to ambush Rais M'Bohli's goal.
However, in what seemed to be the theme of the day for the European side, Kroos struggled to get a foothold into the match and for all intents and purposes rendered himself obsolete.
This next image symbolizes Kroos' day as he attempts a pass that he never should have even attempted. Everybody is out of position. Two defenders are positioned in front of Kroos. The central midfielders from Algeria fail to apply pressure which affords him more than enough time and space to work his magic and punish them. His second-level attackers are too far advanced and his right-back is too far away to be a viable option. Thus the only real possibility here would have been a long pass to Schürrle up front. However, he instead tries to thread a needle to…I have no idea?!?!?!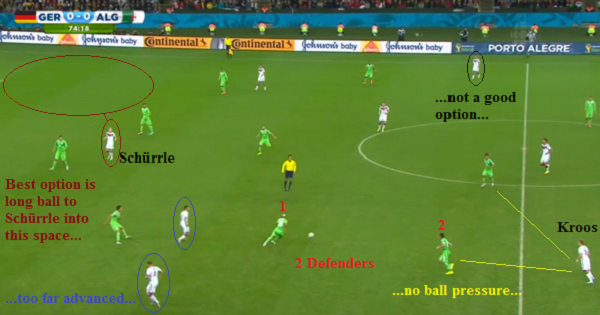 With Kroos, there were times where it seemed as though he had other things on his mind; such as the £160,000-a-week offer that he has awaiting his signature back at the Santiago Bernabeu once the World Cup is over.
Meanwhile, whatever is going on between kroos' ears, the rest of the German midfield struggles terribly to get anything going because it fails to come up with enough players at any given time to make the passing game flow. Here we'll see Mario Götze, already outnumbered by four Algerian players, still choosing to go ahead and make a pass; a bad one obviously which leads to another Algerian counter.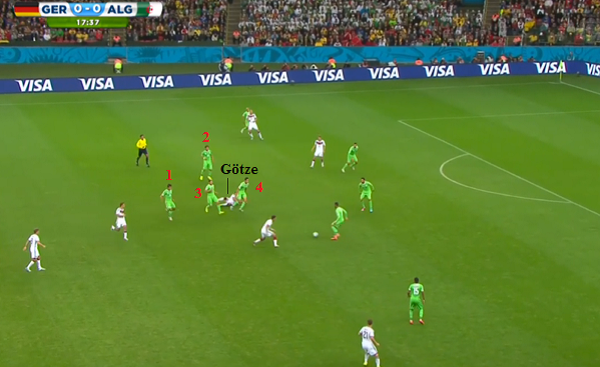 Now, to be fair to Kroos, Algeria also played a tremendous part in limiting his involvement. The 5-4-1 formation they implemented provided them stability in the midfield, while still allowing their counter-attacking style of play.
Algeria placed Feghouli in front Medhi Lacen, which also put him in front of the back line so he could offer additional cover. This simple positional adjustemnet put Germany in a position where they struggled to control proceedings.
Slimani was an influential figure for Algeria and was seemingly at the centre of everything that the North African side did well.
Over and over and over again, the winger flew down the flank causing his opponents from across the Mediterranean danger. The Germans held a high line, which was a surprise with the sloth-like Per Mertesacker in the ranks.
To compound the issue, Mesut Özil also had a horrific match, applying the wrong tactics to the wrong team. Algeria was weak on the flanks, yet we can see in the following image where he decided to pass forward into the middle of the park even though he has proper support behind him; perhaps for a quality scoring opportunity even. This bad decision leads to…well…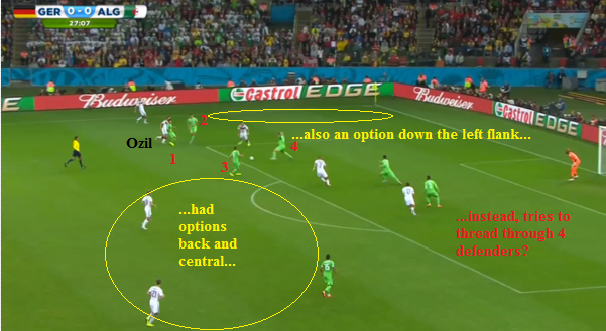 …a long pass, Per Mertesacker getting owned again and Neuer stepping in to save the day.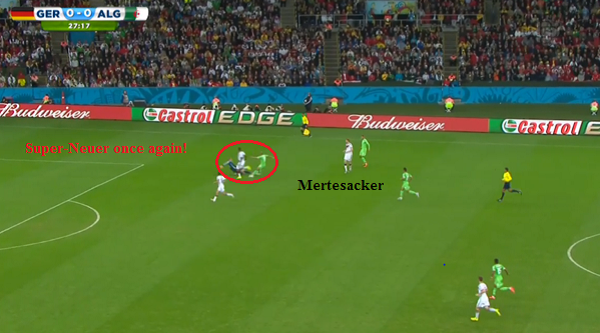 As Algeria Begins to Tire, Germany Begins to Possess
As the match progressed deeper and deeper into its later stages and then continued into extra-time, Algeria's overall energy level began to drop accordingly. The North African unit weren't as active as they were earlier in the match, which allowed Germany's possession game to finally kick-in. The German's began to see more and more of the ball and were able to retain possession more efficiently now that the Algerians were unable to apply the same level of pressure.
The following two graphics indicate each sides passing after the 60' mark. The first is of Germany and the second is of Algeria.
Germany passing after 60' mark: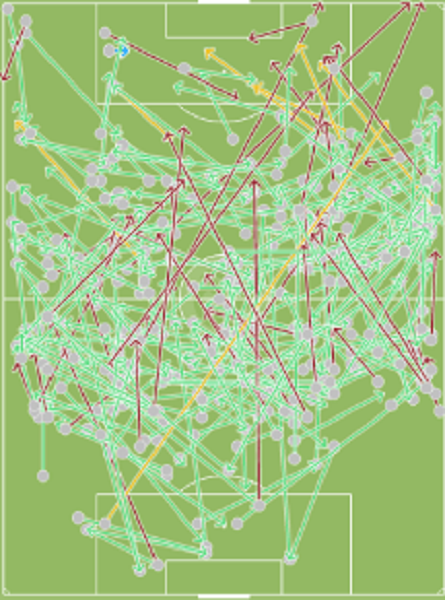 Germany found it much easier to retain the ball as the game wore on with very little resistance from Algeria.
Algeria passing after 60' mark: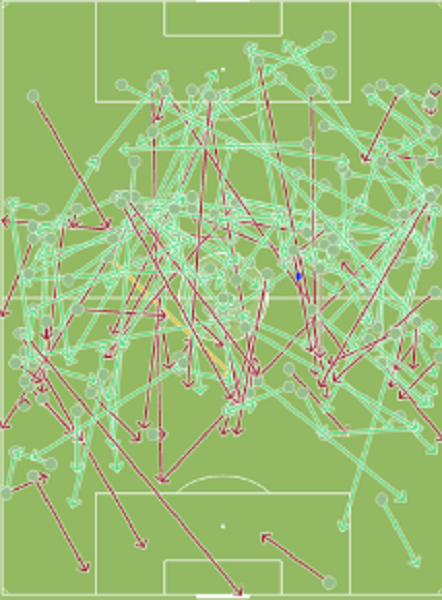 The only real successful passes Algeria were able to complete during this period were backwards, as any penetrative ones were intercepted by the German defense.
The period of time after the 60' mark was the only time when Germany's system of four defenders with a preference towards the centre back role worked. This was because all of the German backs opted to now sit deeper and prevent the Algerian runs in behind.
The German's did have bright spots in their attack and as much as Mustafi struggled in this match, he could look good at times. For example; on Germany's first piercing attack, he gets wrongly called offside on a very promising move, as is seen in the following image: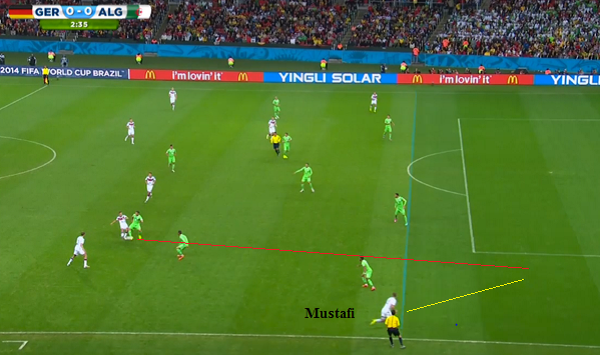 Germany's most effective weapon for most of the match was, "The howitzer." The Algerian keeper gives-up rebounds such as the one seen in the following image. This is where Germany created their most dangerous opportunities in front of goal.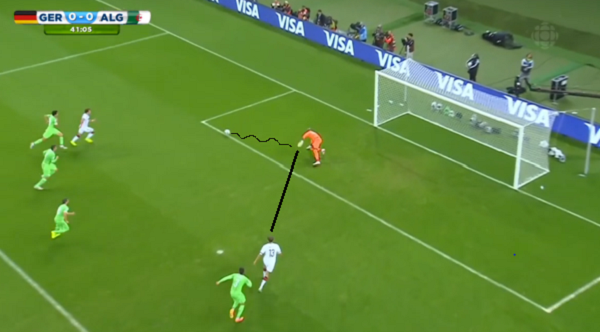 This takes us to direct attacks. The best German chances came when they played with intent, finding a way to send shots on goal. This example of a service from width and the ensuing header wasn't accurate enough this time, but at least it was a genuine scoring chance.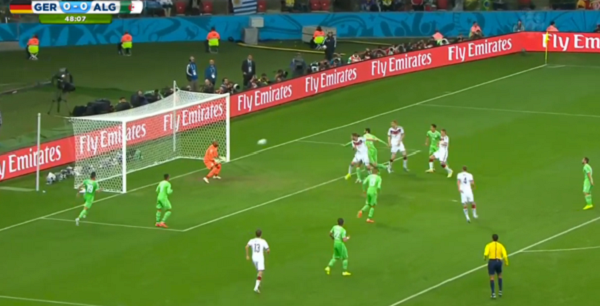 Here; Müller and Schweinsteiger demonstrate once again that a direct attack is the way to go. Muller takes it to the right and centers it to Schweinsteiger, whose header just goes begging wide.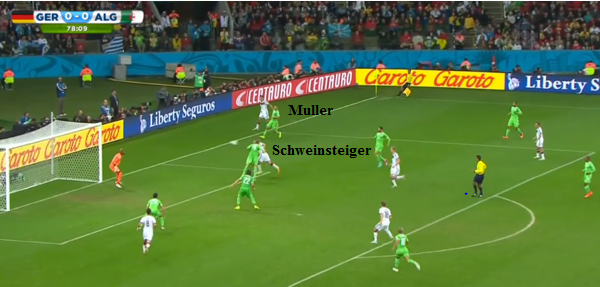 This was not a performance that the Germans will want to let live long in their memory. Yes, they had many opportunities and yes they showed many signs of flair; but overall on the whole, it was far from a typical German performance.
They were exposed at the back and wasteful up front and with the competition entering its defining period, Löw knows that if he unable to rally his troops into a better performance, than he will be on a plane with them back to Germany sooner than he had hoped.
However, if anyone can gear up a side after a horrendous performance such as this, it is indeed Löw; for somehow…someway, his charges found a way to come out victors from such an appalling display of football.
Algeria were never even meant to get this far but did go out having achieved a best finish and having gained many admirers. On the other hand, Germany; though through to the next round, have many unanswered questions. They have yet to look as strong as they seemed against Portugal, having since struggled against two African sides.
Löw will certainly analyze the high-line held by his men as he looks to improve the system. With the likes of Karim Benzema and possibly even Neymar lurking in the future, a similar ploy could cue embarrassment.
On the other hand; the Germans, on this day were the best side on the pitch in the end.
It may not have been tactics exactly, but maybe just sheer luck or individual prowess. Regardless of what it was…it was simply How The Match Was Won!
What do you think?
I would love to hear your thoughts about this or other tactics of the match that were an important factor in its outcome. Let's discuss it below in the comments section.
HOW THE MATCH WAS WON by Keith Scarlett, Assistant Women's Football Coach – Perth Glory FC, Australia, former U.S. Soccer National Staff, follow him on Twitter @keithscarlett and catch his personal blog, "An American Coach Down Under:" http://keithscarlett.blogspot.com