HOW THE MATCH WAS WON by Keith Scarlett
FIFA 2014 World Cup, Brazil
Friday, 4 July, 2014
Germany 1 v 0 France
This Quarterfinal match was highly anticipated going in. It was a clash between two former World-Cup Champions. It was a battle between two world powers; two football gargantuans … heavyweights that should be given their own separate weight-class. Yet, as is the case with any title-bout, only one of the combatants can be left standing in the end and after this bout it was Germany who were still alive and headed to their fourth consecutive World Cup semi-final courtesy of Mats Hummels who opened the scoring off a set piece in the 12th minute; a finish that turned out to be the game-winner. Early on in this match, the Germans looked very dangerous when going forward, while France was trying to exploit the space behind the high defensive line of Löw's team. This is one of those rare matches where the final score line is a perfect reflection of how close the game actually was. Both sides had ample opportunities to score. However, eventually the ball fell in favour of the Germans, who just managed to take their chances on the day.
Germany held strong against the French in order to seal their spot in the tournament's final quad. It was a gritty contest, to say the least; a contest where clear chances were at a premium. The game plan for the Germans was simple and quite clear from the first whistle: come out aggressive and get on top early, which they did through Mats Hummels. From there they took a stranglehold on the game, keeping the rhythm of play at their favoured methodical pace and not allowing the French any room to work with. Les Bleus struggled to make an impact over the match, looking just a touch slower than the Germans and failing to capitalise on the opportunities that opened up.
Didier Deschamps, as expected, reverted to a system including just one striker after having used two in previous matches; with Antoine Griezman replacing Olivier Giroud and Karim Benzema shifting upfront. Griezmann and Mathieu Valbuena would flank Benzema who was the spearhead of the attacking trident. Hugo Lloris continued in goal, behind a back four consisting of Mathieu Débuchy, Patrice Evra, Mamadou Sakho and Raphaël Varane. Yohan Cabaye played as the deepest of a midfield trio completed by Blaise Matuidi and Paul Pogba. Stopping the German exploitation of the wings was a key to victory for the French, so in reality Les Bleus actually ended up playing a 4-1-4-1 that became offensively a 4-1-2-3, while all-the-while looking to Cabaye to feed the ball into the path of their strikers.
Joachim Löw also changed his team's approach with two significant tactical alterations to his side. Beginning with the very first match of the tournament, he had insisted on lining-up four men across the back; all of whom who prefer to play centre-back. However, this time out, Löw changed his mind and put Philipp Lahm in at his natural position of right back. However, the German coach wasn't done yet. He also shuffled the midfield a bit. He re-aligned Bastian Schweinsteiger into a more withdrawn position in the middle of the park; playing him further back than Toni Kroos and Sami Khedira in what would become a 4-3-3/4-2-3-1 hybrid. Miroslav Klose moved up front, which gave him the option of fielding a traditional centre forward. Per Mertesacker was left on the bench for Jerome Boateng, which made complete sense because both centre-backs needed the pace to cover Karim Benzema and to also defend long balls played behind the backline.
Here's what I thought were the primary tactical points that allowed Germany to move on. What are your thoughts? Please let me know what you think and what other tactics you think were a factor in this match in the comments section below.
Caught Up Early, France Is, They Were
The French were very organized in the midfield. They formed a tight block behind Benzema and tried to direct Germany's passes during build-up play towards the flanks.
Their defensive work shouldn't have surprised anyone who had seen them play from the beginning of the tournament. They liked to jam the middle of the field with midfielders which would leave only the flanks open for the Germans to attack, as can be seen in the following image: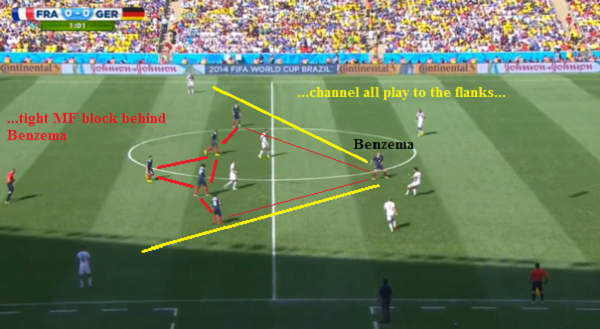 So, Germany had no option, but to use the flanks:
However, they weren't as compact as they needed to be in the space behind Blaise Matuidi and Paul Pogba. Yet, to Germany's dismay; Mesut Özil hardly got himself involved as he was too busy trying to escape the trap of the cover shadow.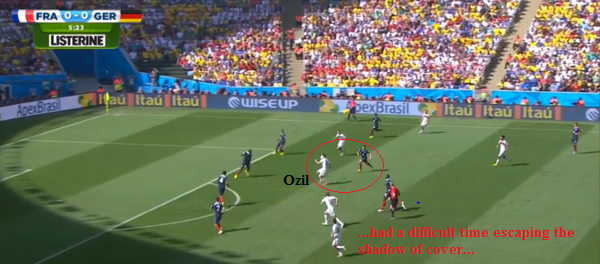 The key battle in this game took place in the midfield, where the Germans were dominate. Both sides had almost identical tactical shapes, so it came down to the respective choices each manager made in terms of who to insert into each position that would end up playing such an integral role on the outcome of this match.
The Germans handled their midfield match-ups very well and enjoyed successful and competent space management. Here we see Jérôme Boateng's serve a ball forward from a deep position for Toni Kroos in the middle of the Park. He had plenty of room to operate after slipping past France's pressure line in the middle.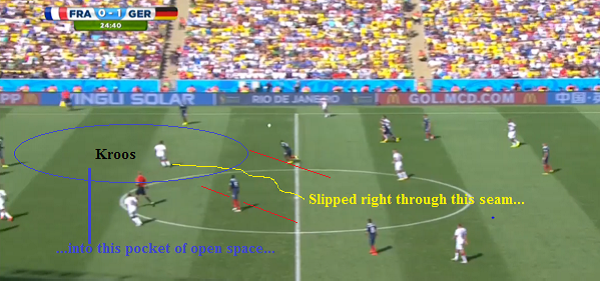 Klose's presence up high and the constant threat he posed to Lloris's goal encouraged France's center backs to drop off, which allowed Germany's creative players more space between the French lines. Both Müller and Özil cut inside to overload Cabaye, while Khedira and Matuidi essentially cancelled each other out. Kroos' ability on the ball forced Pogba to focus more on closing him down rather than helping out his fellow midfielder and as a result, Schweinsteiger became a free man in the middle of the park with only Benzema occasionally dropping deep to put him under pressure. However, when he did so he left the two center backs wide open for exploitation.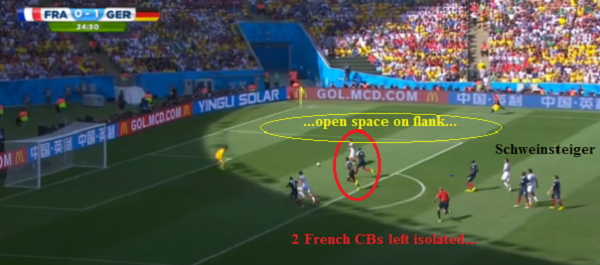 In the early moments of the match, France saw less of the ball. Les Bleus tried to capitalize on German mistakes after long phases of riding out German ball circulation, but it was to no avail. Leaving the ball to the Germans was a good approach; as was focussing on counter attacks. However, Mats Hummels scored early in the game for Germany when Kroos delivered a perfect free kick into the box which he headed past Lloris. France looked stunned after conceding that early tally and were wandering around the grounds like a lost puppy for a significant length of time.
The means at which the Germans retained possession was ominous and the lack of a true ball-winner within the French trio of midfielders cost Deschamps' men dearly, as the pockets of space Germany found between the lines rendered Les Bleus' pressing game significantly less effective.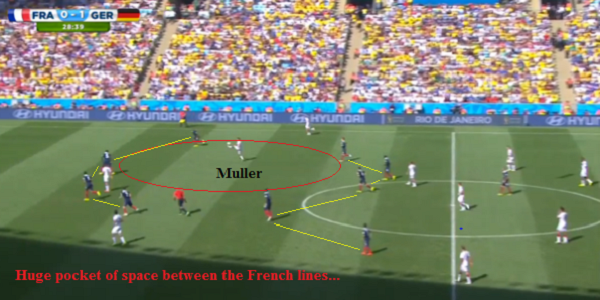 Nevertheless, Löw's team still struggled to create chances, lacking width and penetration.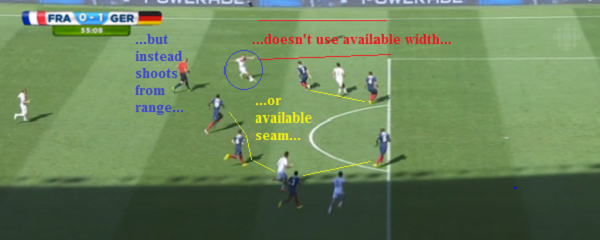 Höwedes didn't appear especially comfortable motoring forward down the left flank, given that he is naturally a centre back; so with both Müller and Özil drifting inside only Lahm posed much of a threat to the French out wide. France's outside backs were comfortable enough to pinch inside and their entire back four became quite narrow at times which frustrated Germany's creative players; although Griezmann's poor defensive contribution did allow Lahm to become extremely influential.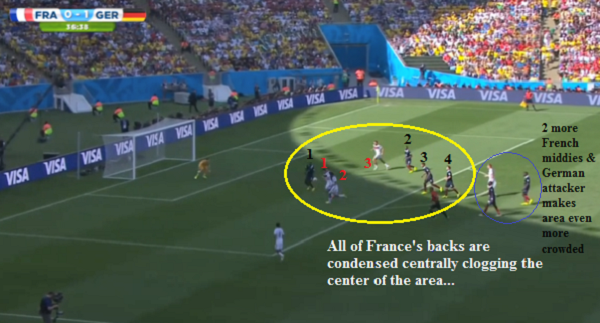 This specific factor itself contributed more to Germany's dominance in terms of ball-retention rather than resulting in a direct threat to Lloris's goal. If not for the controversial free-kick where the German's height advantage proved crucial, this match may well have ended scoreless.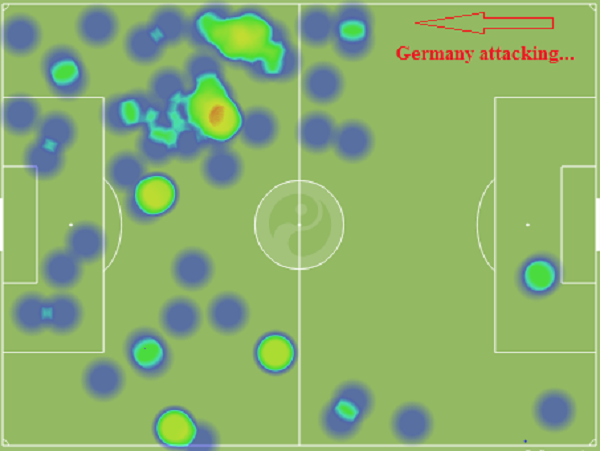 Muller's heat map – Germany attacking to the left
Defence of Germany
After the early initial goal, France started to settle down and began to find themselves a passing rhythm of their own. Yohan Cabaye dropped back between the two centre-backs and started playing the first passes he had available. Mathieu Debuchy pushed forward, while Mathieu Valbuena went searcing for the right space. Benedikt Höwedes was in absolutely fine form as a left-back against Debuchy and Valbuena. Proof positive of this is the fact that Valbuena was moved to the left flank in the second half.
The Germans remained with a high backline and continued to invite balls to be played in over the top. France refused to be sucked into this and attempted to work through the left side instead.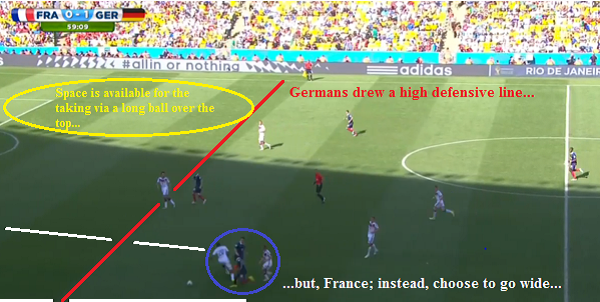 The battle in the midfield was also one for space and one the Germans won as well. France was just unable to locate any free space to drive into. Khedira and Schweinsteiger took the threat of Matuidi and Pogba away and both of the German holding midfielders were quite industrious in taking them away via man-marking. Kroos brought balance to the midfield, but Matuidi and Pogba had their best actions when they tried to break through quickly.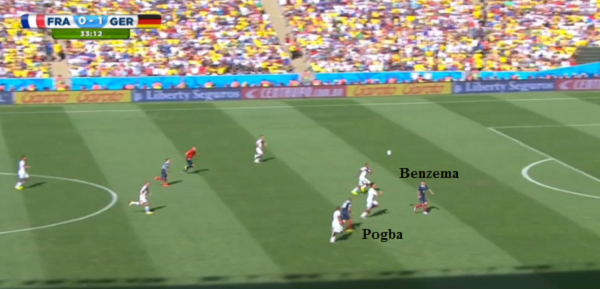 Benzema also frequently took up wider positions to create space for his midfield comrades.
Unable to unlock the German backline, the French would eventually fall to a frustrating defeat which will leave many of their players regretting missed opportunities. They lacked a sense of gamble about their play and they did not seem to be desperate enough to gain any ground from their opposition and played right into the hands of the Germans who were happy to defend a 1-0 lead. Karim Benzema was particularly wasteful, taking seven shots at goal that were not able to beat Manuel Neuer including a chance in the final seconds of the game.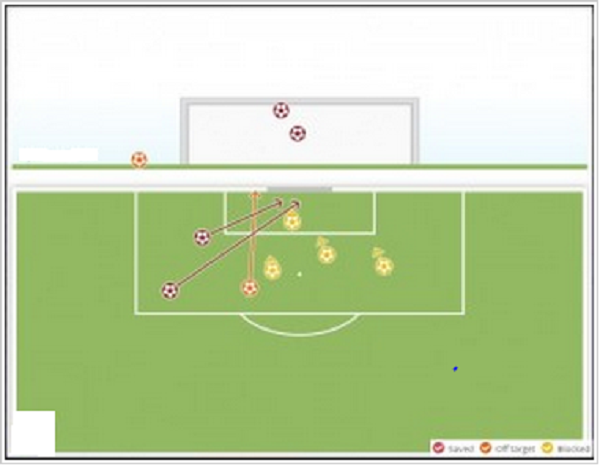 Karim Benzema shots on goal
French Manager, Didier Deschamps, will surely face questions after he chose to not urge his side to press more for an equaliser and waited until there was only 15 minutes remaining to make any sort of adjustment to his side's attacking look.
One thing Deschamps did know was that in Germany's earlier matches, Löw played Khedira or Schweinsteiger to the right of Lahm in the midfield, with Kroos pushing forward from the left. This base of a midfield had not offered much cover for the back four and left them vulnerable to pace from out wide. Expecting Deschamps to attack that weakness, Löw responded with an interesting step by switching Lahm to right-back and fielding Boateng centrally alongside Hummels. However, the French were still able to slip simple balls over the top of Germany's backline and cause them trouble.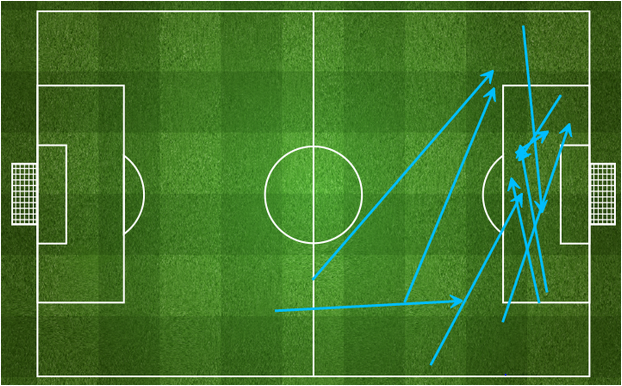 France's chances created behind the German defence
Second Half Was German's Half
In the first 45' Germany created zero chances from open play. Yes, Miroslav Klose displayed a solid performance. Yes, he found some space between Yohan Cabaye and the French centre-backs and yes, he played a couple of passes into the channels where Thomas Müller made some diagonal runs. Yes, Klose's movement was great in the first half, but the 36-year-old was exhausted after 60 minutes. Something needed to be done and done quickly!
After the beak, Germany slowed down the pace of the match in a very intelligent manner over the first handful of minutes. Later in the half France tried to speed it up once gain by bringing in Loic Remy for Cabaye and then just a few moments later swap Mathieu Valbuena and Olivier Giroud changing their formation into a 4-2-4 with two centre forwards. However, the distance from Matuidi and Pogba to the striker was greater than anticipated and it became very difficult to play long balls in behind the German defence which made things easier for Germany to defend.
If Deschamps was a tactical genius, it wasn't showing on this day, especially when he introduced extra attackers into the scheme of things. All he did by adding more players into the box was just complicate things further for his side. Yes, France needed to increase their presence in the penalty area, but doing so by providing depth instead of overloading the central spaces too much.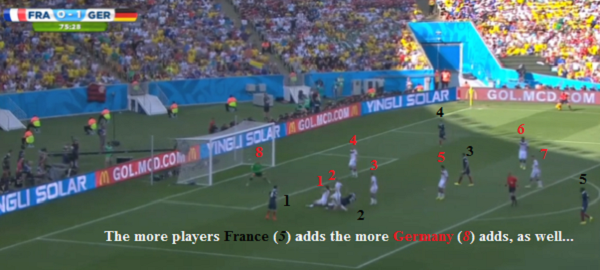 When the French looked the most threatening was in the first half when they were able to play in behind the German defense.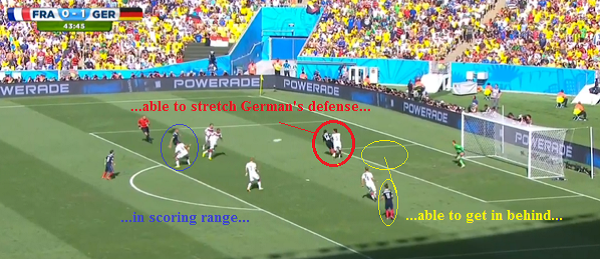 However, when the Germans took away that option, they just seemed lost from that point on.
After displaying promising form throughout the entire group stage and the round of 16, France should rightfully feel disappointed with the manner in which they exited this World Cup and the basic fact that they could have fought much harder to take the game away from Germany. It was quite clear in this quarter-final clash that they missed Franck Ribery in attack as Benzema was unable to capitalise on a number of opportunities to notch an equalizer. Although they could have gone further, the French have made up for their horror of an appearance at the 2010 tournament and will look at a group of young and talented players as a promising sign for the future.
With this close victory Germany edged even closer to footballs greatest prize. The stage is now set for a dazzling finals run as Germany's pursuit of a fourth World Cup title continues…and in truth; when it all really just comes down to it….it's just simple: How The Match Was Won!
What do you think?
I would love to hear your thoughts about this or other tactics of the match that were an important factor in its outcome. Let's discuss it below in the comments section.
HOW THE MATCH WAS WON by Keith Scarlett, Assistant Women's Football Coach – Perth Glory FC, Australia, former U.S. Soccer National Staff, follow him on Twitter @keithscarlett and catch his personal blog, "An American Coach Down Under:" http://keithscarlett.blogspot.com