HOW THE MATCH WAS WON by Keith Scarlett
EPL
November 22, 2014
Goodison Park
Everton 2 v 1 West Ham United
Everton put in a great performance as they defeated a very in-form West Ham side. On his 400th appearance, Leon Osman slid home the winner in a 2-1 victory over The Hammers. Everton took the lead after 30 minutes when Romelu Lukaku scored from close range after Ross Barkley's shot was deflected. West Ham equalized after Mauro Zarate's shot took a huge deflection over Everton goalkeeper Tim Howard. However, Leon Osman scored the winner to pick three points up for Everton in a very heated match. What did West Ham do tactically that was wrong? Who came on for Everton that changed the game? Let us break the match down.
Here is what I thought were the key tactical aspects that played into the outcome of this match. What are your thoughts? Please let me know what you think and what other tactics you think were a factor in this match in the comments section below.
Everton lined-up in a 4-2-3-1 formation, making four changes from the team that faced Sunderland just a few weeks back. Leighton Baines, Gareth Barry, Aiden McGeady and Samuel Eto'o were replaced with Tony Hibbert, Leon Osman, Kevin Mirallas and Steven Naismith coming in, respectively. The Toffees started with Tim Howard in goal, with Phil Jagielka and Sylvain Distin in the centre-back spots. Tony Hibbert and Seamus Coleman were the two outside-backs whilst Leon Osman and James McCarthy started in the defensive midfield slots. Steven Naismith played in attacking midfield, with Ross Barkley to his left and Kevin Mirallas off to his right. Romelu Lukaku started up front.
West Ham were forced to make many changes from their match against Aston Villa. The Hammers, who normally start in a 4-1-2-1-2 diamond formation, started in a 5-3-2 formation against Everton. Alexandre Song, Cheikhou Kouyate, Stewart Downing, Diafra Sakho and Enner Valencia were all removed from the squad, with James Tomkins, Kevin Nolan, Morgan Amalfitano, Andy Carroll and Carlton Cole coming into the starting eleven. West Ham started with Adrian in goal, James Tomkins, James Collins and Winston Reid in the centre-back spots and Carl Jenkinson and Aaron Cresswell as the outside-backs. West Ham then had Kevin Nolan in midfield with Morgan Amalfitano and Marl Noble with him. Andy Carroll and Carlton Cole were in the striker positions.
West Ham 'Parks the Bus'
It was clear that West Ham were going to have a tough test at Goodison, especially with a lot of their key players not in the side. West Ham were incredibly defensive, sometimes having eight or even nine outfield players in their own final third. Here is an example of the West Ham United bus in use:
This left Everton in a position of having to have a lot of patience before being able to even get a shot off. In the previous image, we see Everton with only four players in the West Ham defensive half, which are Ross Barkley, Steven Naismith, Leon Osman and Romelu Lukaku. Everton was still able to add on a lot of pressure, but West Ham would just pullback even more. If you look at the image one-more time, you can even see Andy Carroll recovering back into the defensive third.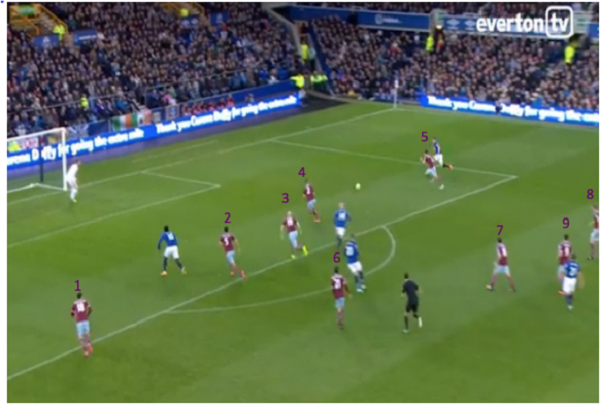 The previous image was just before Seamus Coleman received the ball from a fantastic Leon Osman pass and Steven Naismith fired just over. Note how the West Ham back five is already inside the penalty area before an Everton player even gets a touch on the ball. As you can see, Andy Carroll (#9) was back defending, which left Carlton Cole all alone upfront, so if West Ham did clear the ball up field (which they did) it was easy for a Everton defender to deal with it.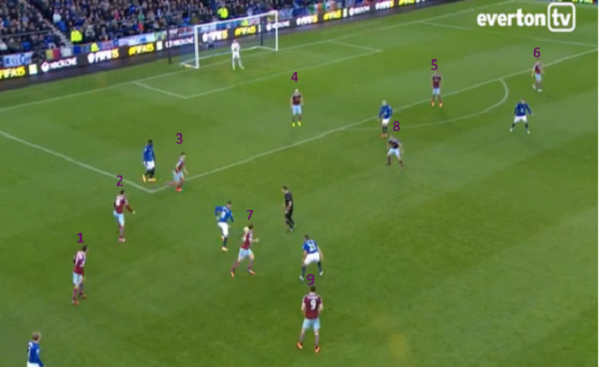 Once again, we see how incredibly defensive West Ham played in the above image. This time, Morgan Amalfitano is going into the right outside-back position and Carl Jenkinson is moving into a more central position. It was just very difficult to break through the West Ham defence.
A single error in the back is costly for West Ham
Although Everton did manage to get a few shots off, it was a very organized West Ham defense until the 26th minute, which is when one mistake proved costly for the Hammers.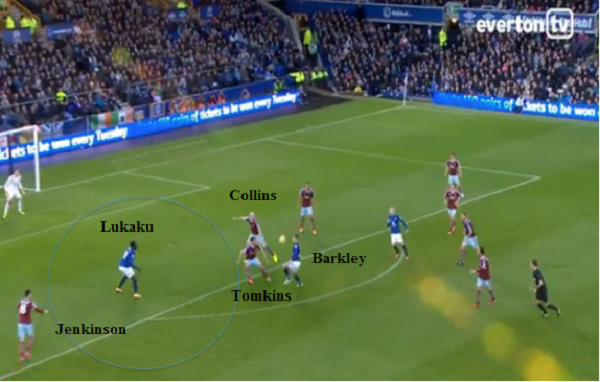 Here is the build-up to the first Everton goal. As you can see, Ross Barkley is just about to fire at goal. He takes a touch but James Tomkins has pushed forward to try to close him down, which leaves Romelu Lukaku in a world of space. They could have defended this by letting James Collins close him down instead and leave Tomkins marking Lukaku, or letting Carl Jenkinson move into the position to man-mark the Belgian striker. There were questions of Lukaku being offside, but offside or not, it is still very poor defending from West Ham.
Were the Toffees missing Gareth Barry?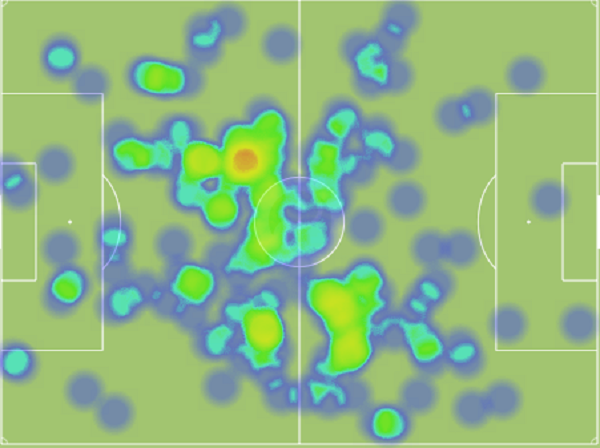 James McCarthy and Leon Osman's heat map
Gareth Barry's injury was a big blow for Everton, but replacing him was a big question. In the end, Leon Osman was the man tasked to replace him in the defensive midfield role, which surprised many considering Muhamed Besic was on the bench.
Visitors try to use aerial dominance, but were they successful?
With Andy Carroll and Carlton Cole upfront, West Ham attempted to use their height advantage to try to unlock the Everton defense and win the match. West Ham crossed, crossed and crossed as if it was the only thing they knew how to do. At the end of the match, West Ham had sent in 45 crosses towards the penalty area, but not one led to a goal. In addition, at the conclusion of the match, Everton had made an impressive 71 clearances, with most of them being cleared via the head.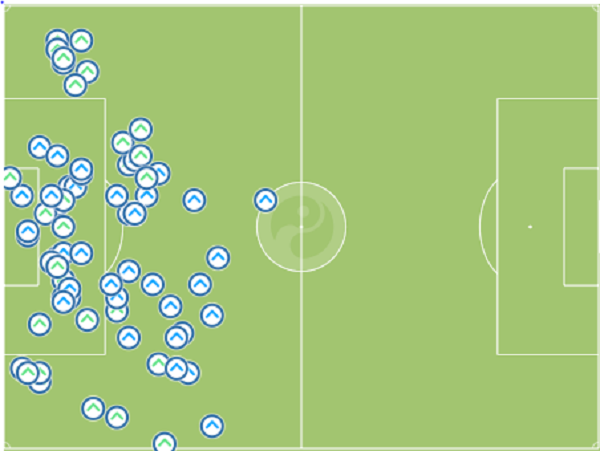 Samuel Eto'o: was he a game-changer?
He came on in the 66th minute, replacing Kevin Mirallas and his impact was almost immediate. The Cameroonian assisted Leon Osman's goal in terrific fashion, sprinting down the right side before a magnificent cross into the area, his only chance he created when coming on.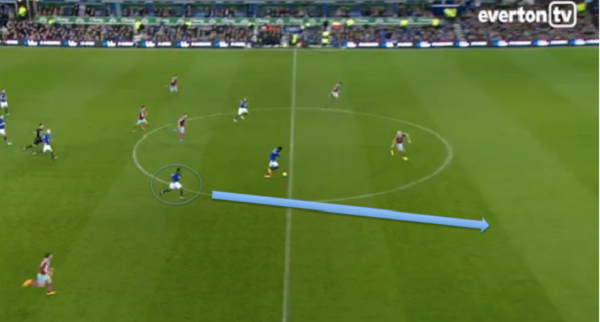 Above is the Everton counter-attack, Romelu Lukaku is on the ball before being destroyed by James Collins. Samuel Eto'o's run is superb with Leon Osman on the left. Aaron Cresswell is completely out of position and chasing.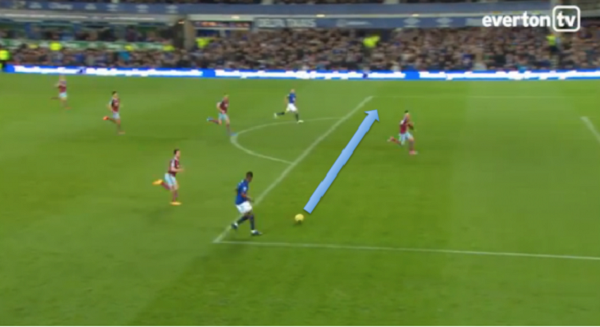 Samuel Eto'o then has to make a cross across goal to find Leon Osman (as we see in the next image above), but he is still in a yard or two of space and nobody has picked up Leon Osman. The ball is fantastic and Leon Osman slides the ball home.
This was by far the best league performance of the season for Everton. Even though there have been matches that have shown Everton that they still have the goods, this was the game where they proved they could generate something out of nothing. The Toffees were quite dominant but West Ham did quite well defensively.
…Everton's patience on the ball, defending in the box and practical understanding when it came to second-half substitutions was How The Match Was Won!
I would love to hear your thoughts about this or other tactics of the match that were an important factor in its outcome. Let us discuss it below in the comments section.
What do you think?
I would love to hear your thoughts about this or other tactics of the match that were an important factor in its outcome. Let's discuss it below in the comments section.
HOW THE MATCH WAS WON by Keith Scarlett, Assistant Women's Football Coach – Perth Glory FC, Australia, former U.S. Soccer National Staff, follow him on Twitter @keithscarlett and catch his personal blog, "An American Coach Down Under:" http://keithscarlett.blogspot.com