By Stevie Grieve, Author of Modern Soccer Tactics and Winning Soccer Tactics.
In the second semi-final, both teams know that the winner will play against Spain in the final, who defeated Portugal on penalties. Germany and Spain were early favourites for the tournament and both semi-final ties, but with Italy playing very offensively in every game so far; even in the match against Spain in the group stage where they played an attacking 3-5-2 formation, Germany shouldn't expect an easy game defensively, especially against the dual enigma's that are Cassano and Balotelli, with Di Natale in reserve for Italy.
Italy's 1st goal – Balotelli loses his marker easily to score the opening goal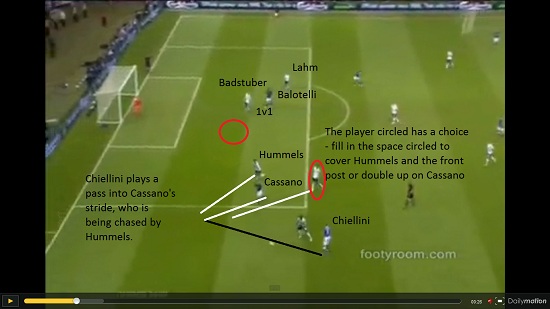 As Chiellini passes to Cassano, he is chased by Hummels who is marking him. The nearest holding midfielder has a decision to make – double up on Cassano with Hummels, knowing Cassano is very skilful in 1v1's, or cover the space Hummels has left and look to cut out any cross or pass Cassano attempts to make to Balotelli, or press him if he beats Hummels 1v1.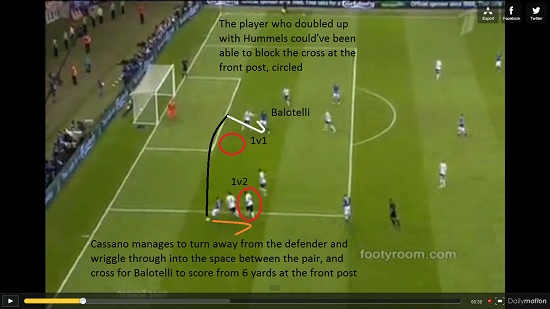 As Cassano receives, the near side holding midfielder has made the decision to double up on Cassano with Hummels, not a bad decision if it stops the attack. Cassano cleverly turns away from the pair and then creates enough space to go between them both and find a cross. Balotelli is still 1v1 with Badstuber inside the box, but as he checks forward, so does Badstuber, leaving a small amount of space for Balotelli to attack the ball above Badstuber's head. Could the player circled have been in position to block the cross to Balotelli?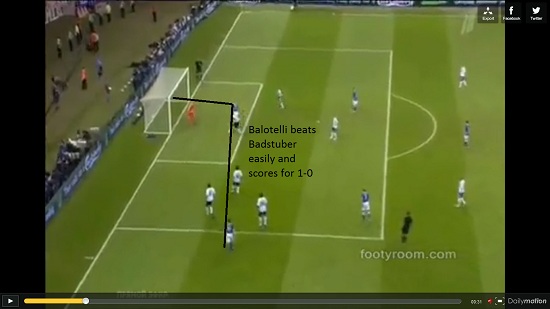 As Badstuber was taken to the front post, he is now caught underneath the ball, giving Balotelli the advantage. He jumps early and well-above Badstuber, is able to power a header past Neuer and into the net for 1-0 Italy.
The goal was created by Cassano making space to make the cross, but by the near side holding player making the decision to be able to be taken out of the game, and not covering the cross. Balotelli took advantage of some poor play by Badstuber getting caught underneath the ball and scoring a powerful header.
Italy's 2nd goal – Balotelli's brilliant finish is aided by poor German defending
Italy win possession near the goal and quickly spread play left to Montolivo, who has the German right winger pressing from behind at pace. He takes a good 1st touch to quickly set up the long pass and as Hummels is too deep and too far across, he can't see where Balotelli is. Montolivo has a target area to find Balotelli in to give him the best chance to score, and delivers a beautiful pass into his stride with backspin to make it easy to control.
5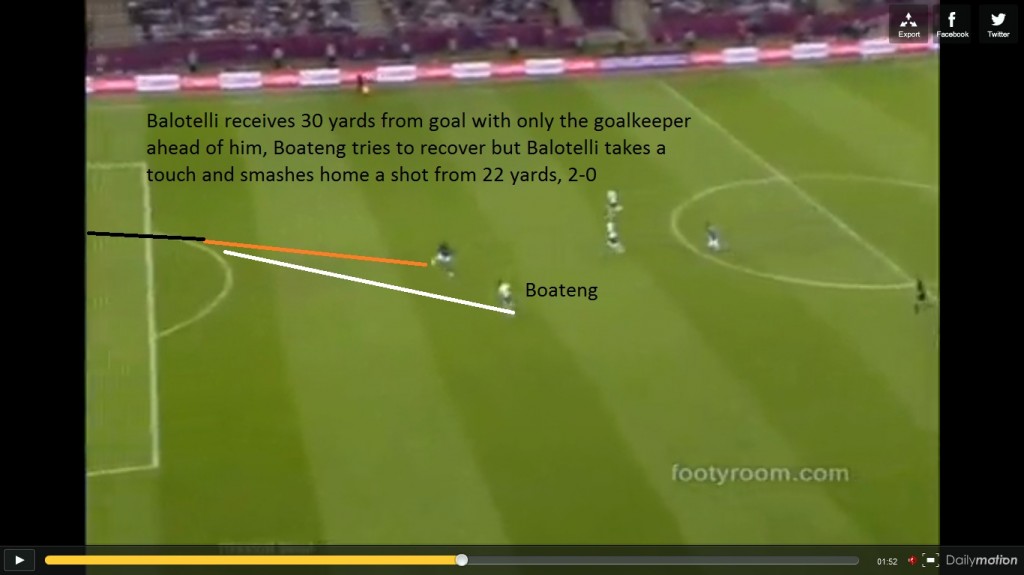 Balotelli receives with plenty to space; he takes a good 1st touch to be able to use his 2nd touch to put the ball into a shooting position from 22 yards. Under pressure from Boateng, he smashes an unstoppable shot past Neuer for 2-0 Italy, and one of the best goals of the tournament.
The goal was scored because Balotelli makes the run when the ball is in this position on a regular basis, he made the same run against England on several occasions, and was unlucky not to score from Pirlo's long pass, so this may be one of the Italian patterns of play that is specific for a long pass to Balotelli behind the defence.
Training Session for long passes in transition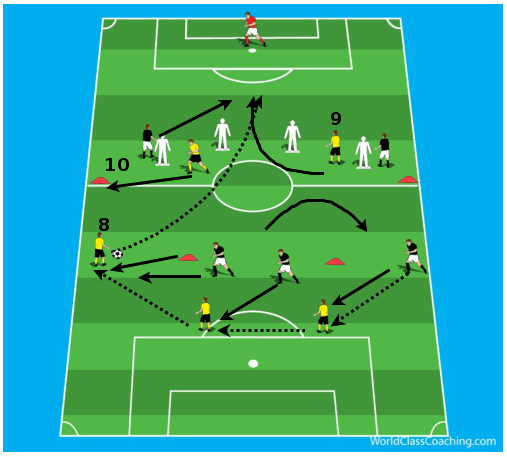 Pattern of pay for long passes into strikers arced run – wide to central pass.
Yellow – Attacking Team – Black – Defending team.
The wide attacker passes into the nearest central defender and presses. He will take a touch and pass across to the next central defender, who will be pressed by the 2nd attacker. As this happens the number 8 will start at the cone then pull wide so he can receive from the central defender. He will take a touch then be pressed from the same cone he started at by the 3rd attacker. As the central defender passes into 8, 10 will offer a short pass down the line, and 9 will arc a run between the 2 central defenders. As the ball is played, the 2 wide defenders will try to recover and press number 9 to pressure his shot. Repeat on the opposite side, same principles apply.
Coaching Points:
Players must scan the play as normal and move on time for each other
Press the ball like you would in a game – make speed of play relevant to game speed, maximum 9 touches from start to goal for yellow team
Pass must be high and lofted with backspin so it doesn't bounce away from the number 9
This article is by Stevie Grieve, author of Modern Soccer Tactics and Winning Soccer Tactics. This article from Winning Soccer Tactics. So if you like this type of article, then check out the books for lots more.