HOW THE MATCH WAS WON by Keith Scarlett
FIFA 2014 World Cup, Brazil
Sunday, 13 July, 2014
Germany 1 v 0 France
The biggest match in world football had the attention of almost everybody on the planet and the two best sides in the tournament faced each other on in a clash of titans. The Germans were looking to secure their fourth World Cup crown, while Argentina; led by the incredible Lionel Messi were chasing their third title.
One goal down in the World Cup final with two minutes remaining and history flitting through his fingers; Lionel Messi's was where every footballer dreams to be at one point in their football lives: their face flashing across the digital displays throughout the Maracanã as they…he…stood over a free kick that was, by anybody's guesstimates, way too far out and way too wide of the goal to even think about shooting. However, this was one of the finest footballers in the world. So, he struck it towards frame and upwards it went, high and over and so also went the opportunity of his lifetime.
Replacing a retiring legend came the 22 year old named, Mario Götze, in the 88th minute of the match He entered with bustling energy and facing a fatiguing opposition. When the goal came, it was typical of this Germany side; probe for a flaw, make the opponents slog and punish callously. Götze's left-footed volley past Sergio Romero at the end of Schürrle's delivery was enough to affix a 4th star on Germany's crest and do what was previously considered the impossible: be a European side and claim the trophy on Latin American soil.
Here's what I thought were the key tactical pieces that led Germany to the title. What are your thoughts? Please let me know what you think and what other tactics you think were a factor in this match in the comments section below.
Possession Belonged to Germany
Germany's supremacy in the battle for possession was evident right from the very first whistle. They recycled the ball efficiently and took their time exploring each area of the pitch for any weaknesses. Crisp, concise passing; combined with good movement both on and off the ball and a frontline not shy to take chances all led to a plethora of time on the ball for Germany.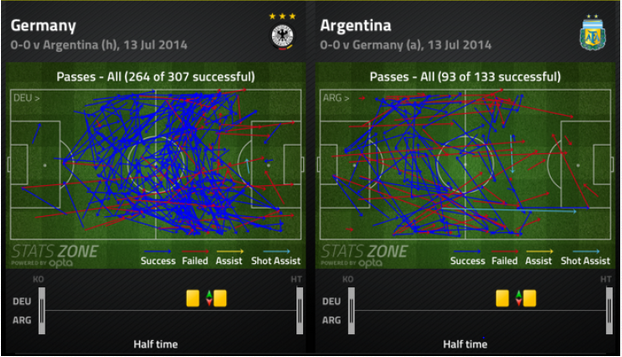 First Half Possession
In the heart of the German midfield it was the duo of Kroos and Schweinsteiger who were influential in getting the ball forward from the back, with the latter more engaged in creating plays for his frontline and the former responsible for spreading play to the wider areas.
Picking the perfect pass wasn't easy in the circumstances. Here, we see Schweinsteiger trying to feed the attack by feeding an insertion ball through a seam, but unfortunately, no one is able to get onto the end of it.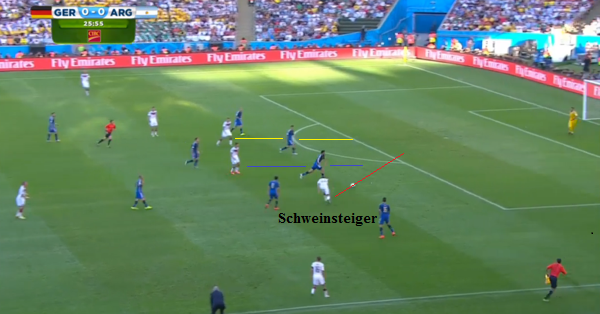 By the time the first 45' came to a close, these two Bayern players had well ascertained themselves in the centre of the park.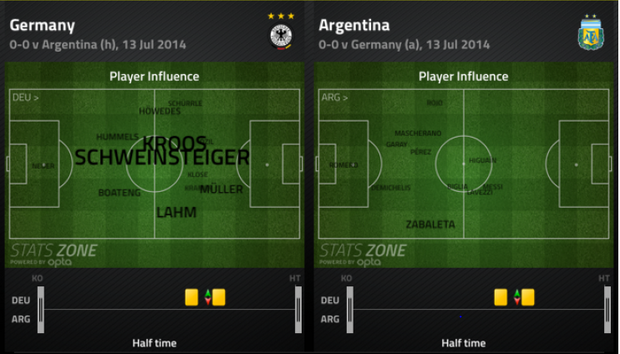 First-Half Player Influence
The Argentine Front Lacks Firepower
Now, Sabella did address, to a certain extent, Germany's possession during his half-time talk, however, there was very little he could do about yet another lacklustre performance from his attacking players. Howedes and Hummels never afforded Messi the freedom to cut in from the right onto his left foot.
In the next image we see Messi getting pushed to the edge of the pitch, where he wasn't allowed to cut inside to create the perfect opportunities he needed to score.

Shots kept going wide and Neuer had very little to do. Argentina did have relatively easier chances, but failed to make them count. All 10 of their shots were off target.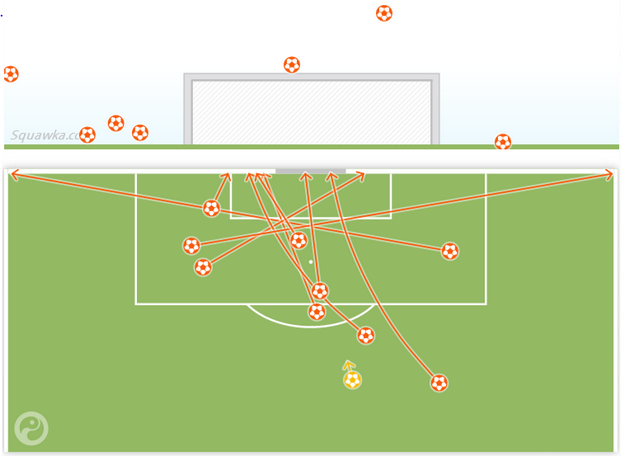 Argentina's shot chart
Lahm, Müller & Kramer
It wasn't long before Germany decided up their own plan of attack; choosing the right-side of the park as the most lucrative target to attack.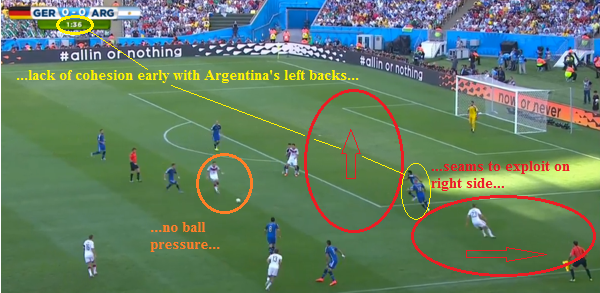 By pushing Philipp Lahm forward and allowing him to combine with Thomas Müller Germany was able to get at Marcos Rojo, a centre-back by trade; whom was playing as an outside back on Argentina's left-side.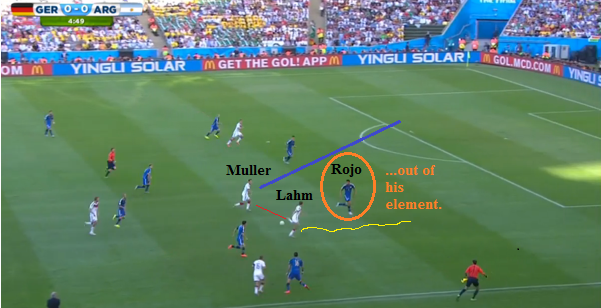 Toni Kroos was riveted into the middle and on the left, while Christoph Kramer; who was filling in at the last-minute due to an unsuspected injury to Khedira, did his job in midfield by linking up with the correct wing players.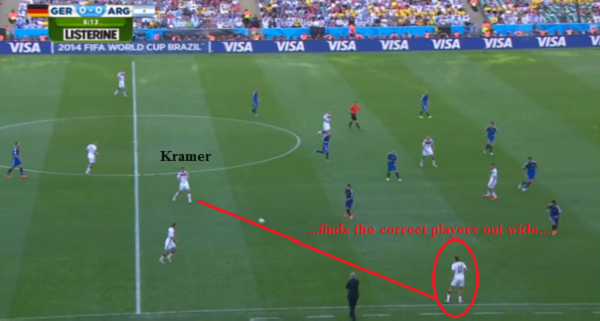 At the beginning of the World Cup, Rojo was rather audacious, but as the tournament progressed, he grew into a more defensive position. Perez was also deployed out of position on the left side to help protect Rojo and track Lahm. To be expected, both of those Argentinians failed to garner anything to a great extent. Müller proved himself significantly hard to mark as usual, finding space to slide back into the middle within their trademarked false 9 setup, with Lahm happy to overlap him into the newly created space.
Combined Heat Map for Kramer, Lahm & Müller
Argentina Sits; Germany Pushes…Argentina Defends; Germany Attacks
After starting the match a tad bit vigilant, Germany suddenly began thrusting midfielders forward. They compacted the space between their defenders and looked to create space between Argentina's defensive and midfield lines.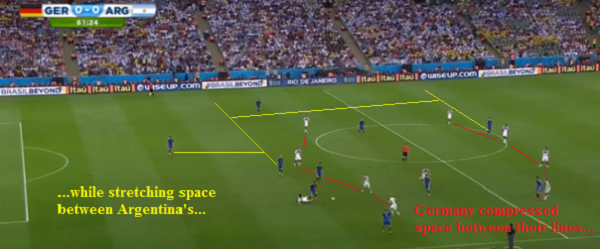 To do this, they had to draw Kroos back and around Mascherano, pull Mesut Özil inside and drop Müller off the edge in order to make room for the runs they would need from Lahm. What essentially was generated were three playmakers trying to find space between the lines; specifically in the central and left channels. They found that getting in behind Lucas Biglia and Perez was an easy enough task, but Mascherano was at his imperious top-form in the heart of the park and he was on-point to repel most attacks that would come his way.
Germany made more tackles in more advanced positions, while Argentina sat deeper
Alejandro Sabella played a very imprudent game. He was willing to relinquish possession and sit-back with eight or nine players behind the ball at any given time.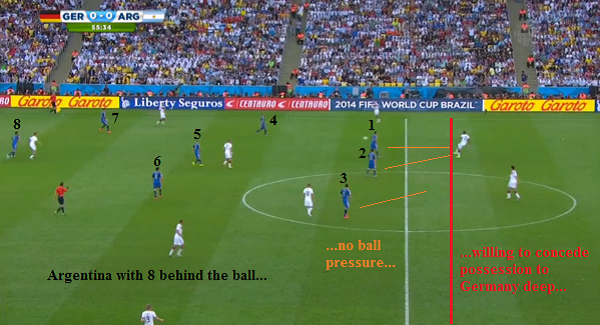 This was how this particular Argentina side played best, because when they're forced to control possession they tend to do so too slowly, lack the ability to consistently find true width and struggle to tactically get around opponents' formations. Lavezzi started on the right to try to take advantage of any one-v-one opportunities with Howedes.
Here, Mats Hummels has to run back and position himself to contain Lavezzi, while the rest of the defence resets itself to prevent danger after Howedes is beaten by him:

Gonzalo Higuain's deep positioning drew Mats Hummels and the German defensive line forward. This was done in the hope of creating the opportunity for a quick counter, as is seen in the next image.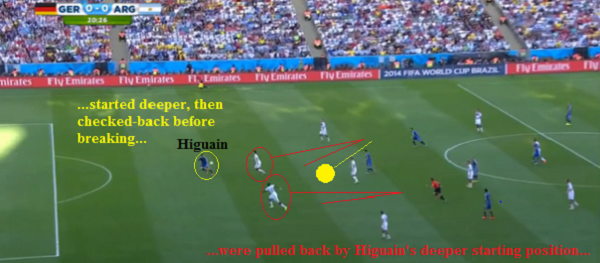 Argentina's defense did made Germany's playmakers work very hard in order to play balls forward through to their attacking targets. The back four maintained a straight line; all interlocked to block runs.
Substitutes
Sabella's substitution decision were rather shoddy and abridged his own side's attacking threat which ultimately lost him the match in the process. On the opposite-side of the mid-stripe, Low's insertion decisions looked absolutely fantastic on paper. He brought on Götze who scored the winner and Schürrle who provided the assist; but in truth, it was Sabella who capitulated this tactical match. After an upbeat start to the second half, in which Argentina transitioned from 4-4-1-1 to 4-3-1-2 and created five good, solid minutes of quality pressure, they levelled out and flat-lined. Lavezzi, their most imposing dribbling threat, was taken off at half-time for Aguero who looked diffident, rusty and indisposed. Later in the match, Rodrigo Palacio came on for Gonzalo Higuain and while the latter was stuck in the midst of yet another bad outing, Palacio was even worse. He incapacitated every single one of his team's attacks without fail; giving the ball away, shooting wide, being tackled and being crowded out. The outline of Argentina's game was set out for victory: Mascherano tackles…one pass into the channel then a goal scoring chance. Unfortunately, every chance ostensibly fell to Palacio. Meanwhile, the German subs; Götze and Schürrle were causing all sorts of problems for the Argentinian defence on the left side, linking up with each other and interchanging in spectacular fashion, eventually resulting in a goal.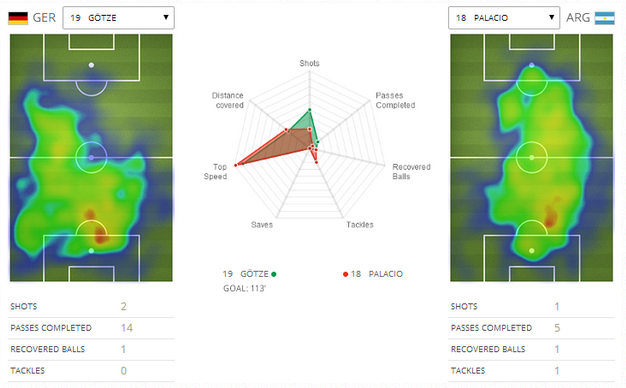 A Comparison of Substitutes; Götze vs Palacio
Yes, we could say that Jogi Low's substitutes won him the game but it did look like, coming off the bench, that Götze was ordained to score the winner. He was backed by many to start the match ahead of Özil, but Low's decision to use him as an impact sub paid off and his introduction in the latter stages of a nil-nil match reinvigorated the Germans; something that a weary Argentina side just didn't have the gas to cope with. Götze was also the only player to have more than one shot on target in the final. Javier Mascherano in the holding role was phenomenal for Argentina like he has been for most of this tournament and was arguably their most steady player.
For Sabella; well, he retires on the back of a colossal disappointment even though second place is nothing to be scoffed at. However, strategically Argentina were questionable throughout the entire tournament so that will always lay upon his shoulders, but the prevalent factor that let them down in the end was their misfiring frontline. Messi, who named the Player of the Tournament, will have to wait a little bit longer to get his hands on that gold trophy. As for his teammates, this was a hard fought Argentina performance but they were up against one of the more remarkable group of international footballers this generation has ever seen. Conclusively, Germany go home with the 2014 World Cup with a promising young squad and immense talent in their ranks. Throughout the course of their campaign, they have surfaced as a side that never gives in and is brimming with young players who can step up to the big stage and perform. They are now just one behind Brazil's tally of 5 World Cups titles.
Was it the possession…the midfield dominance…the pressing or maybe it was the deft sideline touch of Low…or then again maybe this time around it was just simple "fate" that was the deciding factor of How The Match Was Won!
What do you think?
I would love to hear your thoughts about this or other tactics of the match that were an important factor in its outcome. Let's discuss it below in the comments section.
HOW THE MATCH WAS WON by Keith Scarlett, Assistant Women's Football Coach – Perth Glory FC, Australia, former U.S. Soccer National Staff, follow him on Twitter @keithscarlett and catch his personal blog, "An American Coach Down Under:" http://keithscarlett.blogspot.com