By Stevie Grieve
This article is an excerpt from the books, Modern Soccer Tactics Volume 1&2.
Many of the most expensive players have been attackers. Most of the attackers have either been goal scoring machines, or players who play with flair and surprise the opponent with unpredictable dribbles, passes and shots from nowhere, that often result in goals, or goal scoring chances.
Carlos Tevez is one of these players. He is renown for his work ethic, and his ability to harass defenders when he doesn't have the ball, but what separates him from hard working attackers is his ability on the ball. We have seen him score from long range, score tap in's, dribble between multiple defenders in tight spaces, and take shots so early that the goal keeper cannot react to it. This week, against Norwich, he scored 3 goals, including one from long range that was taken so early that Ruddy the Norwich goalkeeper couldn't get close to at his near post from 30 yards. What we also saw was his ability to play with flair and unpredictability with team mates of the same mindset, namely Sergio Aguero.
Tevez and Aguero play a 1-2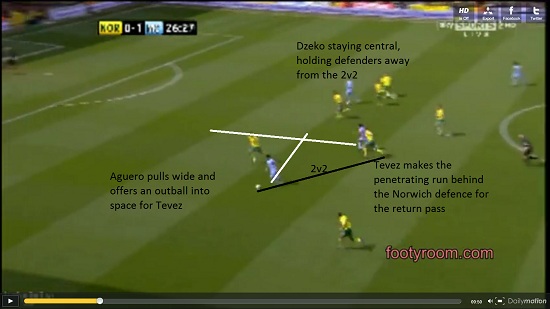 Man City have an attack with David Silva who passes left to Tevez. Tevez spots Aguero offering width and taking away a Norwich defender. Tevez releases the pass and bursts away from his marker, and into the space. There is a 2v2 situation here, so Dzeko stays wide and holds defenders central, knowing that he is a threat from aeriel crosses.
Aguero turns and passes to Tevez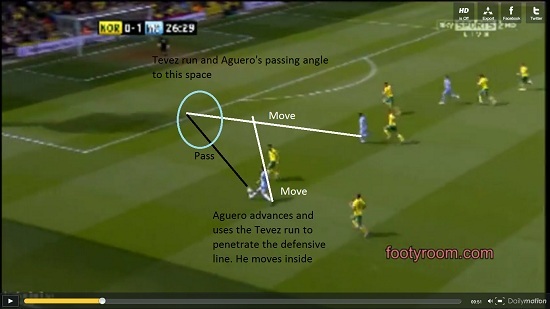 Tevez sprints into the passing lane Aguero has available, and Aguero penetrates the defensive line by using Tevez's run.
Tevez's Puzzle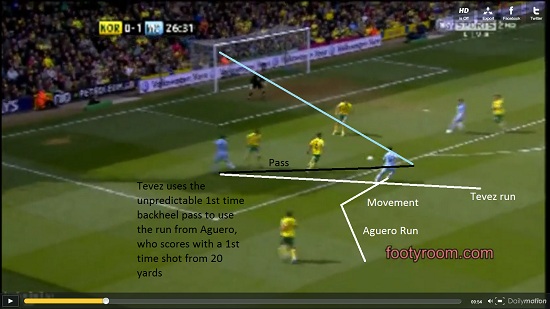 When Tevez arrives at the pass from Aguero he has the option to drop the shoulder and dribble away from his opponent, turn back and look to find another pass, or play the unpredictable pass to Aguero with his heel. Tevez chooses the unpredictable option and as Aguero has lost his man, it is the best choice, but technically most challenging. As Tevez is one of those unpredictable players, he uses this type of pass often and knows he can play the pass accuretly for his team mate. Aguero adjusts his run to allow himself to shoot 1st time from the pass, which he scores a brilliant goal from. I think on the run, Tevez and Aguero both knew what the plan was, and that it is possibly a paired pattern of play that they use in training when around the box, regularly.
Training Session - Using the back heel around the box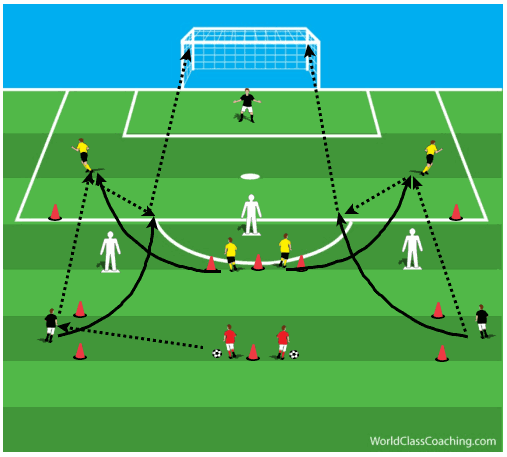 Using the back heel – 3 player move
Red passes over to Black, who takes a touch and passes inside the guide cone, but outside the mannequin. As the ball reaches Black, Yellow will arc his run to stay onside and receive the pass. He will back heel inside towards the corner of the Edge of the Box and the 'D' – use this as an accuracy guide for the backheel. After Black passes, he will move infield for the return back heel to shoot on goal.
Coaching Points:
Weight the pass for the striker
Time the run to arrive with the ball in front of you
Check the shoulder to find the runner
Be decisive with the back heel pass
Jab foot through the ball pushing through centre of the ball towards target area
This article is an excerpt from our books, Modern Soccer Tactics, by Stevie Grieve. These books have over 220 pages that are packed full of tactical insights of the world's top teams, players and coaches and include many drills and exercises you can do with your team to replicate these tactics.