By Stevie Grieve
This article is an excerpt from the books, Modern Soccer Tactics Volume 1&2.
Many of the most expensive players have been attackers. Most of the attackers have either been goal scoring machines, or players who play with flair and surprise the opponent with unpredictable dribbles, passes and shots from nowhere, that often result in goals, or goal scoring chances.
Carlos Tevez is one of these players. He is renown for his work ethic, and his ability to harass defenders when he doesn't have the ball, but what separates him from hard working attackers is his ability on the ball. We have seen him score from long range, score tap in's, dribble between multiple defenders in tight spaces, and take shots so early that the goal keeper cannot react to it. This week, against Norwich, he scored 3 goals, including one from long range that was taken so early that Ruddy the Norwich goalkeeper couldn't get close to at his near post from 30 yards. What we also saw was his ability to play with flair and unpredictability with team mates of the same mindset, namely Sergio Aguero.
Tevez and Aguero play a 1-2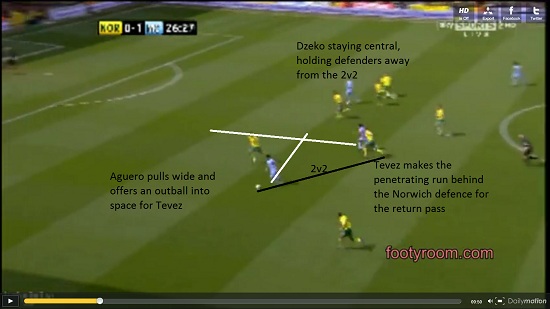 Man City have an attack with David Silva who passes left to Tevez. Tevez spots
Continue reading