HOW THE MATCH WAS WON by Keith Scarlett
Champions League
October 21, 2014 
Camp Nou
Barcelona 3 v 1 Ajax
With over five decades of shared history between the two sides embedded with legendary figures such as Johan Cruyff and Rinus Michels, Ajax and Barcelona are two teams that have gone on opposite trajectories over a long period. The identities remain similar to this day, though, as current Ajax coach Frank de Boer himself is another student of this school, growing up and nurturing his skill in Amsterdam before moving down to Iberia, where he was teammates with current Barca coach Luis Enrique for a few years.
However, times have changed considerably from when Michels and Cruyff moved from 'European champions' Ajax to 'struggling' Barcelona and this change in effect was facilitated by the transduction of typical Ajax principles into Barcelona and the very core of the club. The roles have completely reversed over time and now Barcelona have become the medium of exemplification of idealistic Dutch football at levels that Ajax can no longer reach.
In simple terms, Ajax were never going to be favourites when these two sides met in their Champions League fixture. Luis Enrique may not follow Cruyffian principles as religiously as Pep Guardiola and De Boer, but he has devised a certain winning formula for a newer-look side while ensuring the style doesn't deviate so diametrically that it compromises the effectiveness of players; the key is still to bring the best out of the plethora of talent in that squad. The quality in the Barcelona 11 was always going to get the better of Ajax at some point in Camp Nou, especially since the Dutch champions have looked anything but confident coming into this contest.
Here is what I thought were the key tactical aspects that played into the outcome of this match. What are your thoughts? Please let me know what you think and what other tactics you think were a factor in this match in the comments section below.
In his pre-match press conference, De Boer mentioned that his team will 'try using their style and confidence' to get some kind of a result, though he conceded that it is hard for any team to get points away to the Blaugrana. In a way, De Boer deviated from the way Ajax typically play. For one, in the first half, he tried to set his team up in two blocks of four, with both Schone and Kishna playing deeper than usual, Klaassen and Zimling almost parallel to each other and Andersen taking the role right off Sigthorsson.
This was because Luis Enrique's Barcelona tended to concentrate their attackers and midfielders down the middle more often than not, reliant on their outside-backs for width. At times, their 4-3-3 becomes a diamond, with Neymar and Pedro tucking in to attack the goal and Messi dropping deeper to create.
Ajax's initial 4-4-1-1 set up when Barcelona were in possession worked to nullify the threat of the outside-backs. The defence tried to stay as compact as possible to keep the explosive Barcelona front three in check but were caught very much off guard when Lionel Messi dropped to almost assume a midfielder's position often during the match, with Andres Iniesta advancing a bit to keep the balance. The Argentine was to be marked by the Ajax centre backs but once he dropped so deep, confusion arose in the Ajax ranks as to who would pick him up. Niki Zimling, who was supposed to close down Iniesta, was caught in two minds, unsure who to pick up.
At one point, the Dane motioned to Davy Klaassen to take note of Messi's presence behind him but the youngster already had Ivan Rakitic on his mind. Niklas Moisander followed him out of defence once or twice but then would direct either Zimling or Klaassen to follow him and thus, the fluidity of Messi's positional play caused real problems for Ajax in retaining their defensive shape.
…and…this is exactly what Barcelona capitalized on to break the deadlock: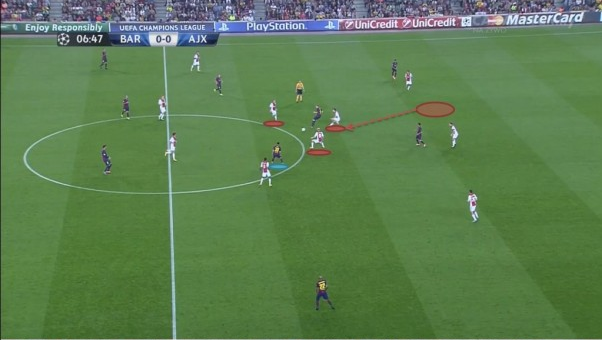 The ball is played by Gerard Pique into Rakitic, who is left unmarked as Zimling is still recovering into position and Klaassen has his eye on Messi behind him. As a result, centre-back Veltman charges off his defensive line to press the Croatian.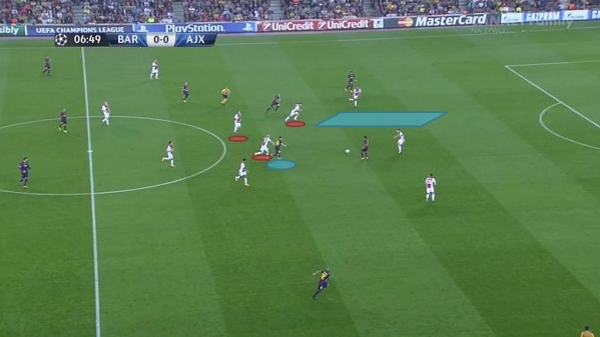 However, just as Joel Veltman comes out, Klaassen moves across too and Rakitic lays the ball off first time to Messi, who in turn, plays a first-touch pass to Pedro who is standing much more centrally than a typical wide player would. Pedro plays it back to Messi and the sheer quickness of this move has left a huge space behind the Ajax defence as Veltman scampers to try to get back into position.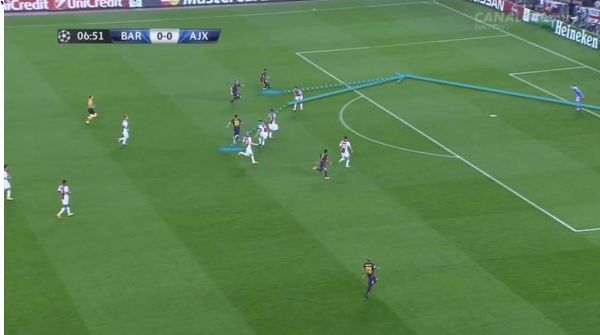 Messi runs past Klaassen at the red-and-white defence and Ajax panics. He cuts both the advancing Moisander and the still-recovering Veltman out. Meanwhile, right-back Ricardo van Rhijn, forgets about Neymar and moves centrally to cover for Veltman which Messi senses and lays off to the Brazilian, who applies the finishing touch past Jasper Cillessen.
Collective excellence from Barcelona at their best, but the naïveté of Ajax in keeping their focus and shape was also to blame.
De Boer's words were barely converted into action in the match itself. When playing a team such as Luis Enrique's men, you both take the initiative and press them high, forcing them back, or you take a much more pragmatic approach and keep a low block.
Rewind to just a year prior, when Ajax played Barcelona in Amsterdam and that kind of performance, is perhaps what the Ajax boss wanted. The Dutch side started brightly in that match, albeit against a weaker Barcelona team with a majority of its stars resting and most conspicuous in proceedings was how high and hard Ajax were willing to press the Catalan giants. Daley Blind excelled in the first half an hour as defensive midfielder leading the wave of pressing and altering the tempo of Ajax's passing. Meanwhile in this match, Zimling failed to even establish his own presence on field.
Another missing presence was that of South African Thulani Serero. He had been used as a No. 6 and admittedly is not the most creative of attacking midfielders, but Serero has the stamina of a marathon runner and while Klaassen has the work rate, Serero has the lungs to hunt down opponents, which again came in handy a year prior, but was missed dearly in the present.
Now, would a 4-3-3 have fared better than the initial 4-4-1-1 experiment? It is definitely possible that it would have. The players are more used to it and understand its requirements. It also allows for better organization of pressing against another 4-3-3, such as when one central midfielder goes up to press, he still has cover in the other two dropping slightly behind him. This pivotal balance is essential and more so, when you have a player such as Zimling in the middle of the park.
Speaking of Zimling, the Dane made the difference in the second half of their Champions League match against PSG as he brought a quicker tempo to the way the midfield functioned than Nick Viergever, but since then has been largely disappointing in pretty much every outing. While it can be argued about whether the first goal was entirely his fault for failing to cover Rakitic or not, the second one definitely has a greater influence on it from Zimling.
As you can see in the image below, collecting the ball from Veltman, the Dane immediately gives it away to Javier Mascherano who relays it to Iniesta. Meanwhile, Zimling stands frozen to the spot for a few seconds, waiting for some realisation to sink in. When he does react, he retreats and if there is one thing you really should not do when facing a player of Iniesta's quality, it is to give him time and space.
The Spaniard got both and picked out Messi's run, coming in from the left where Viergever was still running back into position. Textbook counter as Zimling's neither-here-nor-there indecisiveness resulted in confusion for Moisander and Veltman; Veltman should be looking over at Pedro while Moisander keeps an eye on Messi. In the end, Viergever had to make quite an effort to get back and stop Messi and probably did enough in his defence, and Cillessen's parry just was not strong enough to prevent the ball from crossing the line.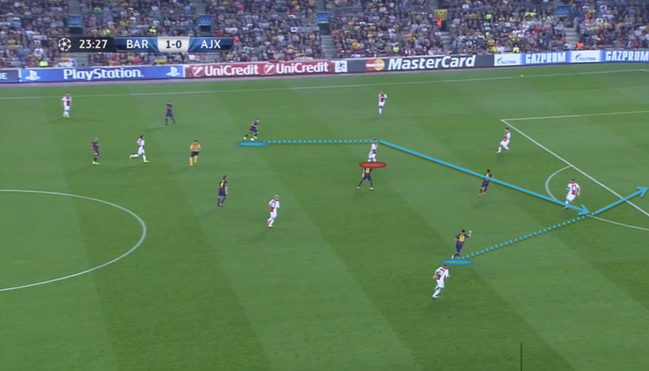 De Boer subbed in striker Arek Milik for Kishna at half time as Sigthorsson moved wide. The Pole, who has recently impressed for his national side, brought some much-needed energy to the frontline and with more pace than Sigthorsson, Milik pressed higher and tried to harass Pique.
Barcelona allowed Ajax relatively more possession in this half but the Godenzonen were extremely slow in their buildup and seemed rather fazed by the opposition and Camp Nou.
When they could get the ball out of defence, they failed to link up properly and got even their fundamentals wrong: misplacing passes, over-hitting and not communicating. The lack of a tempo-setter in midfield could not have been more obvious and Frank de Boer's mind at one point would have surely considered what could have been had he been a bit more stubborn about Blind with Overmars on deadline day.
The introduction of Anwar El Ghazi brought a more conventional 4-3-3, as Schone moved from midfield to the left wing and Andersen slotted back, shielded by Riedewald who continues the tradition of Ajax left-backs-turned-midfielders. He also injected some urgency in the attack, something very obviously missing from Ajax's play as a whole and direct penetration.
Ultimately, the result did come down to the very simple difference in quality between the two sides. Nevertheless, the larger issue at hand is the lack of sheer focus and inability to cope with the intimidation factor of the name Barcelona mentally as even the likes of Klaassen and Schone, who are Ajax's relatively more consistent performers failed to even string a few passes together and keep the attack going.
Credit, where it is due, must be given to young Lucas Andersen. Given a rather free role on the night, the Dane seemed most likely to create something for Ajax and constantly interchanged positions and linked up with compatriot Schone.
The fact that De Boer is willing to try out different tactical systems tailored to the opposition is an encouraging sign for his own development as a coach. However, he did fail in his team selection as Zimling, if you wish to see it this way, possibly cost Ajax the game in the first half and he should have at the very least, directed his team to press higher up and target Pique and Bartra to prevent them getting the ball out to Mascherano. However, in focusing on the outside-backs, he allowed Barcelona to do what they do best and work their way down the centre of his team.
Yes, Ajax when pressing high can be vulnerable on the counter, as shown by balls played over the defensive high line. However, it does say something when the entire approach to defending seems to lack 'proactiveness' after the first five minutes. Someone like Blind brought this balance to the midfield, such that he knew when the team needed to press and how he should be positioned to make sure he would be in a good enough position to defend any resultant counter.
…Barcelona is just simply better, period…and that is How The Match Was Won!
I would love to hear your thoughts about this or other tactics of the match that were an important factor in its outcome. Let us discuss it below in the comments section.
What do you think?
I would love to hear your thoughts about this or other tactics of the match that were an important factor in its outcome. Let's discuss it below in the comments section.
HOW THE MATCH WAS WON by Keith Scarlett, Assistant Women's Football Coach – Perth Glory FC, Australia, former U.S. Soccer National Staff, follow him on Twitter @keithscarlett and catch his personal blog, "An American Coach Down Under:" http://keithscarlett.blogspot.com