HOW THE MATCH WAS WON by Keith Scarlett
La Liga
Sunday, 18 May, 2014
Atletico Madrid 1v1 Barcelona
As the days on the calendar flipped by and the sun rose on the beautiful city of Madrid again and again, the expectations for Atletico Madrid remained the same: to eventually fade away leaving what have been the two strongest Spanish clubs all alone to once again compete for the title. However, once the sun had set on the final day of fixtures, Atletico had proved so many doubters wrong and had turned so many more into believers that Simeone's men may actually be a genuine threat.
Here's what I thought was the major tactical piece that swayed the match in Atletico's favor. What are your thoughts? Please let me know what you think and what other tactics you think were a factor in this match in the comments section below.
Barcelona and Atletico exchanged tallies from the foot of Sanchez and the head of Godin, respectively. The draw was all Atletico needed to secure their first championship in 18 years. Atletico compacted the space around their own box, the exact zone where Barcelona looks to be at their creative best. This tactical plan was How The Match Was Won!
In the following diagram we see how Atletico (in black) squeezes their four defenders (connected with yellow lines) together centrally and then compress their three central midfielders (connected with blue-lines) back on top of those defenders to clog-up the zone of the park (outlined with a dotted red-line) that Barcelona (in red) really wants to get into and create their scoring opportunities from: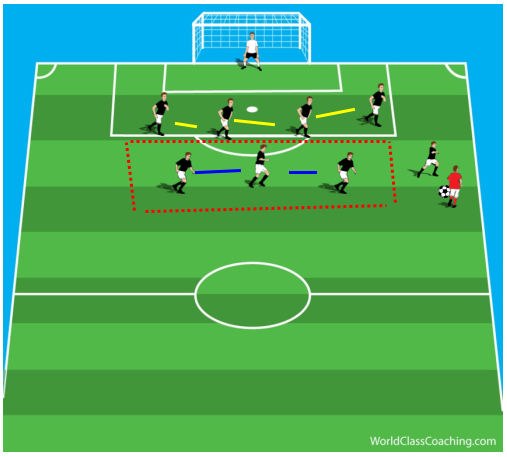 This was done to prevent Barcelona from weaving their way through their attacking third with clever passes and swift movement.
This is also seen in the following image where Atletico's four backs and three central middies (connected by black-lines) are suffocating Bacelona's three strikers (connected by white lines) and are giving them absolutely no room to do anything: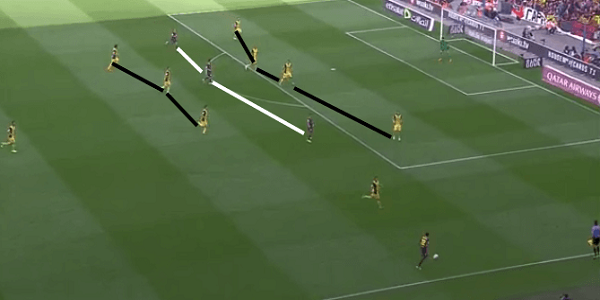 This forced Messi deeper into the midfield in order for him to be able to best influence play; which in turn, left Barca lacking in their attack. In simple terms: Atletico made it difficult for Barcelona to find seams to penetrate.
Here we see Barcelona break forward into transition. Notice how Atletico gives nothing to them centrally, takes away Messi as an option and funnels all of Barca's options to the flanks: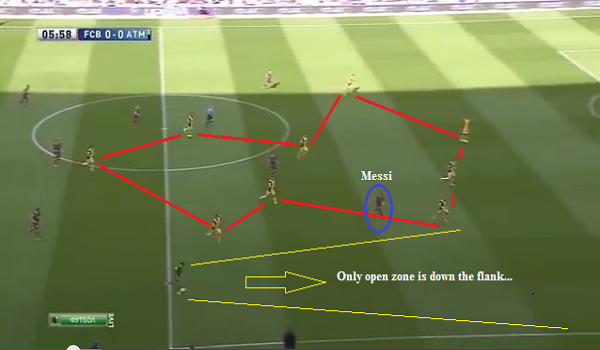 Now that Atletico has established their preferred shape and feel confident in the fact that they've forced Barcelona wide, they can then increase their disruption of Barcelona's attack even further by applying immediate ball pressure; which we see in the next image: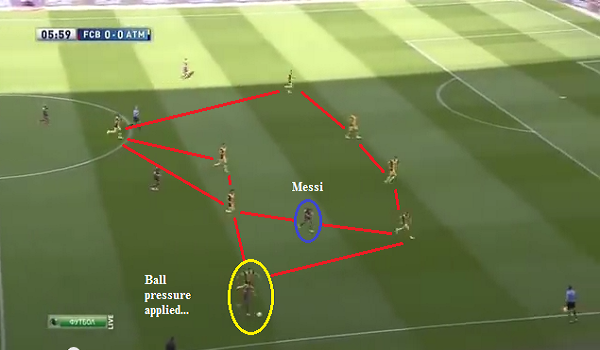 Here we can see how their defensive structure has allowed Atletico to not only cut-off all central options, lock-up Messi and apply ball-pressure; but how it also permits them to double-down and force a Barcelona player to either play negative or switch the field: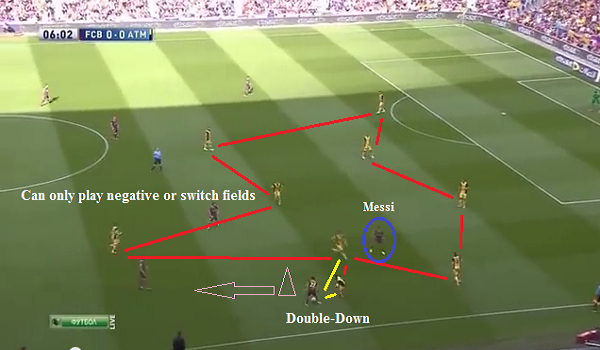 In this next image, we'll see how Atletico responds when they do force Barcelona to switch the point of attack and push forward from the opposite side; still with their line of 4 defenders tightly compressed by their recovering midfielders and still leaving absolutely NO space in-between for Barcelona to work: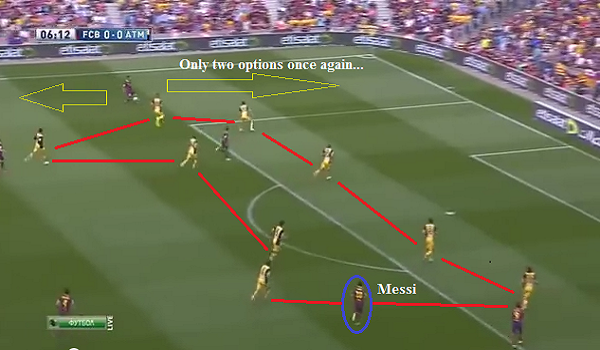 It was how Diego Simeone had Atletico organized that was a tactical master-class. Using a fully compacted defensive line, he complimented this congestion in the middle of the park; which was designed to force Barcelona to play from width and serve the ball in which is completely against their strengths…by retracting back his midfield line so deep that his midfielders would be required to deal with the Barca strikers as opposed to primarily just his full-backs.
In doing such, Atletico would leave Messi deep and Alexis/Pedro wide; thus having nothing of real danger to worry about in their own defensive third.
This graphic is quite telling in that regard, as it shows how few times Barcelona was able to win possession of the ball and turn it around and generate some sort of attack the opposite way; just twice in a forward position throughout the entire match. ALSO NOTE THAT NOT ONCE DID BARCA RECOVER AND TURNOVER A BALL IN THE HEART OF THE ATTACKING HALF OF THE PITCH! Proof positive that Simeone's tactics were working and working quite well.

This sliced-off much of Barcelona's attacking threat and forced them into wider areas where they would have to play more lateral passes with such a small percentage in terms of possibility of penetration.
The following graphic is a great show of just that using Dani Alves' track-chart to show how many of the 88 passes he received during the match were delivered to him from either a deep position, a wide position or a position across the pitch using him to change the point of attack. It should also be noted the three scoring chances that he created came from very wide positions and were inserted heavily into the middle:

Koke, in his normal midfield position, was asked to negate Barcelona's creativity from deep positions while also keeping the defender Barcelona likes to push forward in-check.
Here we see Koke putting in great work with a massive recovery of at least 30 metres from an advanced position where he had just halted Cesc Fabregas' forward progress right as he advanced over the mid-stripe and now he's chopping off the forward run of Alves who was trying to sneak his way up from his position as a right back: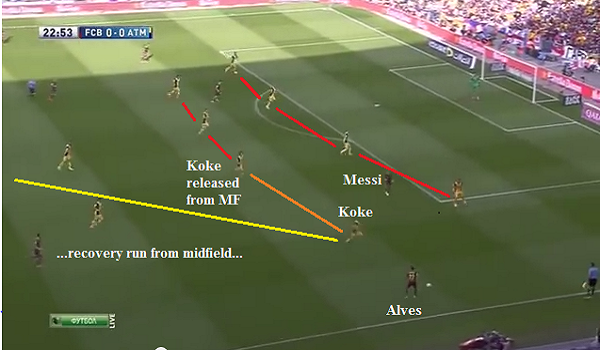 He was able to slow down the play from Barca's midfield trio and ensure that Dani Alves' level of effectiveness was kept to a minimum throughout the match.
Koke's contributions in attack were just as important as his defensive duties. His ability to win the ball back and then find the penetrating through ball was devastating to Barcelona. His persistence to play direct, forward passes into dangerous forward areas continually troubled Barcelona.
Koke's impact on Atletico's success this day is point evident in the following graphic which profoundly shows his very efficient work on both sides of the ball:

This match finished level at 1-1. In reality, it was a true reflection of the match; but it was also a true reflection of the entire season. It could be said that Barca weren't up to their standard, but time and again Atletico were able to match them stride for stride and continuously better them to a level of which few others have managed to achieve. Any team that has been able to stop Barcelona has been applauded. Atletico did it six times in one season.
So, maybe all tactics aside…that was simply How The Match Was Won?
What do you think?
I would love to hear your thoughts about this or other tactics of the match that were an important factor in its outcome. Let's discuss it below in the comments section.
HOW THE MATCH WAS WON by Keith Scarlett, Assistant Women's Football Coach – Perth Glory FC, Australia, U.S. Soccer National Staff