By Ricky Clarke
Patrice Evra holds the blame for Liverpool's late winner this weekend in the FA Cup 4th round. Evra has made some poor defensive mistakes recently, this weekend cost Manchester United a place in the 5th round of the FA Cup.
Below, I've outlined his key movements during Liverpool's second goal.
Evra – Out of position (Part 1)
Evra's starting position is really poor. With minutes remaining in the game he needs to be more compact.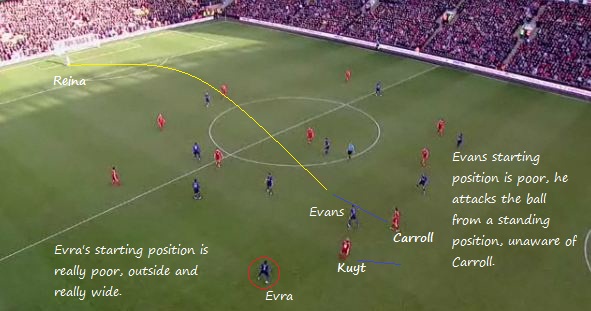 Evra – Out of position (Part 2)
Carroll wins the header and sets up Kuyt. Smalling fails to recover and Evra's recovery is too late.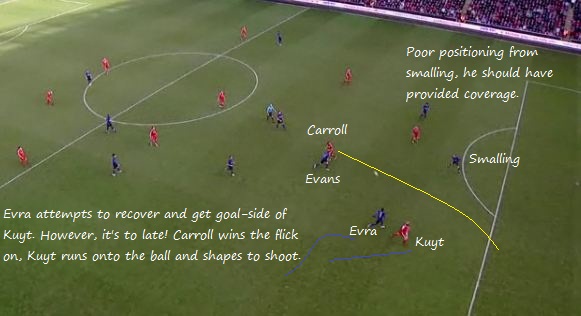 Evra – Out of position (Part 3)
If Evra tackles Kuyt, it could result in a penalty or a sending off.  Kuyt manages to finish and win for Liverpool.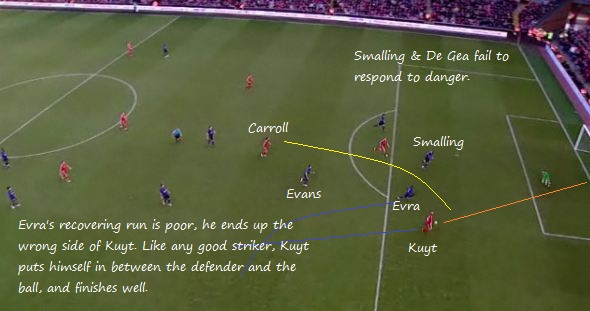 Evra – Out of Position (Another Example vs Newcastle)
Here is a good example of poor positioning from Evra. Here, Ameobi wins the flick on, Evra doesn't remain compact, and Ba scores to take Newcastle into the lead.

Patrice Evra – Improve Decision Making in Defense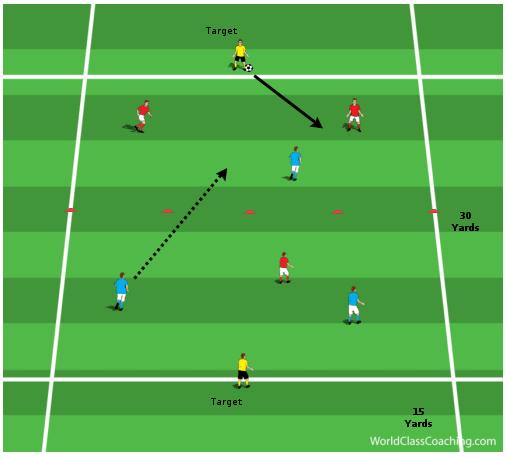 Session Outline
The team is split into 2v1's, in a small 15v15 grid. Each grid has a target player; the game will always start with a pass from the target player.
The Blue defender puts immediate pressure on the ball, and receives support from another player in the opposite grid.
Red team in possession should always play forward into the supporting player, who looks to receive, turn, and then find the opposite target player.
Coaching Points
Knowing when to pressure the ball (player has head down, poor first touch).
Where to pressure the ball (curved runs to cut down passing choices).
Supporting defender must be compact (don't allow space in behind the defensive lines).
Look to intercept, rather than tackle (helps to attack faster, if you win possession).
Read visual cues (body movement to suggest a pass).
Ricky Clarke is a USSF 'A' License, USSF Youth License and NSCAA Master Diploma coach. Ricky is the DOC of Mission Valley United, leading several teams to state championships.  Ricky also coaches for the Northern California ODP programs and is a state course instructor and NSCAA associate staff coach.  Visit his Blog here.