By Waleed Zaghloul
Manchester City has just won the Premier League after beating QPR in dramatic fashion. What City has faced during this game was very similar to what they and Barcelona have faced almost all season. Many games have seen teams defending against these two fancy teams with 10 and 11 players for the whole game. It was interesting seeing Drogba playing as a left back against Barcelona in the Champions League.
Chelsea and Real Madrid have played way too negatively against Barcelona in recent weeks and so did QPR against Manchester City in the recent historic game. The worrying sign to us coaches is the fact that Chelsea and Real Madrid achieved their goals from such negative tactics and QPR almost did the same. Such negative mentality has been advocated in recent years by Mourinho when he was at Inter Milan (against Barcelona in the Champions League) and by van Marwjiik with the Netherlands at the World Cup final against Spain.
Many teams have become proficient at bunkering down or "parking the bus" in front of their goal. This necessitates coaches becoming better at teaching their team how to break down such bunkered defenses (or at least trying).
Variety is Key
A respected FIFA coaches instructor once said that how well a team is coached is usually apparent in the way they create chances. The better coached a team is, the more effective ways they have to break down the opposing defense.
Ball possession is important in football, but as most coaches can attest possession does not guarantee winning games (ask Guardiola!) So what could be done to increase your team's success chances when it comes to breaking down bunkered defenses? I concur variety is a key factor!
Variety means utilizing different ways of attacking the opponent. This includes playing wide and attacking through the wings. It includes penetrating attacks though the middle, shooting from distance and attacking through set pieces specially free kicks and corner kicks.
Let us have a look at how Manchester City was faring against QPR in the variety sense.
First Goal – Principles of Attack
City switched play to the right wing, but after Zabaleta was closed down, they switched to plan B which was penetration though the middle (against nine defenders in the box with the tenth player just outside the box).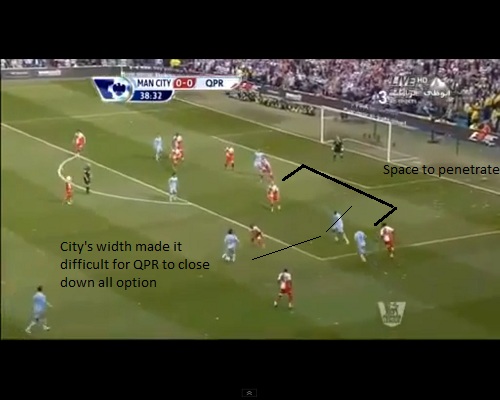 This goal involved several attacking principles carried out very well. The City players were relatively well spread out (width), movement around the ball was very good, a penetrating pass was utilized and all that was done with speed. It is important to drill young players to do the right thing every time, every attack so that they can increase the success rate of their attacks.
Second Goal – Set Pieces
Playing against extremely defensive teams requires an arsenal of set pieces as free kicks and corner kicks might be the best chances to break down a defensive shell. Manchester City players executed a very good corner kick to tie the game one minute into injury time. Two critical factors in this specific corner kick. First, it was the magnificent in swinging cross from David Silva (teams like Liverpool failed to produce too many crosses of that quality the whole season!) That fantastic cross landed in the six yard box where Dzeko and the other Manchester City players arrived after some good movement to create some space (see next image).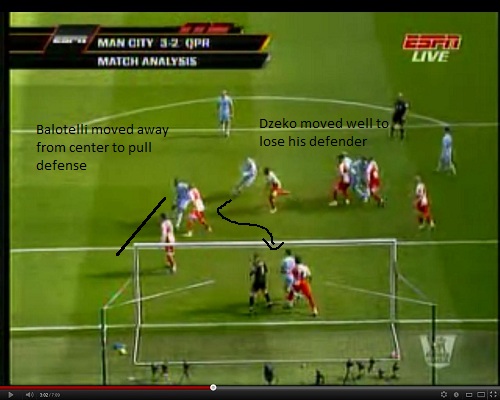 If you review the game's highlights you will realize that this was not the first great delivery from Silva. Earlier in the second half, he delivered another fantastic corner which was headed by Balotelli and saved off the line by QPR's Paddy Kenny.
Third Goal – Attacking Through the Middle
Teams defending with their whole squad in their defensive third and very hard to penetrate specially through the middle, but not for City on this league winning goal. Aguero tries to dribble into "Zone 14", or the danger area right in front of the opponent's box, but when he gets under pressure he start one of the hardest one-two passes you will see all season. Aguero passes to Balotelli (who is under pressure) and immediately follows with a brilliant penetrating run through a maze of QPR defenders. Aguero gets the ball back from the out of balance Balotelli, beats his defender's challenge and unleashes a powerful shot to win his team the first league title in 44 years. This is a very worthy goal, indeed. The following images will give you a visual on the movement preceding the goal if you have not seen it.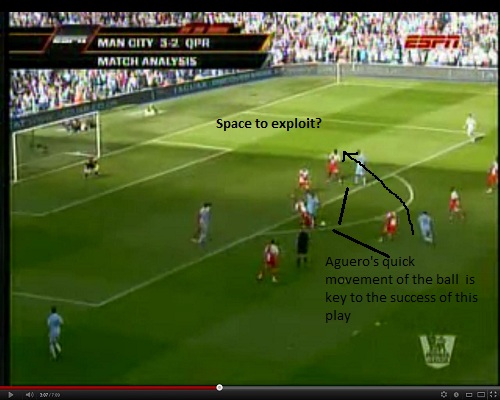 A one-two pass in very tight space.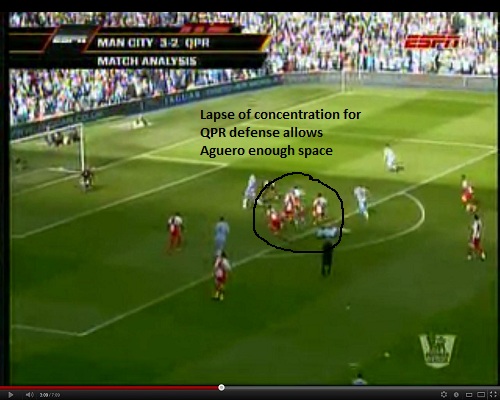 Aguero running into Balotelli's pass to beat his challenger and score the winning goal.
Practice Sessions for Creating a Variety of Chances
When coaching your team to create chances, you need to emphasize the variety of attacking options seen by Manchester City and other teams like Barcelona. The drill is a simple Offense against Defense drill. The key is to introduce some attacking ideas for your team depending on their age and level and get them to practice carrying out these attacking ideas. Here I show only one simple option, but many variations on attacking from the wing or through the middle could be used and many restrictions could be imposed on your players to achieve the appropriate goals set for this specific session.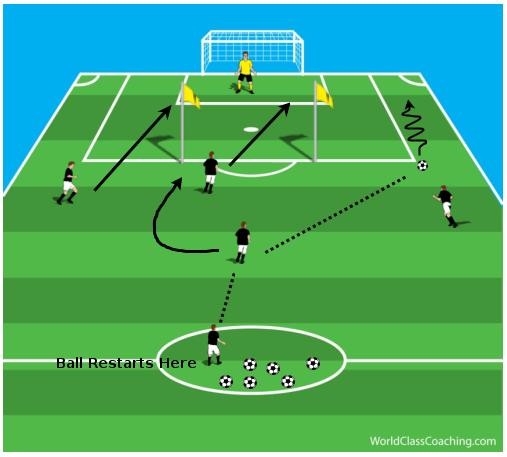 This diagram shows the early phase of a practice used to work on attacking from the wing. In the beginning coaches could start without any defense to get the idea through to their players and then start adding defenders in small numbers until the attacking team becomes efficient in carrying out their tasks. Ideally a coach needs to move towards having the starting attacking midfielders and forwards playing against the starting defenders and defensive midfielders. Of course, back up players need to be rotated on a regular basis into such practices. The coach's discretion should determine the progression speed and appropriate number of players on the field.
Coaching Points:
Play wide and get ball to wing.
Recognizing appropriate runs to make depending on the location of the ball.
When under pressure in midfield, pass back or switch play.
Central midfielders should provide support to allow for quick switch of play.
Always end attack with an attempt on goal.
This might be simple, but utilizing a variety of different sessions and allowing your players to practice a variety of different attacking plays and making your coaching points will allow them to grow and improve their tactical awareness and the technique needed to carry out those tactics. The more advanced the team, the more coaching points the coach can emphasize.
Waleed Zaghloul is an NSCAA Premier Diploma coach. He has been coaching on the youth soccer scene for about 15 years. He has coached a variety of youth club, High School and all-star teams in Nebraska, Utah, Colorado and now the Northern Virginia area.