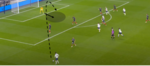 By Waleed Zaghloul
Manchester City has just won the Premier League after beating QPR in dramatic fashion. What City has faced during this game was very similar to what they and Barcelona have faced almost all season. Many games have seen teams defending against these two fancy teams with 10 and 11 players for the whole game. It was interesting seeing Drogba playing as a left back against Barcelona in the Champions League.
Chelsea and Real Madrid have played way too negatively against Barcelona in recent weeks and so did QPR against Manchester City in the recent historic game. The worrying sign to us coaches is the fact that Chelsea and Real Madrid achieved their goals from such negative tactics and QPR almost did the same. Such negative mentality has been advocated in recent years by Mourinho when he was at Inter Milan (against Barcelona in the Champions League) and by van Marwjiik with the Netherlands at the World Cup final against Spain.
Many teams have become proficient at bunkering down or "parking the bus" in front of their goal. This necessitates coaches becoming better at teaching their team how to break down such bunkered defenses (or at least trying).
Variety is Key
A respected FIFA coaches instructor once said that how well a team is coached is usually apparent in the way they create chances. The better coached a team is, the more effective ways they have to break down the opposing defense.
Ball possession is important in football, but as most coaches can attest possession does not guarantee winning games (ask Guardiola!) So what could be done to increase your team's success chances when it comes to breaking down bunkered defenses? I concur variety is a key factor!
Variety means utilizing different ways of attacking the opponent. This includes playing wide and attacking through the wings. It includes penetrating attacks though the middle, shooting from distance and attacking through set pieces specially free kicks and corner kicks.
Let us have a look at how Manchester City was faring against QPR in the variety sense.
First Goal – Principles of Attack
City switched play to the right wing, but after Zabaleta was closed down, they switched to plan B which was penetration though the middle (against nine defenders in the box with the tenth player just outside the box).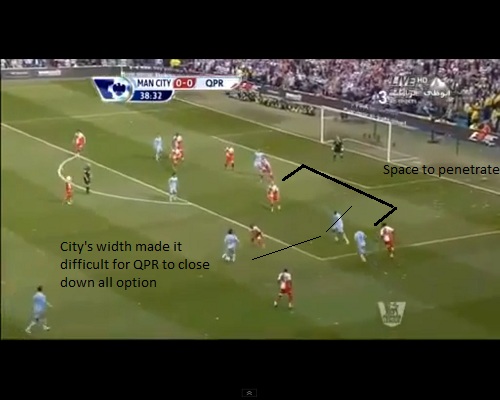 This goal involved several attacking principles carried out very well. The City players were
Continue reading