By Alex Trukan
This exercise involving finishing in the penalty box focuses on developing reaction and starting speed. Therefore, players improve physical component in the engaging and fun practice what stimulates their interest and motivation. The content of this practice is especially relevant for strikers, however it will benefit any player in the penalty area who needs to react quickly in order to score a goal.
Set up and directions
Organise 5 players (the numbers are flexible) around the penalty box with two balls each, two players in the penalty box without the ball and a goalkeeper in the goal. Each outside player should be given a number. Also smaller area marked out by cones can be used. Recommended minimal amount of outside players is three.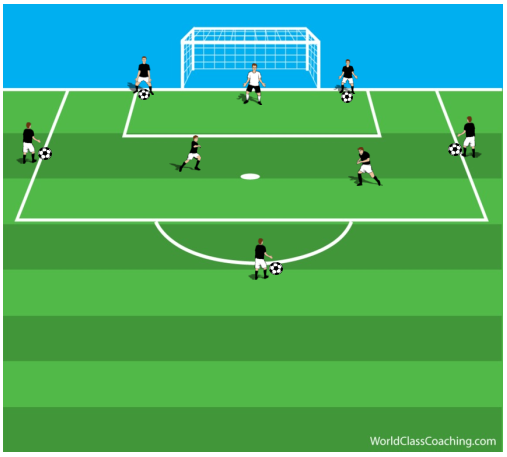 As the coach shouts a number, relevant outside player plays the ball into the penalty box. The pass can be aerial or ground. Outside players should vary the type of pass each time. After the ball is played in, one of the inside players (they take turns) receives it and scores. Inside players have max. 2 touches to use.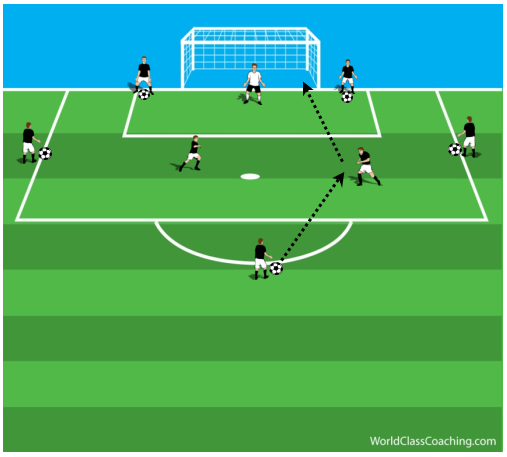 The game continues until all the balls are used. As shown on the diagram below, the distance, pace and type of pass should be varied each time. That will help players to adapt to various situations and sprint on short distance if needed.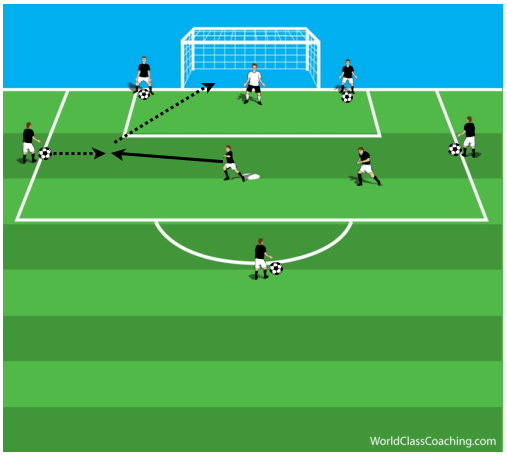 As a progression, one defender can be added into the penalty box to increase the attackers' speed of finishing. In this situation, the allowed touches restriction can be replaced by the time limit.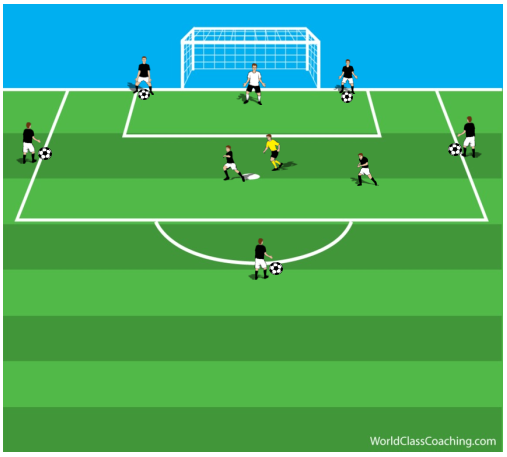 [wpsharely id="1886"][/wpsharely]
Timing:
Each player should have at least five repetitions in each series (that will depend on the number of balls and outside players). The exercise should be done in up to 4 series with 4 minutes rest in between them (other players working).
Variations:
Include a defender inside the penalty box
Vary the distance, pace, direction and type of the pass delivered
Decrease/increase the area size
By Alex Trukan, Development Coach, Nottingham Forest