HOW THE MATCH WAS WON by Keith Scarlett
English Premier League
13 September, 2014
Aston Villa 1v0 Liverpool
Liverpool paid the price for a lack of a cutting edge against a hungry, high flying Aston Villa team now firmly finding their feet under Paul Lambert and Roy Keane with a near-flawless start to the season.
Aston Villa coming into Anfield still remains one of Brendan Rodgers few tactical jigsaw puzzles that he is yet to figure out. The Birmingham side have flourished at Liverpool for the last few seasons and have done so with the same mindset and strategy on each visit.
It has been a straightforward theme, keeping things tight at the back and bodies behind the ball out of possession, while the transition upon winning possession is lightning; Andreas Weimann and Gabby Agbonlahor have consistently terrorised Liverpool at Anfield.
In contrast, when Liverpool has gone to Villa Park and Lambert has to go on the front foot, his side struggle to play with the same devastating effect.
Here is what I thought were the key tactical aspects that played into the outcome of this match. What are your thoughts? Please let me know what you think and what other tactics you think were a factor in this match in the comments section below.
Liverpool's 4-2-3-1 is interesting at the moment, particularly the question of why Rodgers is still choosing to use it after the last 18 months or so when Liverpool have rarely performed well when using this system. The most recent example of this was the opening day of the season against Southampton, when Rodgers started with 4-2-3-1 but eventually changed to the 4-3-3 and the diamond at different stages in the game, which brought better results.
The obvious reason for going with this system is that it allows Phil Coutinho to play centrally on his own in the number 10 role, where he can be extremely effective at finding penetration in behind difficult defences. Perhaps Rodgers also saw something to benefit from some extra protection for Gerrard with Jordan Henderson playing alongside him rather than ahead of him and of course, the lack of Daniel Sturridge made it very likely that he would go for a lone striker in Balotelli.
Two Holders – Is 4-2-3-1 Working?
The midfield duo of Gerrard and Henderson does not appear to be as particularly good a combination as it should be. The sharing of tactical responsibilities between the two seems to blur some of the lines, which become much clearer in the 4-3-3 or 4-4-2 diamond systems. A brief example would be when Liverpool are playing out from the back in a 4-3-3, which would obviously see Gerrard drop between the two centre-backs in order to build play from deep. In this situation, Gerrard would have two central midfielders ahead of him, along with inverted wingers moving inside. In the 4-2-3-1, we frequently saw something different:
Despite Lovren and Sakho splitting as normal, there are now two midfielders dropping into the back line instead of just Gerrard on his own. I have circled the area where Henderson would normally be positioned to receive in the 4-3-3 system. Whether this is significant or not I do not know, but maybe Liverpool could have held more of an attacking threat with Henderson further up and Rodgers switching to the diamond later in the game may be an indicator of this.
Balotelli remained very central and did not drop particularly deep or wide to overload Villa in vulnerable areas. Meanwhile, Markovic and Lallana did not venture too far off their flanks to set up 2 v 1′s in central or wide areas, while the positioning of Gerrard and Henderson was also very symmetrical, which suggests for all of Liverpool's possession, they may have just been a bit too predictable.
Lack of Penetration
Another way of looking at this problem is by analyzing where Liverpool have always been at their most dangerous in recent times; which is penetration in behind and by breaking defensive lines with crossing runs. So why could Liverpool not achieve this?
The combination of the midfield two and with Coutinho in the hole is surely a contributing factor. Coutinho by nature is not a player who makes lung busting, penetrative runs in behind which will set him up in front of the two banks of four/five. Henderson playing in a deeper role also meant that he spent more time in front than behind the two banks. Both of these factors severely damaged their ability to break these lines and when players like Coutinho could not find the pass; well…he resorted to shots from distance.
He had six shots, twice as many as any other player on the pitch and Liverpool had a massive 18 attempts in total, nearly half of which came from outside the box, which gives you an indication of why Aston Villa frustrated them.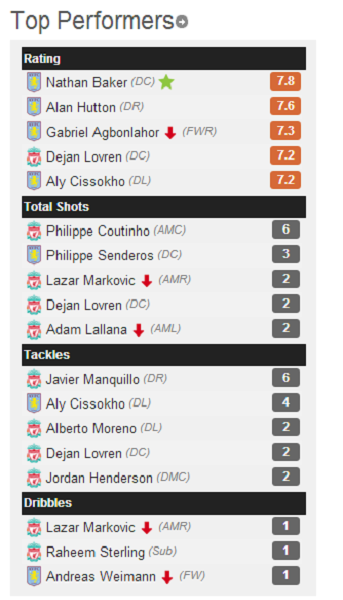 After seeing Liverpool resort to hopeful long balls, you would have to feel that Rodgers is yet to find the solution for breaking down 'the parked bus.' This is something he will need to address and do quickly as teams treat Liverpool with increasing respect.
…Liverpool's ineptitude and Aston Villa's consistency at Anfield is How The Match Was Won!
What do you think?
I would love to hear your thoughts about this or other tactics of the match that were an important factor in its outcome. Let's discuss it below in the comments section.
HOW THE MATCH WAS WON by Keith Scarlett, Assistant Women's Football Coach – Perth Glory FC, Australia, former U.S. Soccer National Staff, follow him on Twitter @keithscarlett and catch his personal blog, "An American Coach Down Under:" http://keithscarlett.blogspot.com