By Rees Linn
As I type this you'd be hard pressed to find an MLS team struggling more than FC Dallas. The North Texans are on a 12 game winless run, much of which can be attributed to the fact that they've only scored 4 goals from the run of play during the same stretch. Normally, I spend my time analyzing good attacking football, but since I attend every FC Dallas home match I felt the need to offer a critique of the team in my own backyard.
A lot has been made of injuries to first team players, but Dallas' attacking troubles really stem from two main deficiencies: poor off the ball movement and poor space recognition/anticipation. To demonstrate, I'll walk you through three examples that occurred in the first 15 minutes of their draw with Chivas USA from last weekend. In this match, Dallas began in a 4-4-2 with Scott Sealy and Brek Shea at striker, Fabian Castillo at left mid, and Jackson at right mid (a decent group by MLS standards). The strength of this group is pace, and I expected Dallas to focus their attacks on the wide areas.
In Example 1, Dallas has worked the ball to Castillo on the left. Castillo is in behind the Chivas USA midfield, which forces Riley (Chivas USA's right back) to step forward to pressure ball. The problem here is simple – neither striker has anticipated the space that will open up as Riley pressures Castillo. A committed run from Sealy would have forced Califf (the Chivas center back) to track wide, leaving Shea to stay central for a potential cross. Unfortunately, no run is made, and Castillo is ushered out of bounds for a Chivas throw-in.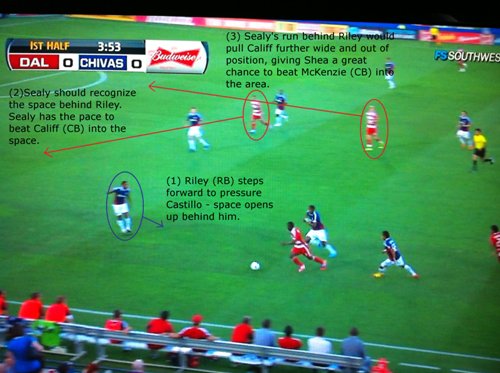 In Example 2-1, the Dallas left back (Rodriguez) has the ball wide left in Chivas USA's half. Castillo, who begins high and central, drifts wide and towards the ball causing Riley to slide wide with him. As Riley slides wide with Castillo, the gap increases between the right back and his central defender (Califf). Shea is quick to identify the gap, but he fails to make the committed run in behind – a frustrating development because it's almost certain that he could have outpaced Califf for the through ball.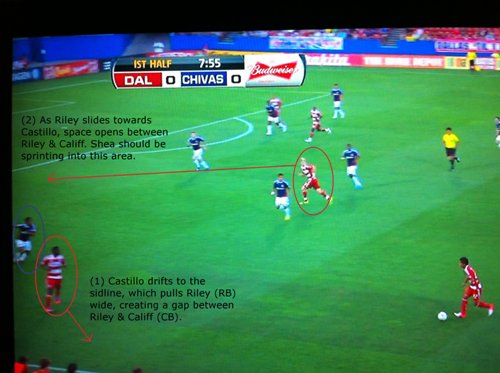 In Example 2-2 (a continuation of the previous example), Shea has checked his run, and the ball has come wide to Castillo. Shea's checked run is an error because there's still space behind Riley to exploit. Also, by continuing his run Shea could have drug Califf further wide and out of position. With Califf out of position, Chivas USA's other center back (McKenzie), would have to monitor Jackson and Sealy's movements in the center. A run from Jackson into the pocket created by Shea's absence would force McKenzie to decide whether to track him or stay with Sealy. Instead there are no good options and the ball is lost.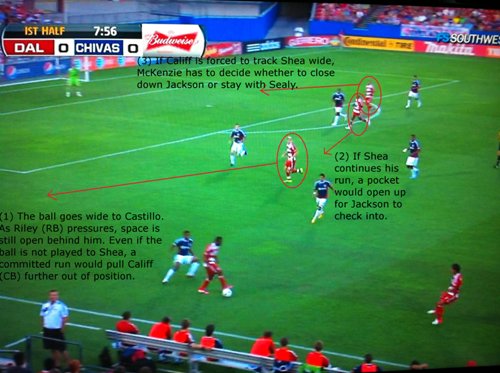 In Example 3, Dallas centerback, Matt Hedges, has pushed into the midfield and drawn a Chivas midfielder. Sealy has checked to the ball to offer support, and in doing so has pulled Califf forward and out of position. As Califf steps forward space is opened up behind him, and both Brek Shea and Fabian Castillo are in perfect positions to move into it. Considering the mismatch with McKenzie, Shea is probably in a slightly better position than Castillo. Also, if the ball goes wide to Rodriguez in support (which it eventually does) the passing angle is better for Shea's run. In the end, stagnation rules the day, and neither opportunity is taken advantage of.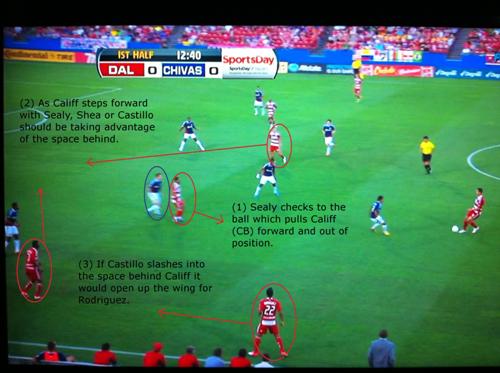 These are examples of what not to do, but there are several serious take aways from these scenarios if you employ a two striker system. For instance, strikers need to anticipate when space is opening behind outside backs when the ball is worked into wide positions. Also, it can often be important for strikers to continue their runs into wide areas in order to draw central defenders out of position. Lastly, target play from the striker is important, but it's equally as important to take advantage of the space created behind the target man.
Rees Linn is a frustrated FC Dallas supporter. Please send comments to reeslinn@yahoo.com.