By Anthony Hazelwood
The following activity coaches a team to create crossing opportunities to finish on goal. The specific fitness target is match endurance while adapting the player's aerobic capacity in an extended small-sided format.
When preparing the activity, if needed, concentration and difficulty levels may be increased by having players execute something extra unique by setting more restrictions. Every activity may be modified, and it is up to the coach to be creative. However, it is important to respect the parameters of the exercise time, the rest, the types of actions used and the weekly periodization of the activity.
Additionally, it is beneficial to train a soccer team and its players with all the elements of the game being present in the session. By doing so, it will promote soccer specific adaptations to the player's body, mind and emotional triad. Ultimately, these adjustments will enhance their real-time game performances on a physical, emotional, conscious, and subconscious mental level.
Area Size: 65 yds. Length X 60 yds. Width
Total Activity Time: 20 Minutes.
Sets: 1.
Intervals: 2.
Activity Time: 9 minutes.
Recovery Interval Time between Sets: 2 minutes.
Intensity: High.
Objectives:
• Tactical: Create crossing opportunities to finish on goal.
• Fitness: Aerobic Capacity.
• Technique: Proper fitness and off/on the ball execution/techniques.
• Mental-Emotional: Players fully engaged and concentration is high.
• Concentration Level: High.
Setup: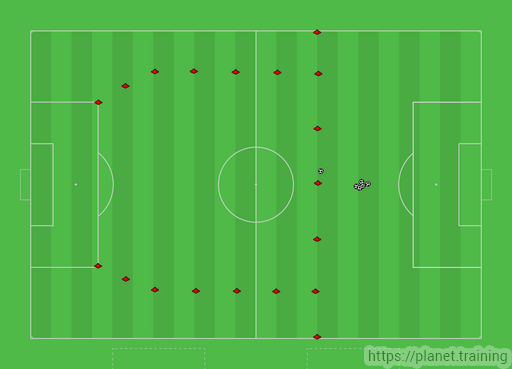 • Black team (4-2-3) trains to create crossing opportunities to finish.
• Yellow team (1-4-4-1) looks to regain possession to find target player to earn a point.
• Cones on the field are for guidance and player references only.
• Target player is located at the black team's end line and may only run side to side on the line.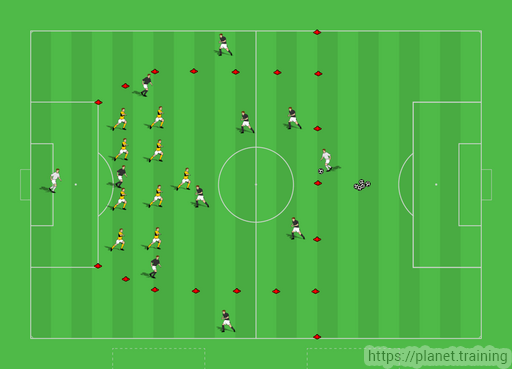 • Black team (4-2-3) starts with the ball and looks to score by creating crossing opportunities to finish on goal.
• Restarts may be replayed from the Target player, or from natural stoppages such as throw-ins or corner kicks.
Coaching Points:
• Cones on the field are for player reference only.
• Defenders and attackers may move freely on the field. However, the side channels are for width guidance purposes to show where crosses should be started and created from.
• In the attacking third, the cones begin to move towards the midline of the field diagonally. This acts as guidance for a dribbling winger or dribbling fullback to cut towards the middle of the field to create a crossing opportunity.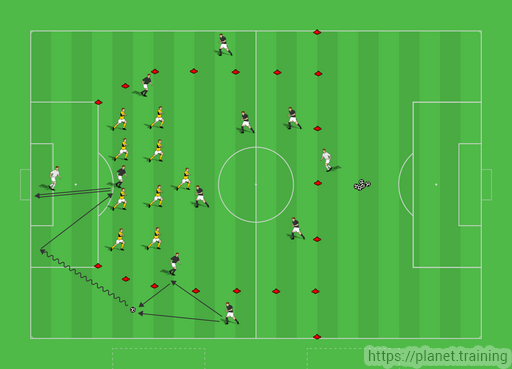 • Wingers and Fullbacks should perform combination plays to create numbers up situations to create crossing scenarios to finish on goal.
• Mobility and creativity is important to unbalance defenders.
• Players should read the situation and make correct runs to meet the ball at well-timed moments.
By Anthony Hazelwood
Current Seattle Sounders Academy Performance Coach with previous European academy coaching experience as an assistant fitness and strength/conditioning soccer coach with Levante U.D. (2013-2014) and Getafe SAD CF (2015-2016) in Valencia and Madrid, Spain respectively. A USSF "A" licensed coach with a BSc in Physical Education and an MSc in Sports Training and Nutrition.