By Daniel Severn
This week's exercise is a two player combination play which includes give & go's, agility, a through ball (in which the weight and timing of the pass are key) and also crossing and finishing. It is a continuous exercise that focus' on many aspects involved in the game. Short, fast-paced repetitions with longer breaks between each rep' will help develop excellent anaerobic cardio.
Set Up and Directions
The exercise is set up as shown below.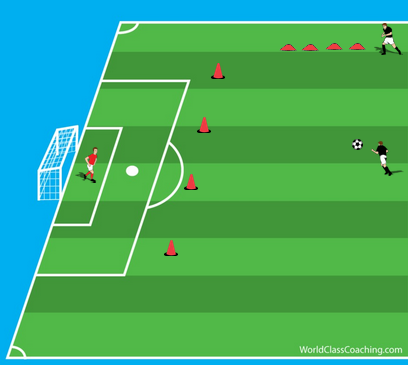 Our central midfielder starts with the ball at his feet, dead center, around 30-40 yards from goal (dependent on age/ability). Our wide player starts behind a line of five cones, again, around 30-40 yards from goal, but positioned by the sideline. The tall cones positioned just outside the penalty box are acting as a back four for the opposition.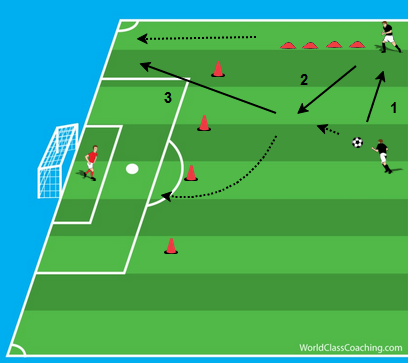 Play begins with the central midfielder playing a pass in to the wide players feet, the wide player returns the ball at an angle set slightly in front of the central midfielder for him to move forward too.
Immediately after playing the pass, the wide player performs agility through the cones (e.g. shuffling / quick feet / jumping).
At the same time, the central midfielder plays a weighted through ball – in between the left defender and left-central defender – in to the space for the wide player to run onto.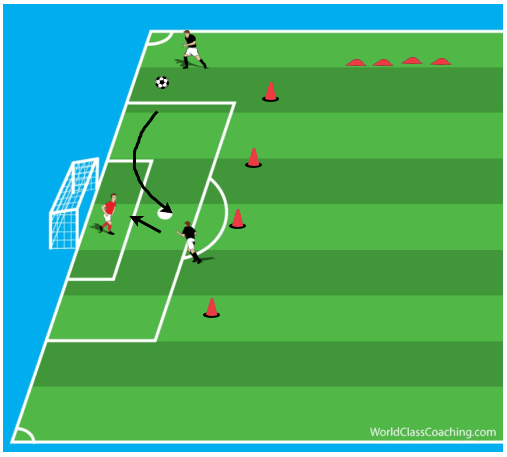 [wpsharely id="1886"][/wpsharely]
The central midfielder makes a run into the box after playing the pass, the wide player collects the pass and crosses the ball in to the box for the central midfielder to run onto and take a shot, first time.
Timing
Depending on the age and ability of the players I would ask them to perform it role between 4-8 times continuously. Take a short break and then switch roles.
Variations
1 – Agility – this can be varied to focus on different ways to change direction/accelerate quickly.
2 – Goalie – add in a goalkeeper to make the finishing more challenging – this could also change the rotation to three players and then there is more 'rest-time' for the players if they act as a goalkeeper for a few repetitions.
3 – 1-touch – to increase the intensity and pace (for older age groups) you could play this combination with a one-touch rule. This would add to the importance of weighting the through pass in particular and would also make the cross even more challenging.
I hope you enjoy the exercise!
Dan
Program Director
BRASA Brazilian Soccer Academy
@coach_danny