HOW THE MATCH WAS WON by Keith Scarlett
Champions League
August 19, 2015
Valencia 3 - 1 AS Monaco
What regrets will AS Monaco have after this match! Convincing collectively, Leonardo Jardim's men were sealed by individual errors, each time punctuated by a Spanish team; 3 shots on target resulting in 3 goals. The gap was not huge between these two teams, but the Spaniards were able to exploit the Monegasque weaknesses.
Here is what I thought were the key tactical aspects that played into the outcome of this match. What are your thoughts? Please let me know what you think and what other tactics you think were a factor in this match in the comments section below.
There were no surprises in either starting lineup. Valencia was without André Gomes and Otamendi, who is bound for Manchester City. For Monaco, Moutinho and Kurzawa did not make the trip and Abdennour's future is still unclear. They were replaced by Pasalic, Echiejile and Wallace.
4-4-2: it is with this system that Monaco went to the quarterfinals last season. Despite missing Moutinho, Jardim still stuck with it. Facing a Valencia side that favors the short game to move the ball, Monaco started with Martial and Pasalic as their front line. As a pair, they moved between Vezo, Mustafi and Enzo Perez, the heart of Valencia's defense.
Their obvious objective was to lock down the middle and direct play to the flanks where pressure could be applied. Bernardo Silva and Cavaleiro had a lot of work down their respective sides, locking them down almost perfectly. Cavaleiro's ability to accelerate to 2-3 meters when pressing upset Parejo from the first seconds of the match. He also forced Barragan to play difficult balls for his attackers.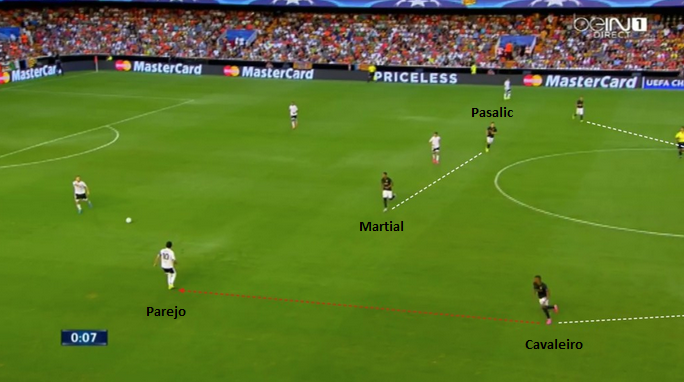 Martial and Pasalic direct play out wide which initiates the press on Parejo from Cavaleiro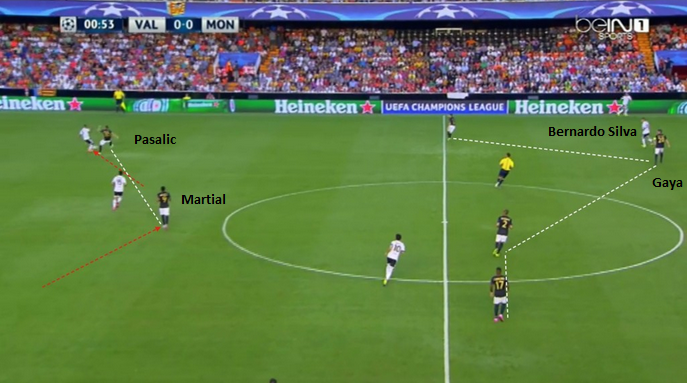 If Valencian defenders try to carry the ball, Pasalic and Martial increase their pressure. Also, note the position of Gaya who is pressed up on Bernardo Silva in case of a long ball out. Long balls out were one option used by Valencia early in the match.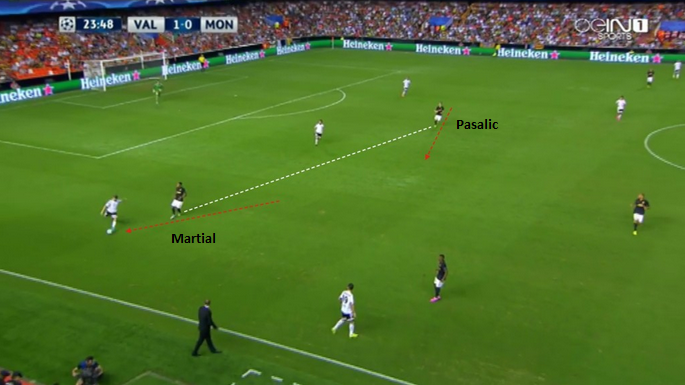 Martial and Pasalic always move together to pressure the ball and maintain a presence in the center of the park.
Interestingly, Valencia still made progress into the Monaco half, while Monaco also managed to create a few chances in the Spanish camp.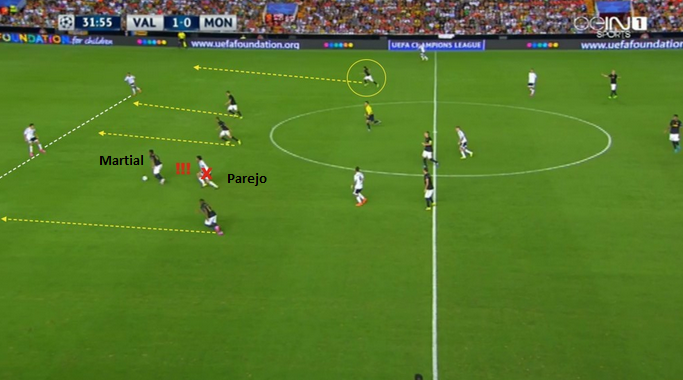 Martial wins the ball off the feet of Parejo and starts a 5 v 3 counter-attack.
Whenever Valencia managed to escape from Monaco's pressing, Monaco would retreat behind the ball while still retaining their 4-4-2 shape. Toulalan and Fabinho remain close inside until the recovery of a wide player to help block support options. Defensively, Monaco conceded very little in the first hour shift.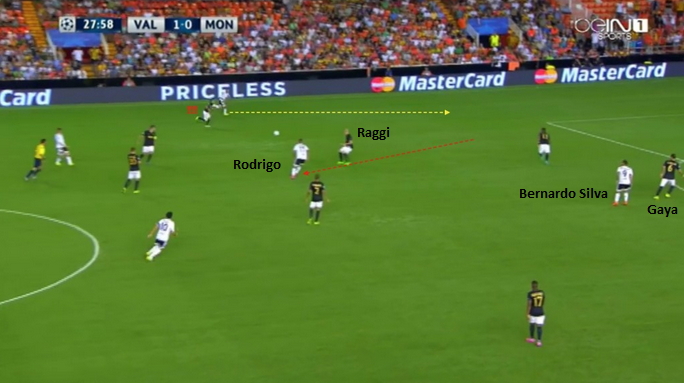 Raggi is drawn inside by the movement of Rodrigo while Gaya is pressed up on Bernardo Silva. A ball in from the midfield put the defense in trouble.
Finding difficulty at creating real opportunities, the Spaniards resorted to one of the least effective offensive weapons in current football: the long-ball played down the middle. Not just any long-ball, however. Balls were served in to the center of the Monaco defense as a means to look for the far post. Monaco defenders were put in difficult situations time and again. For example: Echiejile keeps finding himself far from level on Kurzawa's left side and Raggi keeps having to help to his right, which pulls him out of his center-back position.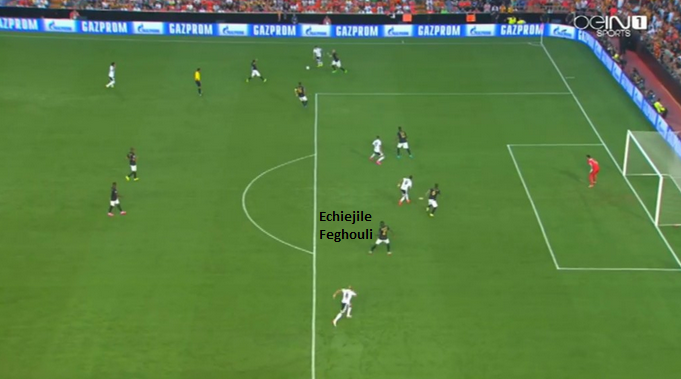 On the first goal, Echiejile Feghouli is too far out of position to be able to control both his recovery angle and his mark.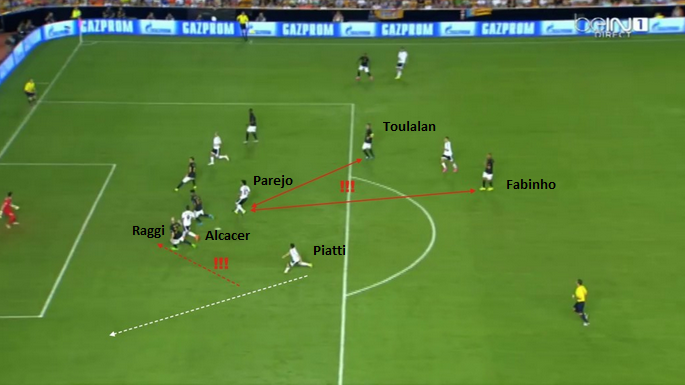 On the second goal, Raggi gets caught following Alcacer inside and leaves Piatti open behind him who Parejo finds.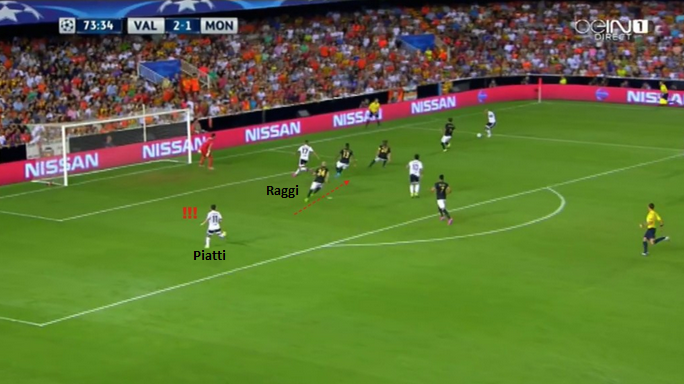 On the third goal, Raggi gets pulled inside again and once again leaves Piatti open at the back-post.
…and that's How The Match Was Won!
I would love to hear your thoughts about this or other tactics of the match that were an important factor in its outcome. Let us discuss it below in the comments section.
What do you think?
HOW THE MATCH WAS WON by Keith Scarlett, Former Assistant Women's Football Coach – Perth Glory FC, Australia, former U.S. Soccer National Staff, follow him on Twitter @keithscarlett and catch his personal blog, "An American Coach Down Under:" http://keithscarlett.blogspot.com