By Mike Smith -
"JUST FALL ON IT!!!!" I have carved out my coaching niche over the past 20+ years working with not just youth soccer – (U8 – High School) but also new or struggling teams and programs. One constant for me has been the need to "make" a keeper for almost every team I have ever coached. This high school season, I actually took over a struggling program whose only bright spot was a very talented sophomore keeper – who then tore his ACL playing baseball during the offseason and was not able to play soccer this year. Maybe it is me? Joking aside, ( and my keeper is recovering well and set to go next season ) I was once again tasked with making a keeper and fortunately found a talented athletic freshman who ended the season in the top 25 in the state for saves. He would have made more saves, especially earlier in the season, if he had of taken my initial advice – " JUST FALL ON IT".
For some keepers / keeper candidates, going to ground is easy ( and us coaches then coach them on not going to ground too quickly ) but for many – getting comfortable diving and smothering the ball takes some time, patience AND instruction. The main instruction points are footwork related and this lack of footwork shows up in games when keepers either don't go all the way to the ground and cover the ball – which leads to easy saves slipping right through their hands ( or legs ) OR keepers making the dive but ending up facing the posts because they turned their bodies away from the ball and then dove. These are issues which can be " drilled out" or good habits that can be " drilled in " during practice.
Set Up
For me, if a keeper isn't comfortable on the ground, I get them comfortable by putting them on the ground. Start with two keepers / keeper candidates working together or with one keeper at a time and a coach serving the balls. The keepers are laying on their sides on the ground, one at a time saving, one at a time serving. The idea is for them to work on extending their ground ( bottom ) hand out along the ground, in line with the goal line, and having the top hand free for cover. This idea of bottom hand to ball, top hand for cover is important as the bottom hand's shoulder ( range of motion ) is limited by the ground where the top hand's shoulder is free – thus the top had has a greater range of motion.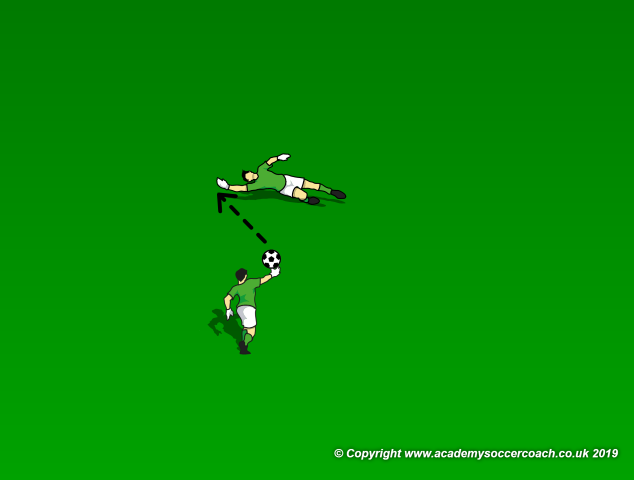 Once they have worked on the ground on both sides, they start on their bottoms, with their legs extended towards each other and repeat a similar progression – balls served on alternating sides low near the ground.
The next step is the critical point – working on the knees. This is where either the discomfort from being on their knees, or the realization being in a deep squat and going to ground isn't much different from being on your knees and going to ground ( and is in fact more comfortable ) will flip the switch. Again, ( see below ) balls are served on alternating sides low near the ground.
2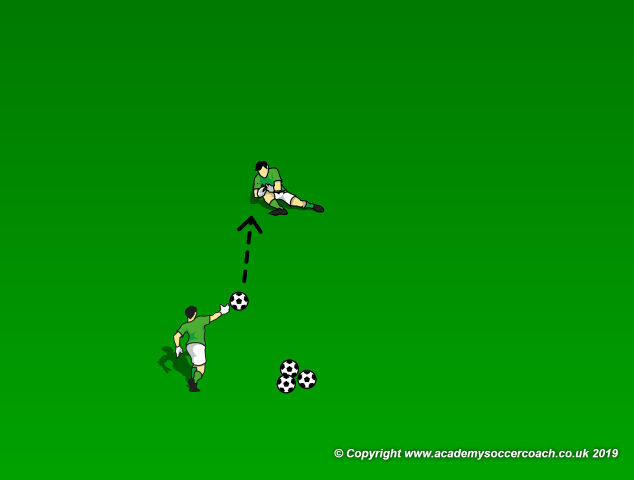 Progression
Bring in the shooters and see if the ground training has helped. Set up designated areas for the shots to go ( as shown below – target area is between the cones and posts) and let the keepers make saves.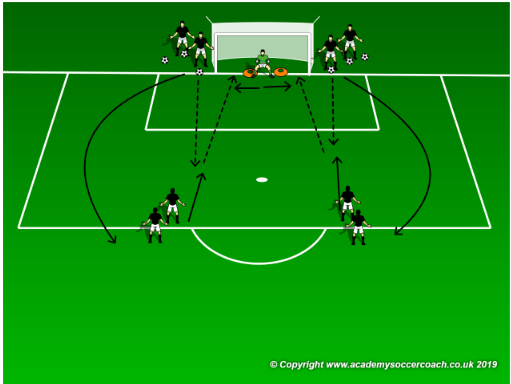 Coaching Points
The coach should focus entirely on the positioning, foot work and hand work of the keepers here. Are they shifting their weight and getting low first before the dive? Is their bottom hand extending and reaching first? ( I like to use this hand work as the idea of their bottom hand extending and " leading them to ground" ) When they land are they extended across goal facing the field or facing the post? These are all critical factors in getting your keeper to JUST FALL ON IT.
By Mike Smith
Currently the Head Coach for University Heights Academy Boys Soccer in Hopkinsville, KY , Mike is in his 14th year as a high school head coach with 23 years coaching experience overall  and 34 year as a student and fan of the game. He holds a USSF D License.