HOW THE MATCH WAS WON by Keith Scarlett
Ligue 1
August 22, 2015
Stade de Gerland
Olympique Lyonnaise 1 - 2 Rennes
After two disappointing outings in their matches against Lorient and Guingamp, Olympique Lyonnais stepped out at home in their third Ligue 1 match. With a very defensive starting lineup featuring no striker, Rennes managed to thwart a Lyon side lacking in creativity, specifically in terms of its offense.
Here is what I thought were the key tactical aspects that played into the outcome of this match. What are your thoughts? Please let me know what you think and what other tactics you think were a factor in this match in the comments section below.
Initially, the starting line-up from Philippe Montanier did not encourage optimism. The Red and Black began the game with nine defensive players with the sole midfielder Pedro Henrique at the point of attack.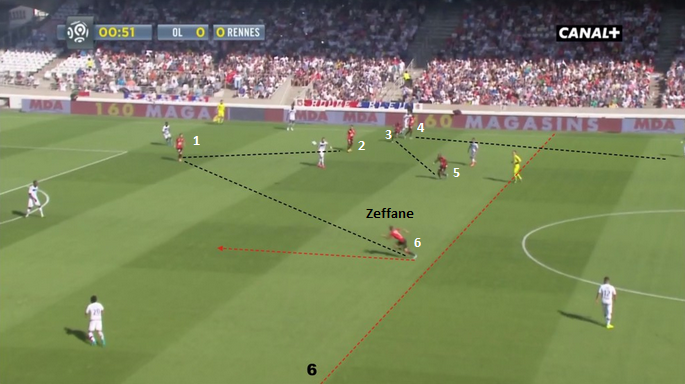 From the start of the match, Rennes showed their desire to defend while advancing. In this sequence, six players from Rennes are within 40 meters from Lyon with Zeffane playing the role as hero.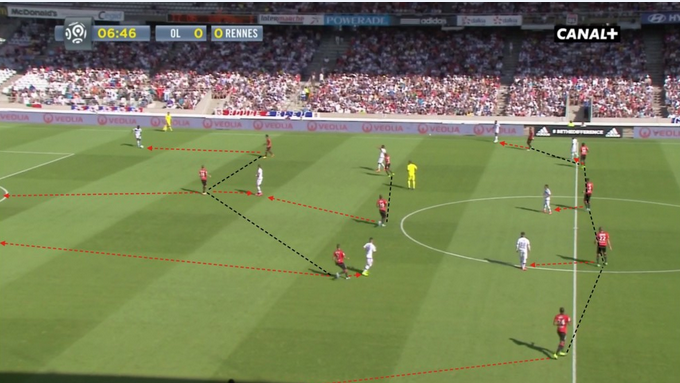 The entire Rennes block is positioned as high as the midline.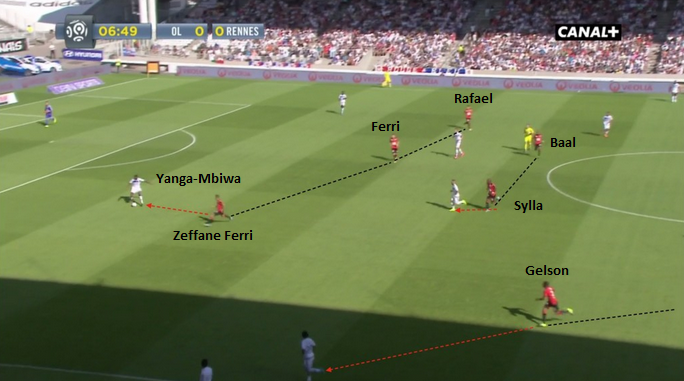 Here we see Zeffane Ferri leave his area to press Yanga-Mbiwa, while his teammates react accordingly. Gelson and Sylla slide to pick-up marks while Ferri, Rafael and Baal look to fill in the seams.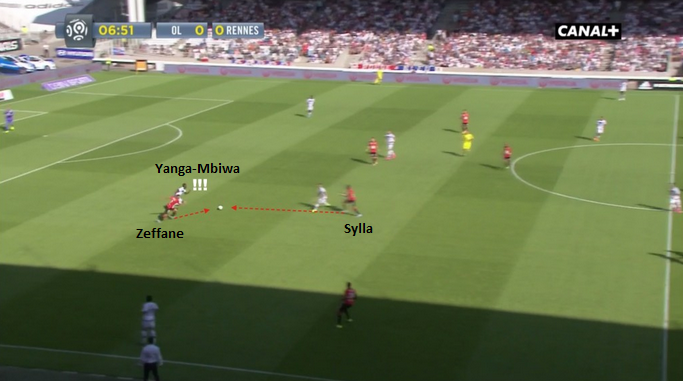 Under pressure, Yanga-Mbiwa is trapped and finds himself blocked by both Zeffane and Sylla, as well as one of his own teammates.
After Rennes quickly validated their original game-plan, things became more difficult for them. They resorted to retreating and abandoned the high pressure. Besides Zeffane, who put pressure on Yanga-Mbiwa whenever he could, Andre left much more space to Umtiti. The Lyon defender now had time and was supported by Gonalons and Ferri, which allowed him to play out of the defensive third without hesitation.
In attack Rennes relied on the vertical runs of Tolisso to support the midfield play of Gelson, Fernandes and Sylla, especially during recovery. The game then developed out wide around Valbuena, Fekir and Lacazette.
The next few minutes were hardly reassuring for Rennes, who suffered adverse pressure from OL. The technical limits of how Montanier had his eleven set up came on display: if the block could not stay in Lyon's half, it was almost impossible to build any attack. Space in front of Pedro Henrique was hard to find. Out wide the runs of Baal and Moreira were easily controlled by Gones.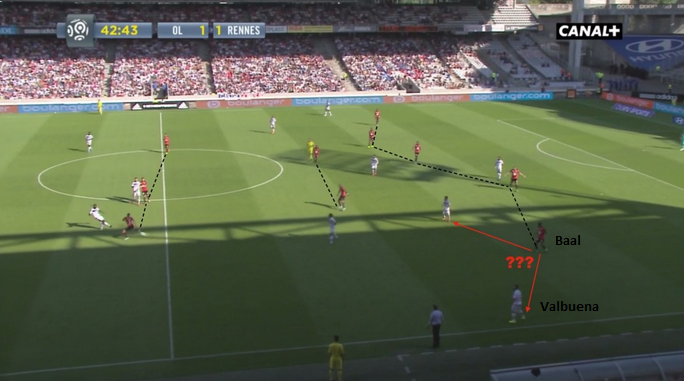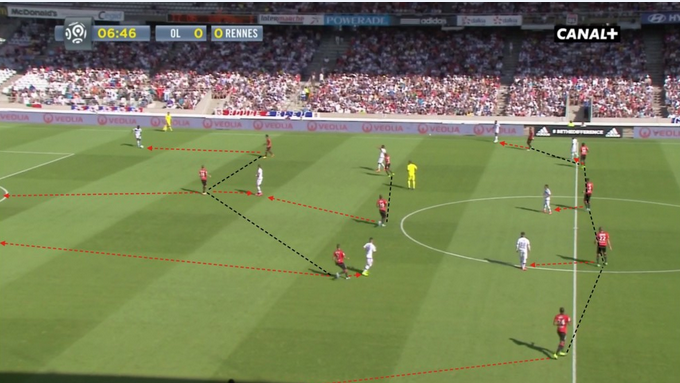 In this sequence, Baal cannot leave his area due to two Lyon players nearby. Instead of standing in line, Valbuena is out wide to create problems for Rennes.
…and that's How The Match Was Won!
I would love to hear your thoughts about this or other tactics of the match that were an important factor in its outcome. Let us discuss it below in the comments section.
What do you think?
HOW THE MATCH WAS WON by Keith Scarlett, Former Assistant Women's Football Coach – Perth Glory FC, Australia, former U.S. Soccer National Staff, follow him on Twitter @keithscarlett and catch his personal blog, "An American Coach Down Under:" http://keithscarlett.blogspot.com