HOW THE MATCH WAS WON by Keith Scarlett
Barclays Premier League
Sunday, 10 August, 2014
Everton 2 v 2 Leicester
It has been a long summer, but finally the Premier League is back! It was a fantastic opening weekend and one of the matches was Leicester City vs Everton where both clubs entertained in a 2-2 draw. Everton had the lead, twice, but both times lost it. Their fans were frustrated that they were unable to maintain the lead, so what went wrong?
Here is what I thought were the key tactical aspects opening weekend draw. What are your thoughts? Please let me know what you think and what other tactics you think were a factor in this match in the comments section below.
Leicester City opened up their 2014-2015 EPL campaign in a 4-4-2 formation, which proved quite difficult for Everton to break down and the work of Dean Hammond and Andy King in central-midfield did affect The Toffees. Meanwhile, The Toffees lined up in their 4-2-3-1 formation with Leighton Baines and John Stones pushing forward whilst Gareth Barry and James McCarthy covered the right and left back spots, respectively.
Everton dominated possession, which is what you would expect from an Everton side. Leicester City did not actually touch the ball in the first 15 minutes, which was mostly dominated by Everton's passing from the defense and trying to build into attack.
Leicester City had to deal with playing minus the ball for most of the match, however when they did get a hold of the ball they countered and should have punished Everton a few times.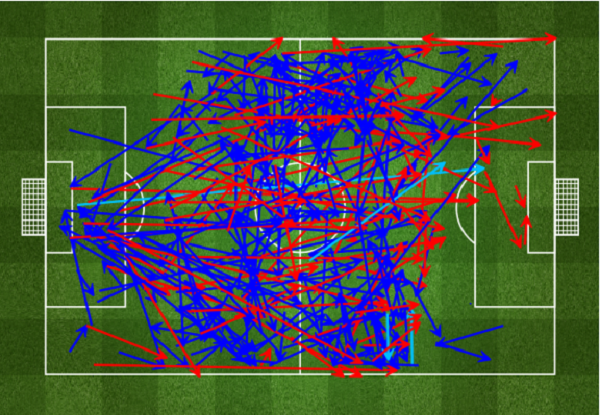 Leicester City's Passing Chart
There were 4 goals to enjoy in this match. Let us look at how they happened and how they could have been prevented…
The first goal was from Aiden McGeady, who scored a fantastic one curling the ball into the top corner. McGeady took the initial corner himself but it was cleared from the Leicester defence and arrived at the feet of Leighton Baines whose shot from distance was deflected into the path of Sylvain Distin. His shot was saved by Kasper Schmeichel and it in turn fell to McGeady.
The moment Aiden McGeady gets the ball, 4 Leicester City players are inside of the 6 yard box but not one player steps up to close down McGeady which gives him all the time in the world to either select a passing option or have a crack at goal.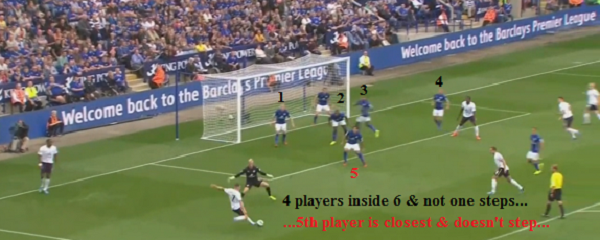 No player is within two yards of McGeady, apart from the goalkeeper who was stranded away from his goal. Now 5 players are within the 6-yard area but not one closes down McGeady's fantastic shot.
Then, just like that, 100 seconds later and it was all level at 1-1. The hosts won a corner, the ball came in and Leicester found a bit of luck as you can see: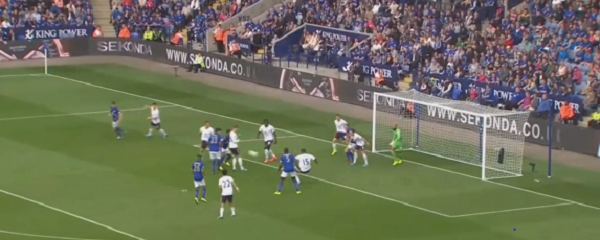 Sylvain Distin tries to clear the ball out of the penalty area, but the ball hits Leonardo Ulloa…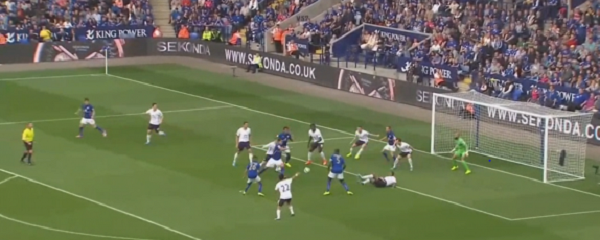 …and all he needs to do is fire home.
The Toffees then put themselves back into the lead, with Steven Naismith scoring just before half time with a fantastic shot that hits the underside of the bar. The build-up is of quality. Originating with Baines and Pienaar: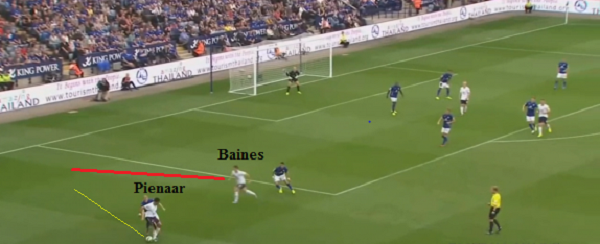 After Steven Pienaar makes the pass into Leighton Baines, he follows it with a fantastic run into the area as returns his pass:

It is poor defending from Anthony Knockaert, who should have stuck with Leighton Baines and closed him down in the corner rather than allow him to make the pass.
Steven Pienaar gets the ball, makes an instant pass and Steven Naismith finishes.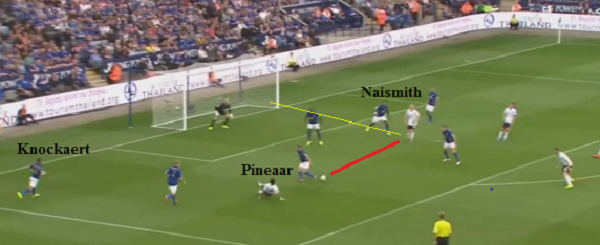 Everton hold on in the second half, as Seamus Coleman comes on to give Everton more defensive strength and to survive the last 5 minutes of the match.
In build-up to the goal, Mahrez is on the ball and you can see Chris Wood marked by John Stones…
…as Mahrez shot is deflected, John Stones pulls away from Chris Wood. Meanwhile, Seamus Coleman drifts forward into the midfield and does not get back into his right-back position.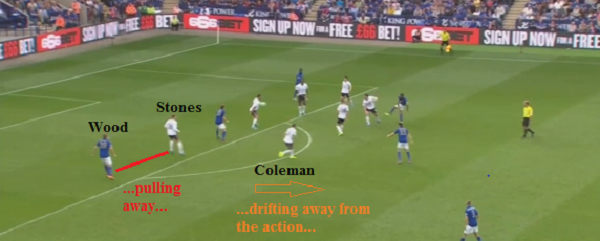 Another Leicester shot is deflected, Coleman has not recovered and John Stones leaves Chris Wood with acres of space…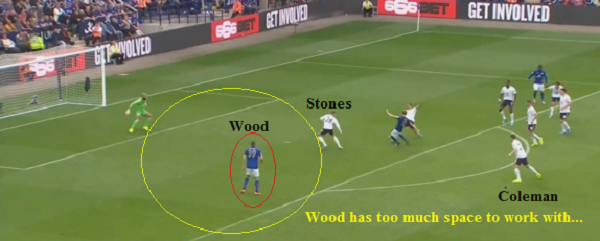 …the ball drops at the feet of Wood who finishes it off with ease and makes it 2-2.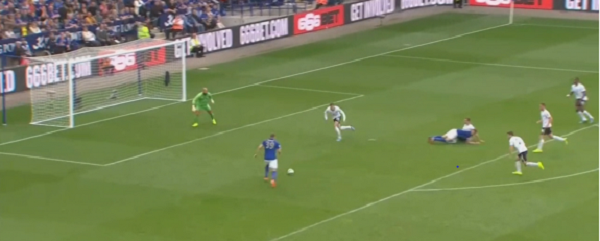 Losing the lead is gutting for Everton fans. In the first half, Everton were fantastic, especially on the left with Leighton Baines and Steven Pienaar linking up fantastically and exposing Leicester's defense repeatedly. However, the Leicester defense adapted in the second half and Baines could not get over the midstride! Everton should have held on, but Leicester did deserve to get something out of the game. A great start from a Leicester point-of-view.
…so, with that in mind, for Leicester City, that is How The Match Was Won!
What do you think?
I would love to hear your thoughts about this or other tactics of the match that were an important factor in its outcome. Let's discuss it below in the comments section.
HOW THE MATCH WAS WON by Keith Scarlett, Assistant Women's Football Coach – Perth Glory FC, Australia, former U.S. Soccer National Staff, follow him on Twitter @keithscarlett and catch his personal blog, "An American Coach Down Under:" http://keithscarlett.blogspot.com