By Josh Jones-Keen -
Dealing with crosses is about being brave & strong both mentally and physically. Give the strikers something to worry about and give the defenders nothing to worry about.
Warm Up
A strong part of dealing with crosses and high balls is footwork. This warm up works on the basic fundamentals of dealing with an unopposed high ball. To start I would have the keepers perform a footwork drill, for the benefit of this session I have used a ladder but you could use an assortment of cones ideas the principle remains the same.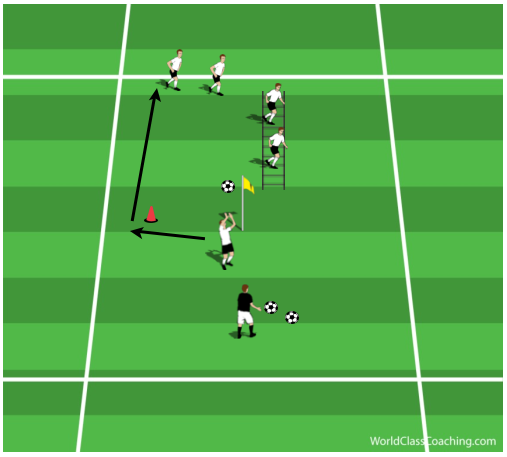 Progression 1 – Unopposed Crossing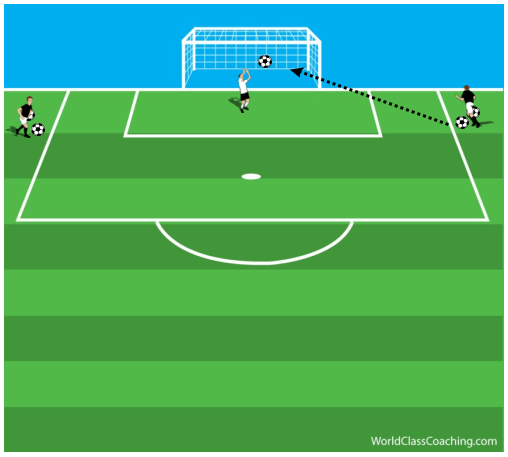 This continues the unopposed dealing with crosses but increases the realism. From outside wide of the penalty area a server aims to cross between the edge of the 6yrd box and the penalty area. The keeper can then distribute to the other server.
The first way I would make this more challenging is to have an extra player charge the area to put the keeper under pressure.
Another option is to have two keepers on the line and to have them both challenge to catch the ball. For fun allow them to tug and pull each other
Progression 2
Now to combine the two. Set one keeper in the goal and five servers around the 6yrd box. One wide of either post, one in line with each post and one slightly further back in the middle of the goal. The keeper must side step in to a good position to collect a high ball from each server. Once the collection has been made the keeper should back step in to the middle of the goal before sidestepping to the next server.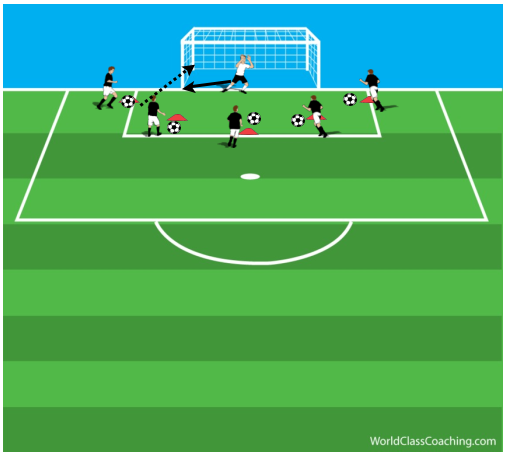 [wpsharely id="821"][/wpsharely]
Progression 3
Three a side, or numbers permitting, with a keeper in each goal and a neutral wide player who must work in the channel. The wide players must cross the ball in to an attacking player who then has a shot at goal. If the keeper makes the save they must restart play by distributing the ball to the wide player.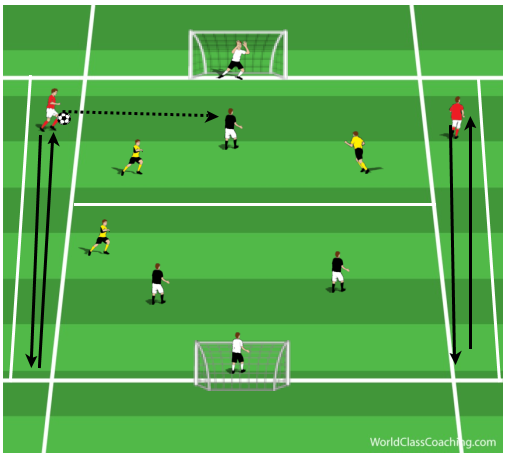 Coaching Points
Footwork
Body shape
Hands in ready position
W Formation
Arms bent at 90 degrees
Good balance, nose over toes both on ground, in the air & on the floor
By Josh Jones-Keen - Josh has been coaching Goalkeepers for over a decade & has both Outfield and Goalkeeper coaching awards from England and Scotland. He's coached at a number of levels from grassroots to semipro and currently coaches non league Women's team as well as a local academy.