By Stevie Grieve
In the recent Champions League match between PSG and Chelsea, Chelsea set up to play compact and defensively with an emphasis on counter-attack, with a high prioritization with blocking PSG's left with lots of players on that side of the field, with Willian, Cesc, Ramires and Ivanovic all regularly defending on that side against Maxwell, Matuidi and Lavezzi.
Normally, Costa would go to help and Matic would drift over to provide cover for the right side incase PSG broke though and exploited the space, while PSG would often send over Verratti and Cavani to provide extra bodies to try to find an overload.
Consequently, this means that often 8-11 players would be found on one side and within ¼ of the field or less, resulting in Chelsea blocking the vertical attacking actions PSG were looking for on the right side with Maxwell and Matuidi giving left sided balance and crossing opportunities.
PSG Tactical Alteration at Half Time- 3-4-3 with Switches to free Maxwell and Matuidi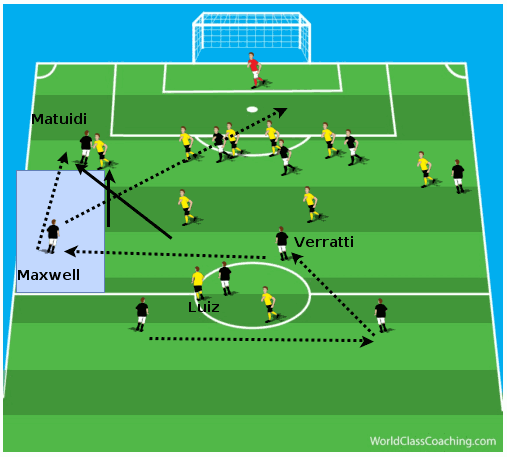 In the 2nd half, instead of playing directly into the wide zone and then forward, PSG looked to move the ball into an area to move the Chelsea block then free Maxwell. To do this, David Luiz dropped in to make a back 3 in a 3-4-3, then stepping back into midfield once Maxwell was free with Matuidi high on the left side, often drawing Willian back and creating a Chelsea back 5 or 6 with minimal horizontal compactness in midfield, giving Verratti the chance to find Maxwell with a diagonal wide pass in an area with little pressure.
This chance was an excellent idea as it allowed for PSG to break free down the left side on a regular basis, provide plenty of crosses to 3 centre forwards inside the box and gain control of midfield as the back 4 become too narrow and the midfield need to drop off and create deep defensive width.
From this, Maxwell and Matuidi provided a combination down the side resulting in a goal from a left sided cross and header by Cavani from 6m, despite several warnings for Chelsea resulting in Courtois stopping Ibrahimovic form scoring possibly 3 headed goals, among others.
Congestion on the Right Side

As Chelsea counter-press in a 4v5 in the PSG half, only Maxwell is free to receive a difficult pass. As the ball is in transit, Chelsea are able to get 3 players around Maxwell and delay the attack.
Fast support and recovery runs from both sides congests the area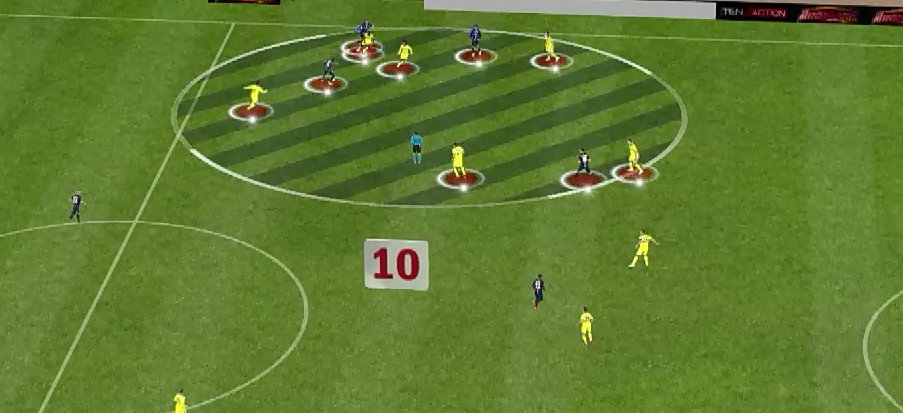 As everyone close to the ball sprints close to Maxwell, the immediate zone around the ball is highly congested with Matic drifting over to help cover the space behind where Ramires moves to press.
Chelsea controlling the exit routes; forcing difficult passes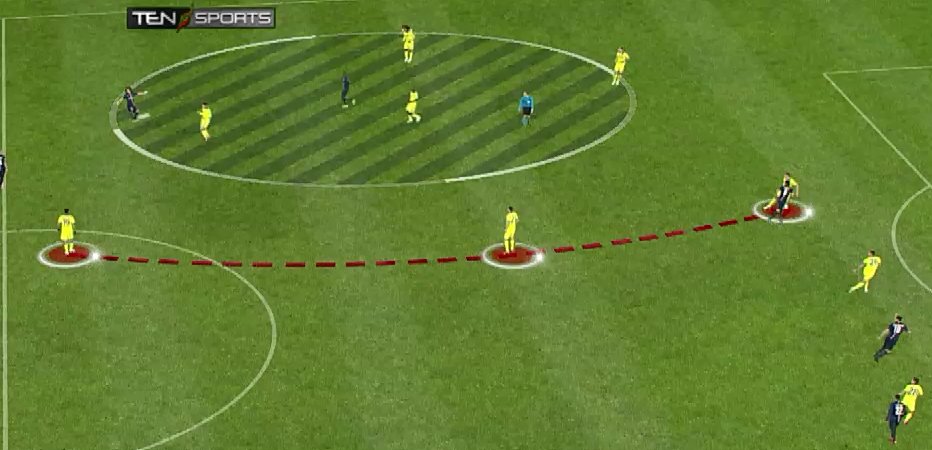 As PSG try to break through the left side as they targeted Cahill as the weak link, often they would force difficult passes which Chelsea would intercept or win the high ball as it was too straight to cause a problem.
Cahill's reluctance to stray from John Terry results in a cross from Matuidi – 4m too narrow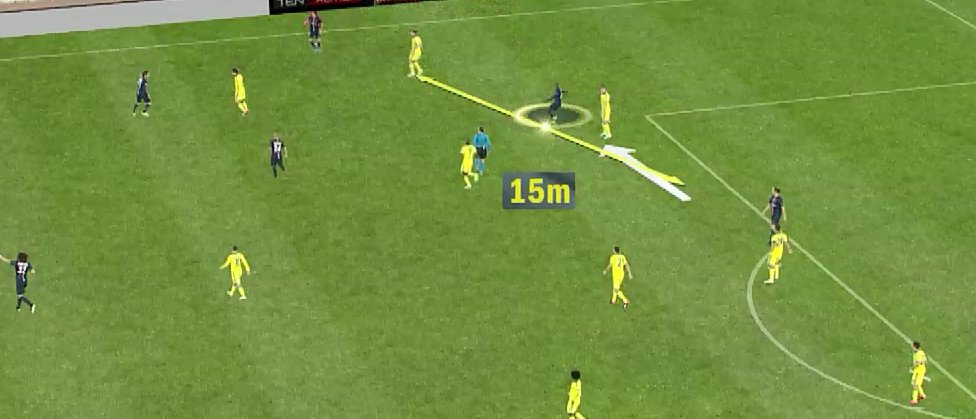 This image shows where Cahill should be – tight to Matuidi to prevent an easy cross and leaving Terry to mark Ibrahimović in the centre with Matic in a position to drop in and help play 2v1 with Cahill wide. The next image shows what actually happened.
What actually happens – Cahill not wide enough to mark Matuidi results in scoring chance

As Maxwell finds Matuidi in the massive gap between Cahill and Ivanovic, Cahill can't prevent the cross which results in Ibrahimović making a header on goal which Courtois saves well from 8m.

Nobody able to stop the cross; Ibrahimović out-jumps Terry and should score.
PSG Tactical Alteration at Half Time; 3-4-3 free Maxwell via switches of play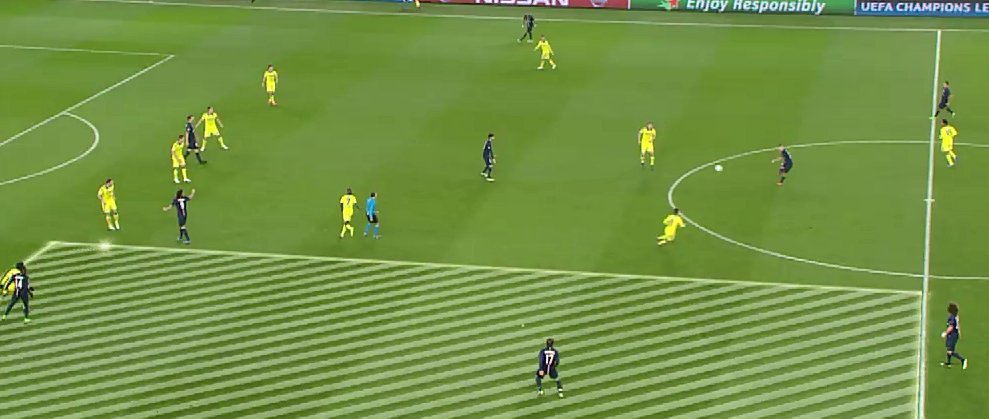 As PSG want to open up the right side of Chelsea, they narrow the back 4 with playing a narrow front 2/3 with Cavani, Ibrahimović and often Lavezzi or Pastore arriving later, with Matuidi high on the left drawing Willian deep as Ivanovic stays closer to Cahill, which frees Maxwell to receive a switch pass.
Ideal Chelsea defensive positions to deal with the switch of play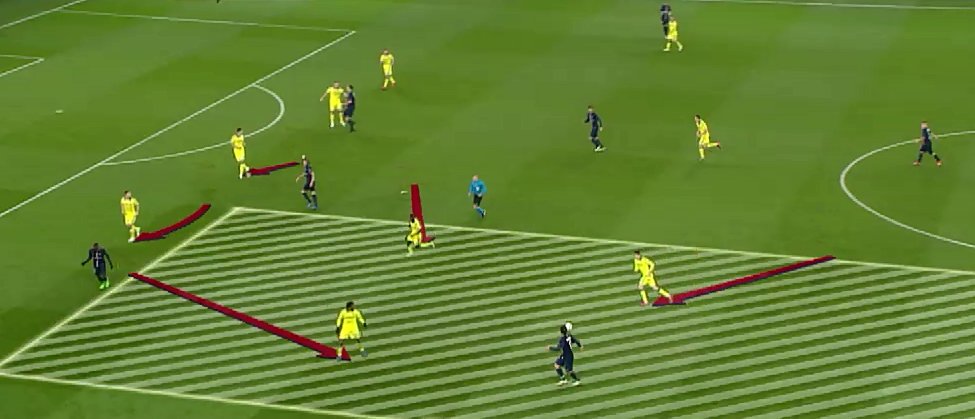 The red arrows show where Chelsea were and where I moved them to, showing better defensive positions to get closer to Maxwell and close down his space and place more pressure on the ball.
Maxwell's cross into the 3v3 in the box results in a scoring chance for Ibrahimovic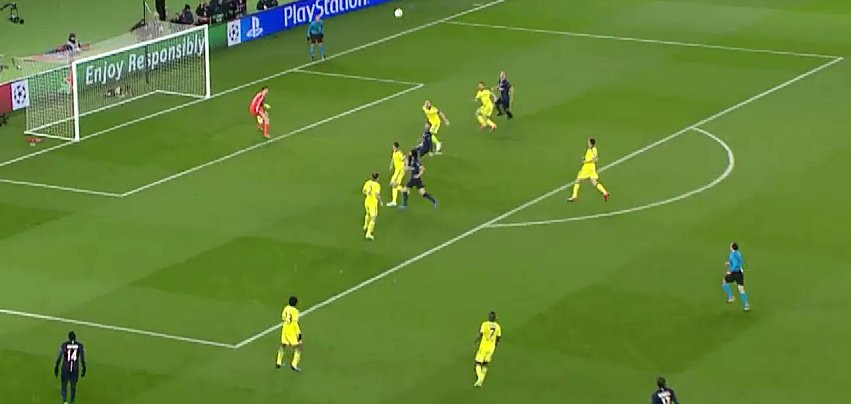 With no pressure on the ball and 3 inside the box with Matuidi pulling Ramires over stops him from helping inside the box. This results in a great cross and a headed chance for Ibrahimović at the back post where he should score with Courtois in a difficult position to react quickly with 6m maximum between him and the ball when it is headed.
[wpsharely id="2988"][/wpsharely]
Cavani goal from left side cross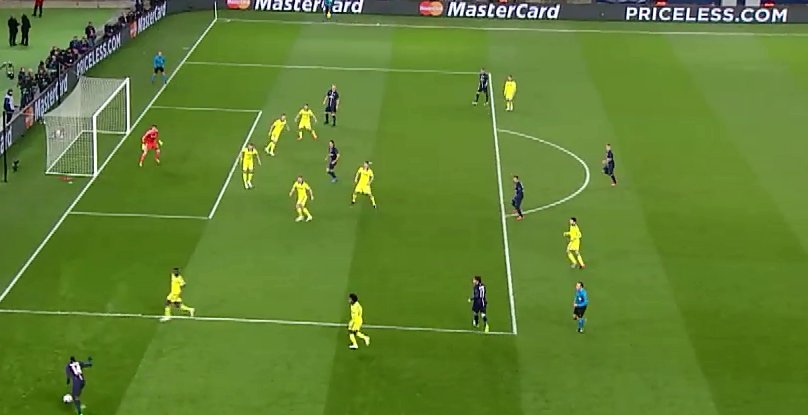 Here, we can see that Ivanovic is inside the box in a bad position, with Ramires (RDM) or Willian (RM) both unable to track the run of Matuidi a d stop the cross with 3 PSG attackers in 2nd ball recovery positions.
The tactical alteration at Half Time from Laurent Blanc was an excellent one, giving PSG total control of the game and opening up the space they wanted to attack into from switching play allowed PSG multiple scoring chances from the left side, resulting in the goal they needed to get to 1-1.
By Stevie Grieve. (Follow on Twitter @steviegrieve)  Stevie is also the author Coaching the 4-2-3-1, Coaching the 4-2-3-1 Advanced Tactics and From Futsal to Soccer