By Stevie Grieve
Atletico Madrid may not regain the Spanish League title that they earned last season, but Diego Simeone has kept them competitive in 3 competitions with arguably a weaker starting XI than last season, losing Goalkeeper Thibaud Courtois, Left Back Felipe Luis and Talismanic Striker, Diego Costa all to Chelsea. Simeone replaced these players with players of similar playing profiles;
Jan Oblak and Guillherme Siqueirha from Benfica, Mario Mandzukic from Bayern Munich, while adding mobile attacker Antoine Griezmann from Real Sociedad. This has given them a team with similar profiles in each area from last season while arguably a weaker team, other additions such as creative midfielder Cani, have given them more options Siqueirha is an attacking left back, Manduzkic is the target man while Oblak and Moya are able replacements for Courtois.
Attacking the 'strong side' to keep the game compact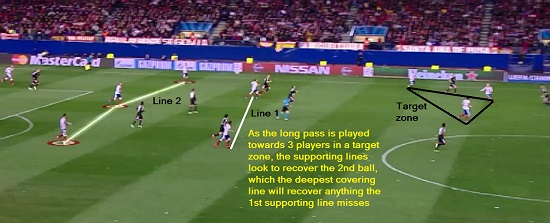 When Atletico are in possession, they tend to keep the play on the side of the ball and into a compact area, focussing on quick touch breakthrough to play through the press.
If they cannot breakthrough, they are in a position to counter press with stability behind and around the ball already in a compact defensive shape in the pre-transition phase.
Attacking from a 2nd ball recovery; Staying compact

When the ball is recovered, only JuanFran and Cani are outside the pressure zone, in positions where a more expansive team would look to play outside and spread then play in the open 'weak side'.
Rejecting the open side switch to keep compact

This looks like one of the 'rules' when in possession; don't open up play with a horizontal pass into central midfield as this may trigger a press from Leverkusen and leave the Atletico Madrid defence exposed. Cani in the centre is ignored and the obvious exit route isn't used.
Playing through congestion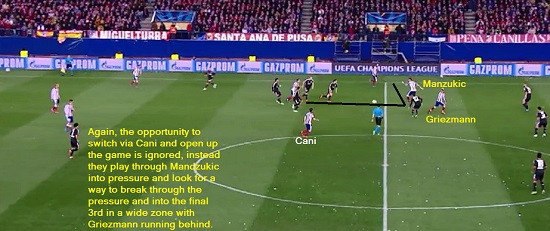 The pass through the press evades 4 players and opens up an attack onto the side with Griezmann running down the line to 'win space' in the Leverkusen defensive 3rd, allowing Atletico to set up a dangerous corner kick or throw in.
[wpsharely id="2988"][/wpsharely]
Griezmann runs beyond the defensive line with a central passing option available

As the 'rules' of the Atletico attack is to pass forward as quickly as possible and behind the high line as early as possible, the pass inside into Mandzukic then attack the goal diagonally.
The reason for the emphasis on wide and direct attacks is to force mistakes and get behind the defence, and win space or they re-start from throw ins or set plays where Atletico are dangerous.
Atletico are a dangerous attacking team with an emphasis on quick, transitional attacks, while making it very difficult to be attacked while in the defensive transition phases due to staying compact when in possession and forcing the opponent back from attacking behind or attacking from restarts, and keeping the are behind and around the ball compact and spaces closed and able to be covered by multiple players.
By Stevie Grieve. (Follow on Twitter @steviegrieve)  Stevie is also the author Coaching the 4-2-3-1, Coaching the 4-2-3-1 Advanced Tactics and From Futsal to Soccer