By Stevie Grieve
Since January, the return to form of Lionel Messi has seen him reach new heights in performance, unseen ever when he was World Player of The Year for 4 seasons running (2009 2010 2011 2012) and now he has changed his role in the team to play as a deep inverted winger, who has almost a free role as Dani Alves and Ivan Rakitic adapt the RB and RCM positioning to change and cover for Messi as he goes looking for solutions from deep.
We often see Messi in a position where he can play a now trademark diagonal through ball from the inside right channel to the inside left channel, where Thierry Henry, David Villa, Pedro, and now Neymar are the main beneficiaries of his fantastic through balls and lofted passes from this deep position.
In the game v Bilbao, they tried to overload Messi 2v1 and 3v1 on the touchline and block his access to the dribble diagonally towards the centre backs with the ball protected on his left side, but often left his supporting team mates unmarked or left the space inside open to be attacked by the supporting team mates. Often, this would mean that Messi would simply make a pass and allow his team mates to attack the defence with players on the far side with freedom of movement.
Leaving Alves free in Rakitic's RCM position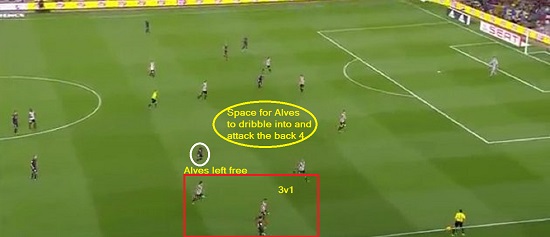 Here, Messi is blocked from dribbling inside as he would normally like to, but instead of completely blocking his central access, Alves is left free in the RCM position as Rakitic covers the Alves position.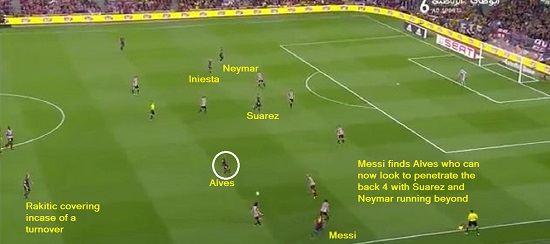 As Messi has the intelligence to know that Alves is in a good attacking position, he finds his team mate then drags away his marker with a run down the line with Suarez and Neymar in good areas.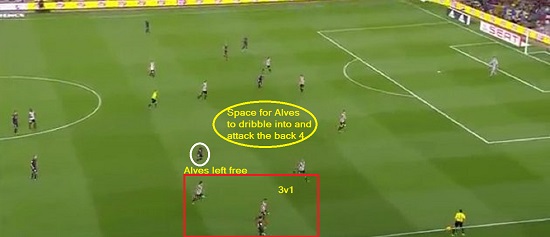 Again, Messi has a 3v1 but with support inside from Alves and Rakitic, but with a difficult passing angle. Instead, he continues his run down the line, dribbles past all 3 players then beats another 2 inside the box before scoring one of the best goals in recent history.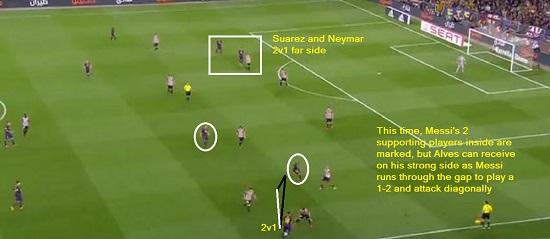 Messi is able to face up the defender and get into a position where he can access the centre. This time, Bilbao have only 2v1 against him, with the 3rd player v Alves inside. Barcelona plays lots of passes with a back to goal for 1-2 play, and as a result in this position Alves knows that is what Messi will look for to get out of trouble.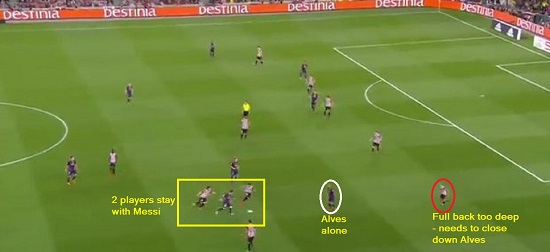 As Messi turns outside, Messi is still tracked 2v1 but again, the supporting team mates are left free; here, the left back is too deep and needs to engage Alves to make it harder to receive cleanly.
[wpsharely id="2988"][/wpsharely]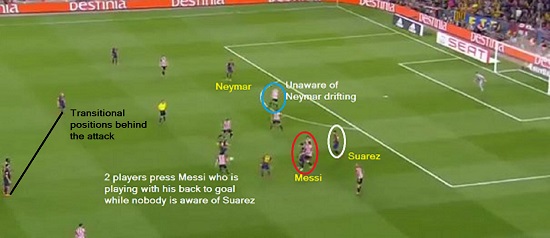 Again, in a 1-2 scenario, Messi is pressed by 2 players – Alves in the last clip by nobody – while Suarez drifts behind the defence unmarked where he can receive and pass across goal to Neymar who is untracker by the right back who is unaware of the movement of Neymar to the back post.
Bilbao came into the game with a clear game plan to stop Messi and attack Barcelona with direct passes to Aritz Aduriz in transition and with an aerial based game from restarts, but neglecting to play close enough to the other 10 dangerous Barcelona attackers resulted in Barcelona being able to exploit the extra free players with the overload placed on Messi.
By Stevie Grieve. (Follow on Twitter @steviegrieve)  Stevie is also the author Coaching the 4-2-3-1, Coaching the 4-2-3-1 Advanced Tactics and From Futsal to Soccer