By Alex Trukan
The following practice is focused on developing endurance through extensive interval training method. That is especially relevant for improving recovery time between high intensity actions. For example, after quick bursts of acceleration or recovery runs. That is achieved in a modification of 1v1 practice, which involves three separate players defending their own gate and at the same time attacking oppositions' goals. The practice is highly engaging and competitive and can be adapted to suit different numbers of players.
Set-Up and Directions
Organise three gates, each 4-5 yards wide, in a triangle shape as shown on the diagram below. Designate one player with one ball each to every single gate. The area size can be increased to develop running with the ball rather than dribbling. The number of gates can be adapted to the players available (i.e. 4 Gates).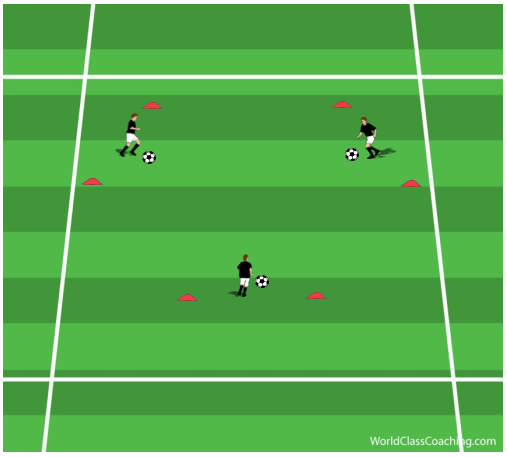 The game starts on the coach's signal. The players are then free to dribble and try to go through one of the opposition's goals to score a point.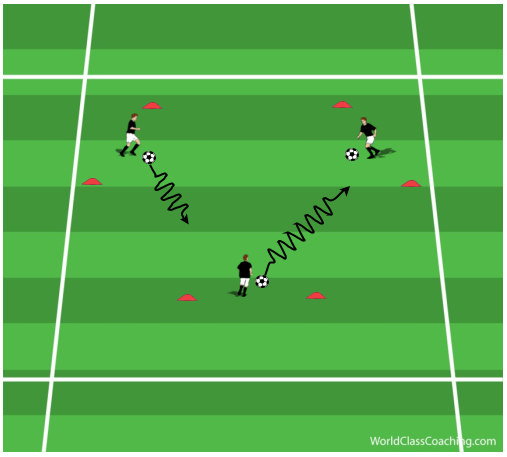 At the same time, the players have to prevent any other attacker going through their own gate. If a player goes through the gate, the player that protected that gate, loses a point.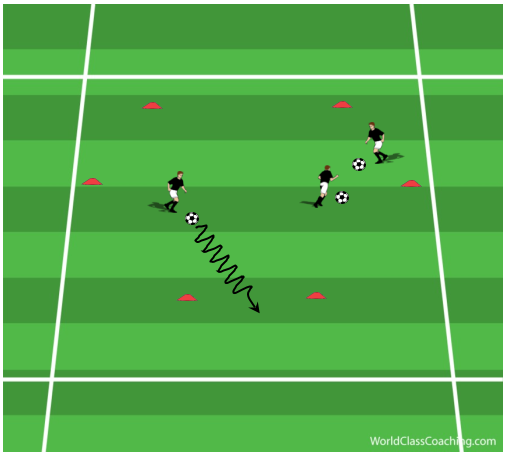 A great deal of this practice is a decision-making around risking to lose a point and trying to score a point (risk/reward). That also shows psychological attitude of players, indicating which players likes to take risks.
[wpsharely id="1886"][/wpsharely]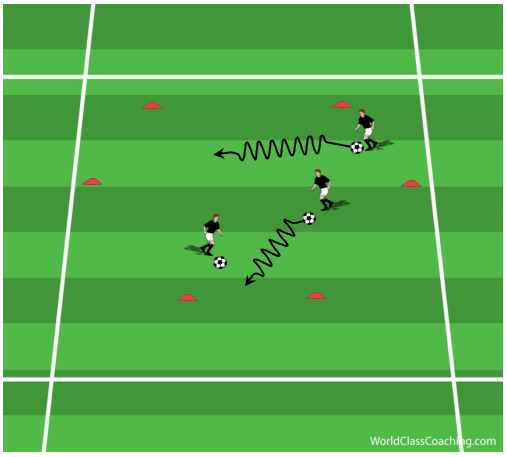 Timing
The game should be played 1-3 minutes and be repeated 6-10 in 2 series. There should be 1 minute break between repetitions and 4 minutes between series.
Variations
4 games of 1v1
Neutral defender in the middle, trying to get in possession
Increase/decrease the distance between gates and gates' size
By Alex Trukan, Development Coach, Nottingham Forest