By Stevie Grieve
During the run to winning La Liga in 2014 and reaching the Champions League Final in 2014, Diego Simeone's well organised team were very flexible in their defensive structure. Normally a team who would play 4-4-2 in attack, they could play defensively in multiple formations; 4-4-2, 4-1-4-1, -4-5-1 and 4-3-3.
To do this from a starting position and stay in these positions and defend in the one shape is fairly easy to coach, but much more difficult is to teach players to understand how to come out of a compact 4-1-4-1 into a high 4-4-2 press and who compensates for the player coming out of line to help the front player, and what the different roles are for the players around the space which is vacated.
Thiago of Atletico de Madrid has been able to demonstrate the flexible positional qualities to understand when to move forward or back, how to shift laterally and cover space, without being exposed between the lines or in the space left to press, such as against Bayer Leverkusen.
Thiago between the lines in a 4-1-4-1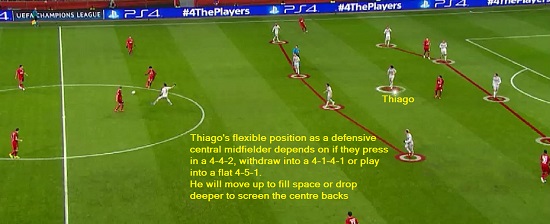 Here, we can see a clear 4-1-4-1 shape for Atletico, very withdrawn with no real effort to press, only Mandzukic high enough to cause any problems. As the ball is passed wide, Atletico spring into action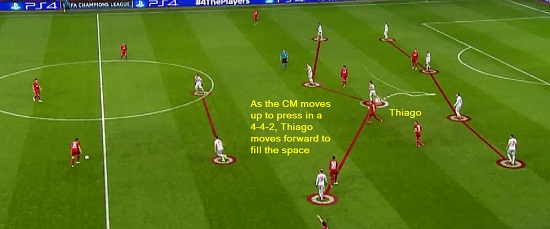 As the ball arrived wide, Griezmann went to press, then as the ball was moved back inside, the near side CM sprints forward, triggering the run of Thiago to cover the gap behind then move forward into the midfield line in a 4-4-2.
[wpsharely id="2988"][/wpsharely]

Now as the CM who pressed is on his way back into midfield, Thiago stays higher to complete a 4-5-1 line, ready to move into the channel as the near side CM moves forward to press again in a 4-4-2.
Now as the front 2 have cut off anything forward and short on the near side, the only option is the diagonal to the far side, which is expected as we can see the Atletico LB fairly wide and ready to deal with the expected switch of play. Thiago here will sprint to cover any cutback passes and track the midfield runners.
Thiago's flexible midfield positioning is a large reason why Atletico are such a hard team to break down as it is not always visible which defensive system they use; if its 4-5-1, 4-4-2, 4-1-4-1 or 4-3-3.
This flexibility comes down to hours of work on pressing from different positions, who covers the presser and how to close spaces by staying in position or adapting to block off the near side passing angles.
By Stevie Grieve. (Follow on Twitter @steviegrieve)  Stevie is also the author Coaching the 4-2-3-1, Coaching the 4-2-3-1 Advanced Tactics and From Futsal to Soccer