By Lawrence Fine, Author of the FineSoccer Coaching Bible.
Welcome to the FineSoccer Newsletter.  Today's featured activity works on long passing, receiving, crossing and finishing.
Start with a 50 x 40 area with a goal on each end line and a keeper in goal.  The group is evenly split into 4 groups just outside the 4 posts.  There is also a player out wide on each side.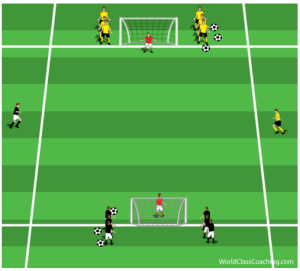 The player with the ball plays a
Continue reading