By Stevie Grieve
Pep Guardiola a main exponent of 'positional play' (or 'Juego de posicion' in Spanish) and uses a system based on overloads via occupying multiple defenders, occupying specific spaces, creating overloads and spaces to attack into whenever possible, and looking for ways to turn 11v11 into a 2v1 or 3v2 by placing players in areas where a zonal defence can be exploited.
A common feature of this is positioning a player in a pocket of space between the lines and in particular in the channels between wide and central players while between the lines. If a defender comes out of his zone to press, this leaves a gap for another to move into, and often de-stabilizes the defence for a few seconds, which is often exploited and leads to scoring chances.
If a player is unable to receive in any position, often they will only stay there for 2-3 seconds then make another quick run; the position will be interchanged with someone else, and the defenders have the decision – mark or stay in zone. The attackers regularly rotating positions causes confusion and often leads to Bayern overloading 2v1 or even leaving someone 1v0 in a dangerous area against the defensive line.
With the regular movement and occupation of several defenders with 1 or 2 players, this frees up players in defence or midfield to overload, gain control of the centre of the field then force the defence deeper.
Playing against positional play with a zonal defence is a job which requires a well drilled team and have the ability to deal with playing 3v2 or 4v3 in wide zones, but often offers difficult attacking chances which normally come from long counter attacks into large open spaces.
Shakhtar went with a different approach against Bayern Munich – a high block man-man press all over the field, almost like and 11v11 Futsal Match. This allowed them to force Bayern into mistakes in their own half and made it very difficult to gain control of the centre of the field as the Shakhtar press was very aggressive, especially from behind against 20m passes from defence to midfield.
This method of defending required Shakhtar to rotate positions in the 'base' defensive positions, and we would often see central midfielders at full back, centre backs in central midfield and full backs at centre back, as players tracked the closest player on the far side as the front players pressed high and directed play wide to Bernat and Rafinha as often as possible, resulting in Shakhtar being able to keep Bayern from playing in the side of vision and controlling the blindside 3rd man runs against quick combinations and diagonal switches of play from unpressured areas.
Shakhtar High-Block Man-Man Pressing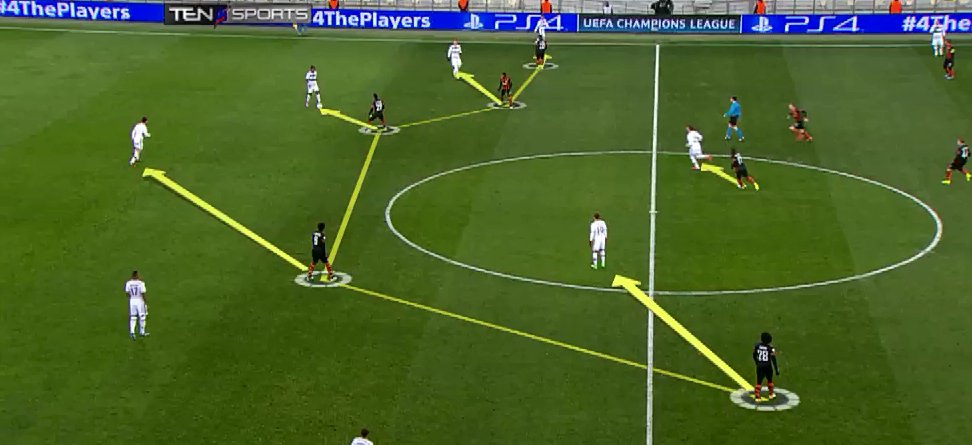 With Alaba at LCB in possession, Alonso drops in to create a situational 5v4, creating an overload to free Boateng on the far side. The Position of Luiz Adriano on the far side of the front 4 means he can press into 3 passing angles, while he wants to block the switch to Boateng and contain on one side.
We can see in midfield that there is a 2v1 against Muller dropping in with 2 players ready to press on either side to regain or force back into the supporting forwards who press high.
Shakhtar Man-Man controlling the middle to engage in wide areas 1v1 to regain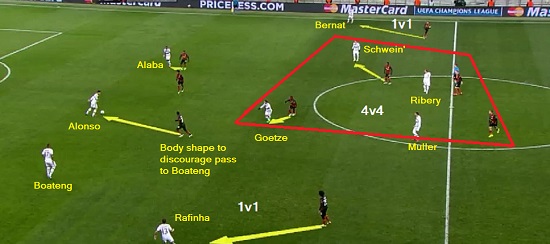 Bayern spread the defence wide and Alonso deep to bring the ball out safely, but Shakhtar are brave and keep pressing high, with almost a 1-4-2-3/3-3-1-3 formation, leaving the last defender 1v1 with Robben out of picture.
Normally a team will press high here and be compact in the centre with deep full backs, but this would render the high and central press useless as Bernat and Rafinha would be free to receive and build the play from a wide zone. Instead, Rafinha and Bernat are within pressing distance.
Making play Predictable – pressure to the expected wide pass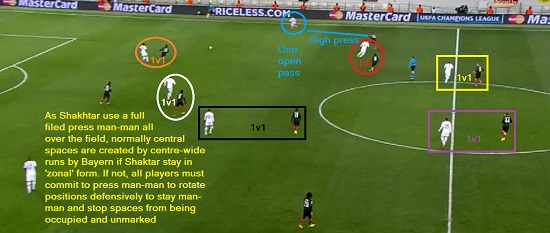 As Alonso uses Alaba, he is instantly pressed and the only available pass is to Bernat on the left, which is predictable and instantly closed down. Bayern make some movements to move into the wide zones and disrupt the shape of Shakhtar but they stay in a man-man system and rotate positions defensively.
Rotating defensive positions to stay man-man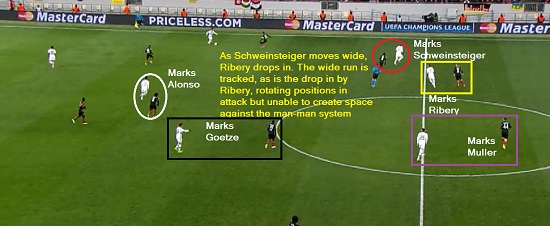 Normally, a defence would stay roughly in zones and we would see most players get close to the zone of a team mate and then pass them on, but Shakhtar have stayed man-man and allowed the RDM to rotate to LB (Red circle), the RCB rotate to RDM (Yellow box), the LCB stay at LCB. We can see clearly that Alonso and Goetze are marked in the deep positions with Schweinsteiger, and Ribery rotating but unable to shake off their markers while Rakitskyi covers the position v Muller.
As Bernat is pressed, he is forced into dribbling into the centre where Shakhtar can double up and try to make a tackle and attack the Bayern goal while they are unbalanced and vulnerable.
Shakhtar close down the space in the centre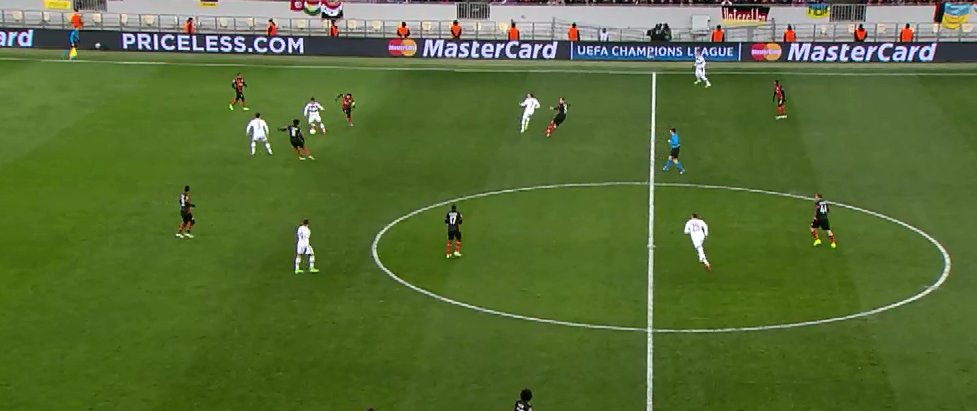 Now with Shakhtar balanced while still man-man, they have control of the centre of the field and can now go to try and win the ball back in a dangerous zone.
[wpsharely id="2988"][/wpsharely]
Shakhtar make a tackle and go to attack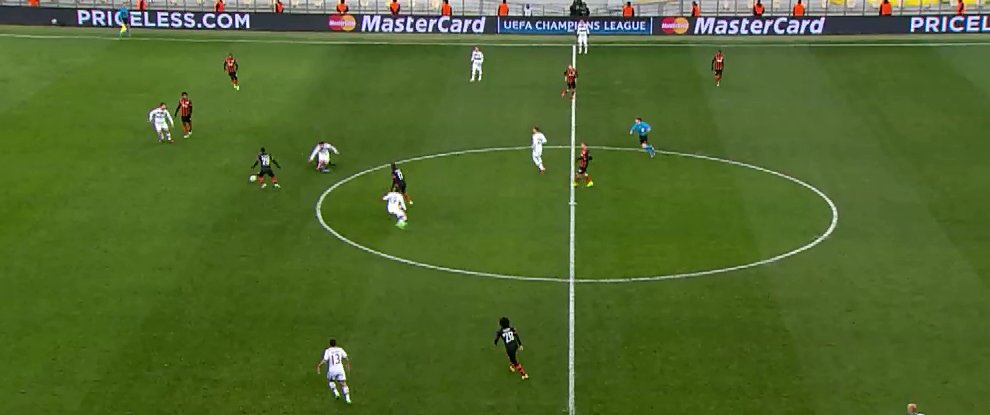 Alonso stops the attack with a foul which leads to him being sent off later on in the game with Shakhtar attacking 3v2 in the final 3rd, a good team foul which proves costly later in the game.
Overall, the Shakhtar game plan to be brave and press high is a method of stopping Bayern advancing forward quickly, while playing man-man makes the positional game of Bayern less effective as the 'set' spaces no longer exist against a man-man system. The sending off of Alonso on 65 minutes undoubtedly helped Shakhtar maintain the pressure for 90 minutes and they should be praised for their brave game plan which was ultimately successful.
By Stevie Grieve. (Follow on Twitter @steviegrieve)  Stevie is also the author Coaching the 4-2-3-1, Coaching the 4-2-3-1 Advanced Tactics and From Futsal to Soccer