By Sean Pearson
Area Size: 2/3 of Field
Teams: 8 v 8
Time: 20-25 Minutes
Objectives
To draw defenders out of position
To realize when to run beyond the striker
The players in black are set up in a 4-3-3 point down system (without full backs). This allows the #8 & #10 to start higher and closer to the striker. A lot of the time we want our striker on the ball and given the chances to shoot as they are most likely your best finisher. However if you play against a good defense that takes them out of the game you need to get other players beyond the defensive line. Running beyond the striker is a great way to get into these positions as it is very difficult for opposition players to stay with the runner, especially if they are from the midfield.
Start with your CB passing to a deeper wide striker/midfielder and instruct them to drive with the ball in field towards the closest CB. At the same time your striker aims to pull the other CB further away creating a larger gap between the CB's. When the CB starts to commit to the WS the closest center midfielder (#10/#8) begins their run. It is important they sprint!
The WS passes in front of the CM and the striker comes towards the ball. Because the other CB committed to come forward there is now space behind for the CM. At this moment the committed CB is looking to the right (at the ball) while the CM runs to their left, leaving them to run into the space unmarked. The Striker then plays a one time pass into the space with their right foot (front foot and furthest away from the CB). The angle of the striker's foot is such that naturally places the ball into the space. After which the striker spins behind the CB who is now also looking at the ball and cannot look at both ball and player. At the far post the opposite WS runs behind the FB. Now 3 of the 4 defenders are watching the ball and have taken their eyes off opposition players. At this point your CM can either shoot of pass across goal for one of the two players to tap in.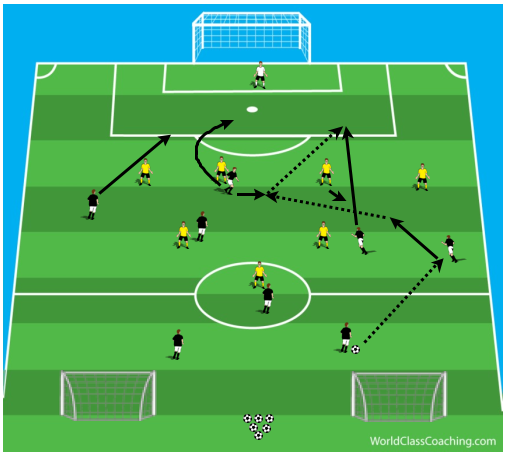 Coaching Points
Timing of Passes
Timing of Runs
Detail of technique
Variations
By Sean Pearson.  Sean is also the author Coaching Team Shape in the 3-3-1, Coaching Team Shape in the 4-2-3-1  and Coaching Team Shape in the 4-3-3