Today's post is by our Conditioning Experts at SoccerFIT and their partner Tristan Tillette. Tillette serves as Director of Performance at Elite Sports in Birmingham, AL and On-Line Training Director of AthleteFIT.com
This is the second post of the OUR GAME series – discussing the physical, technical, and psychological development of our youth as it pertains to the rest of the world.
The date is May 30th, 2011 and Barcelona is king of the futbol world.  They "el rondo"ed Man U and Sir Alex on their home turf.  The Catalans have become rock stars on the world's stage of the world's game . Soccer Ga Ga's if you will . Their style, flair, and creativity gives every second on the pitch a "what will they do next" type of feel. While their talent and skill is to die for, their passion joy is to LIVE for!  What makes Barca BARCA isn't their skill and flash but their love for the game and a deep commitment to the club and each other. Every player – from "the Flea" to the U9 keeper – is submerged in the culture of FC Barcelona .
That brings me to this point – What will it take for this unconditional love for the game,  for the club, and for each other to swim it's way across the Atlantic and infiltrate our soccer landscape?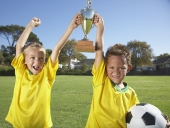 The first step is that our players, coaches, and parents must commit themselves to "the process." The American youth sports model is based upon the theory of competition before development. We assess results & improvement as more wins than losses as opposed to the acquisition of physical and technical skills, developing comfort in certain tactical situations, and simply achieving a greater love and understanding for the game. This process must begin with a submersion of our young athletes into the game. They must learn, love, and play not because they are trying to win but because they love to do so.
I view it as our duty as youth sports coaches,  fitness practitioners, and parents to set-up our kids to be successful and reap enjoyment from their on-field experiences. Our model currently doesn't allow this.  Our system of  "early specialization is bad,"  "don't want our kids to do TOO much"  but "'everyone gets a trophy" creates a paradox for the children of today.  We want them to enjoy the successes of commitment without committing….to win without really competing…to master a skill without consistently practicing? I must ask…WHAT ARE WE TEACHING OUR KIDS?
What I love most about sports is this – sometimes you win sometimes you lose, but all times the outcome is specifically reflective of YOUR commitment.  The field of play is one of the best avenues for today's youth to learn basic skills such as hard work, determination, commitment, and perseverance which will prepare them for the field of life. We must not allow our kids to succeed with simply "putting a toe in."  Whether it's arts, music, academia, sport, or life, success is a direct reflection of an individual's submersion in their activity.  We don't learn to swim by simply putting a toe in to see how it feels. If our kids are to swim in the "deep waters" of soccer today, then they must be neck deep in soccer…futbol…and play OUR way!
Stay tuned for our next post from the OUR GAME series – Improving the Physical.
See more from SoccerFIT Academy by visiting their blog and web site.