One of the perks of being apart of WORLD CLASS COACHING is that I have access to a large library of training sessions from some of the top professional, collegiate, and youth coaches. We have published books and DVDs on every aspect and topic of coaching.
I often refer to our DVD especially for new ways to approach topics to keep my coaching fresh and interesting to the players I work with. I think we're all probably guilty of using the same few drills or exercises for a specific technique over and over. This can be a good thing because it allows us to focus on teaching the game rather than having to spend a lot of time teaching the drill. But changing things up on occasion can breath new life into a stale session and motivate players to perform at a higher level with the addition of new challenges.
In the past if I was looking for a new warm-up for a shooting practice I would have to scan through three or four DVDs to find what I'm looking for. This changed recently with the addition of our new Video Library. It contains more than 400 clips from many of our most popular DVD titles covering a wide range of techniques and tactics. Now I can search this library and find a clip instantly. I can even log in and view the videos on my Android phone (it also works with the iPhone, iPod Touch and iPad).
Here's the warm-up I found from former US Woman's National Team Assistant, Lauren Gregg.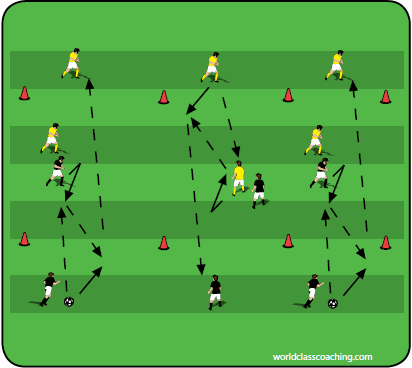 Warm-up
Balls traveling into stride, balls traveling away from stride, movements with back to goal, balls coming out of the air.
Procedure
Groups of four (2 players in the middle – one is a defender, one is an attacker) check away, receive pass, set, hit the target
Coaching Points
Check back at an angle
Receiving player – don't check square, check at an angle where you can see goal, teammate, and defender at the same time
Player receiving form the setter get on a 45 degree angle to strike into the target
Look over your shoulder
Not square – got to be at a 45 degree angle
If you need to take a touch to clean it up then do that.
Progression
Checking player now has the option to turn, dummy, or set
Coaching Points
Check to the ball with some urgency
Look over shoulder for defender
Targets adjust
Defender's defend like you mean it
You only need a half step to shoot
Receive with foot furthest from the defender
Check out the new Video Library have access to hundreds of drills, exercises and small-sided games on every technical and tactical topic.
Have a great day!
Tom