By Sean Pearson
Formation
With Chelsea's success under Antonio Conte changing his formation to a 3-4-3 after a 3-0 defeat to Arsenal in September they went on a record equaling 13 game winning streak. There is a lot to do with that but we will focus on how the front 3 in that system manage to manipulate the defensive line to confuse them and force them to make a decision and how Chelsea exploit that decision.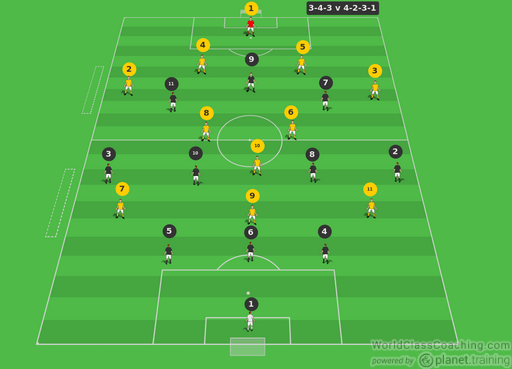 Manipulating defenders with a front 3
With the 3-4-3 system, the front 3 can be narrow, this creates a problem when coupled with advancing wingers. Who do the full backs mark? With the wider strikers occupying space between the CB's and FB's and hovering between the lines of the midfield and defense, when the winger advances the central midfielder watches the movement the FB makes and then decides who is the best option. If the FB follows the winger (in red) the wide striker is in the best position and if the FB steps to mark the wide striker the ball over the top into the space for the winger is on (in blue).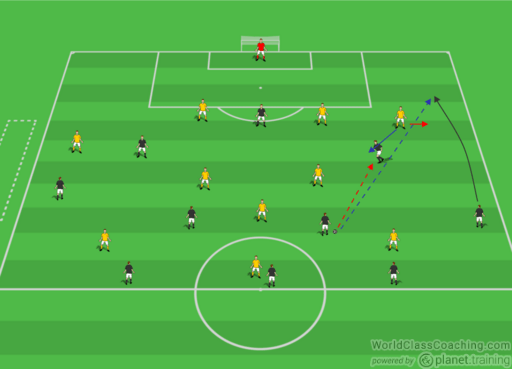 Imagine playing full game like this? With so much indecision the attacking team will be able to create chance, after chance, after chance.
If there is an option to go to the feet of the central striker they can drop down to receive the ball, like the false 9 position. If the two wide strikers wanted to occupy the CB's they would just need to be higher and closer together. If a CB went with the striker this leaves space behind them, a quick combination with a central midfielder and a winger pulling the FB out of position would allow a wide striker to exploit the space behind the CB.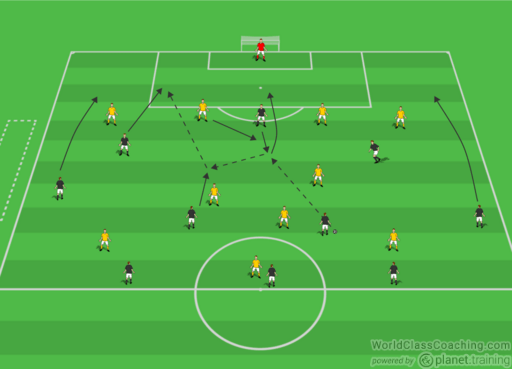 If the CB's do not go with the striker this allows the striker to turn and come forwards with the ball. From here any number of things could happen. (1) After a CB commits the wide striker can be slipped in behind the defense. (2) the striker can beat the CB 1v1 or even shoot if they keep backing off.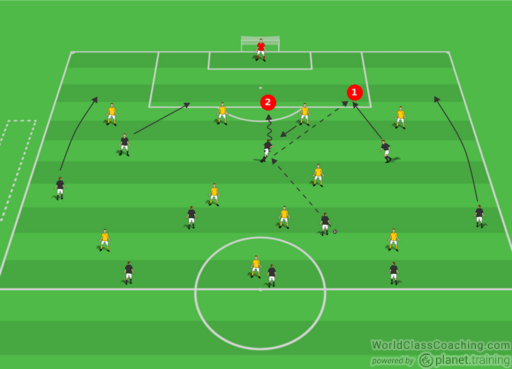 The key is for players to understand where to position themselves and why. Who does it manipulate and what option is best depending on when a certain defender steps to the ball.
By Sean Pearson.  Sean is also the author Coaching Team Shape in the 3-3-1, Coaching Team Shape in the 4-2-3-1  and Coaching Team Shape in the 4-3-3