By Sean Reed -
Objective
I have chosen to write about a couple of classic playground games which you would often seen played in the playground, down the park and even in the street. Games that allow the players to manage, take control and most of all let them play.
Set Up – World Cup Singles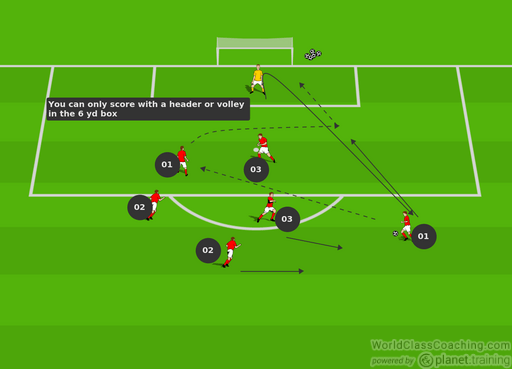 Diagram 1
Set Up
I goal
I Goalkeeper and 5 outfield players (anymore then you might look to go into the doubles game)
An area is can be created in front of the goal in which no goals can be scored from within
The ball starts with the goalkeeper and they with start the play by throwing the ball out onto the pitch area
The objective is for the individual player to score, once a player scores they are through to the next round
The last person left is out and the next round starts with all the players who scored going through
This continues until you reach only 2 players left in for the final. The winner of this game then becomes the champion
The number of goals to score within each round can be changed, as the player you might want players to have to score 2 goals to go through
Coaching Points
Being positive / confident when in possession of the ball
Creating a goal scoring opportunity
Working as an individual player
Defending, getting up to the ball
Working hard in and out of possession
Enjoy the game
Set Up – World Cup Doubles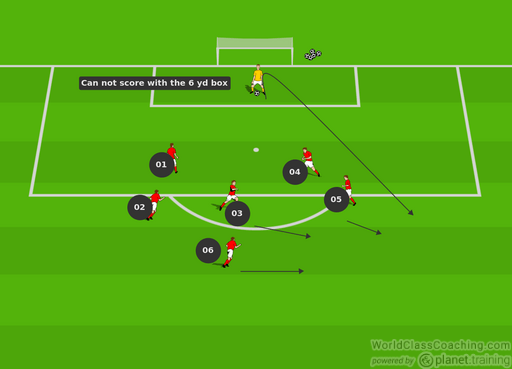 Diagram 2
Set Up
As with the previous session
Within this game the players are now playing in pairs
A pair must score 2 goals to go through into the next round, for the final it is 3 goals
Only headers or volleys can be scored in the 6 yard area
Coaching Point
Supporting angles / areas when in possession
Game plan based around out of possession
Working hard collectively to gain possession and take advantage of when in possession
Enjoy the game
Set Up – 3rd Headers and Volleys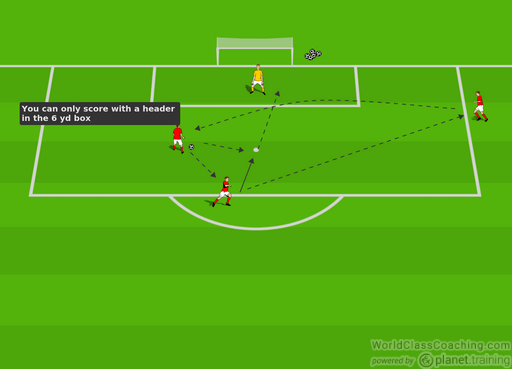 Diagram 3
Set Up
3 or more players
1 goalkeepers and 2/3/4 players outside
Goalkeeper starts on 11 points, outfield players start on 10 points
Players must score with either a header or a volley on the full
If the player scores, then the GK loses a point
If the GK catches the ball, the outfield player misses the goal or scores a goal but is not a header or volley on the full, they go in Goal
Coaching Points
Quality of passes / crosses played into the area
1st touch to set up the opportunity to finish
Quality on the finish, timing of movement, body shape and end product
Enjoy the game
By Sean Reed
Former First Team Coach of Championship side Fulham FC. Sean is a UEFA A Coach with a Masters in Sport Coaching. He has over 15 years of experience working in professional football from Academy through to First team in the Premiership and Championship.
Web - www.seanjreed.com
Twitter - @SeanJReed