HOW THE MATCH WAS WON by Keith Scarlett
Legue 1
October 26, 2014
Municipal de Gerland; Lyon
Lyon 1 v 0 Marseille
With a goal from Gourcuff midway through the second half, Olympique Lyonnais ended their run of eight consecutive defeats at the hands of Olympique Marseille.
Here is what I thought were the key tactical aspects that played into the outcome of this match. What are your thoughts? Please let me know what you think and what other tactics you think were a factor in this match in the comments section below.
Neither side surprised anyone with how they stared the match. Hubert Fournier chose the same eleven who blew-out Montpellier last week. For his part, Marcelo Bielsa's team extended the same standard that has hardly changed since the beginning of the season.
After facing Toulouse a week prior, OM was now facing an "atypical" system of play compared to those they have encountered thus far in Ligue 1 (i.e., 4-2-3-1, 4-1-4-1). Against Toulouse Payet was forced to play deeper than usual in order to create for Gignac, as Mendy and Dja Djedje were unable to gain any ground inside and offer support for Imbula.
From the first minutes of this match, Marseille once again found themselves in almost the same exact situation as they did a week earlier against Toulouse. Payet was forced to play deeper and deal with Gonalons, while his teammate; Imbula followed the movements of Gourcuff. This left Mendy and Dja Djedje faced-up with Ferri and Tolisso, respectively.
Lyon is Able to Avoid Pressure…but...How?
Since the beginning of the season, OM has become accustomed to succeeding by forcing their opponents to wilt from the high pressing they apply. However, this time around, the Phoenicians found themselves in the opposite role, playing the part of the team being pressed. OL's frontline of Fekir and Lacazette spent a lot of time locked-up with Marseille's outside backs of Romao and Morel, respectively, who both prevented each from making numerous dangerous forays forward with the ball.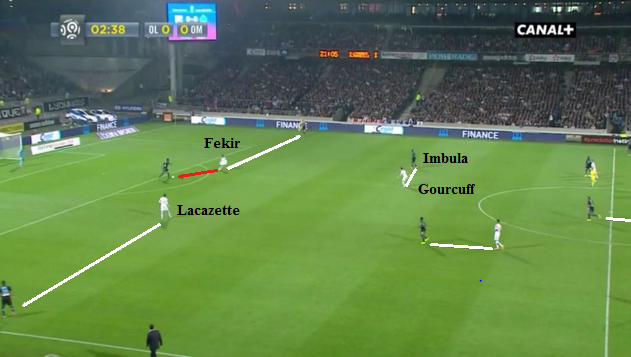 Fekir and Lacazette do lots of work to cut off the Marseille defence from the rest of the team. Gourcuff helps by loading himself up in the centre of the park, blocking Imbula and forcing OM to play long.
Struggling to get out of their own half, OM is forced to play long and is just unable to put the game into Lyon's end. When they are able to possess the ball in OL's defensive half, Hubert Fournier's' men recover quickly and regain their shape usually within 40 metres of goal.
What would occur is that their breakthroughs with the ball would create shifts in the individual marking responsibilities within the Marseille side. Specifically in deep and always in remote positions, Fekir and Lacazette would put Morel and Romao in difficult defensive situations consistently over the first quarter of an hour.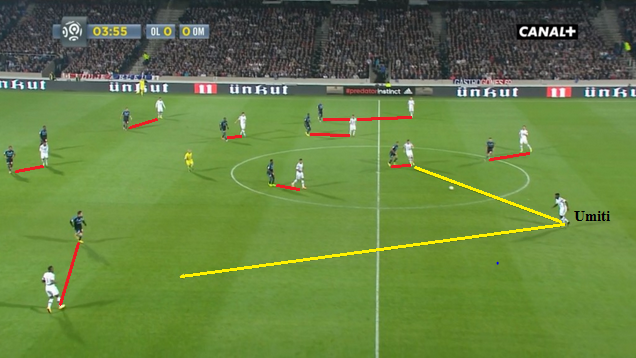 Marseille's marking job leaves a free central defender. Here, Bisevac Umtiti benefits from it and carries the ball forward.
As the match progresses, Gourcuff's mobility poses problems for Imbula and creates spaces for incursions from Tolisso and Ferri, when they are able to manage to slip away from Mendy and Dja Djedje.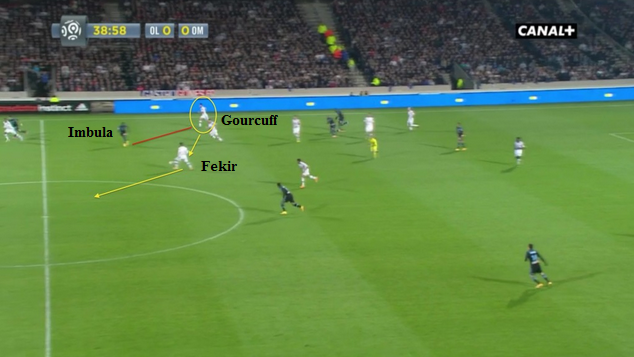 Here we see Gourcuff draw Imbula to the left, which opened up a seam in the half-space for Fekir to receive, turn and advance.
OM actually needed twenty minutes to find the right rhythm and become settled into this game. It all began for them with a burst of activity from Gignac and Payet, who began to really apply pressure and cause havoc for OL centre backs' Bisevac and Umtiti. This new pressure forced the Lyon defenders to start playing more direct, which in turn created more 50/50 balls and in turn allowed OM to win more balls as the match progressed. Now, with more of the ball, they were able to begin to solve some of the problems that they had been facing earlier in the match.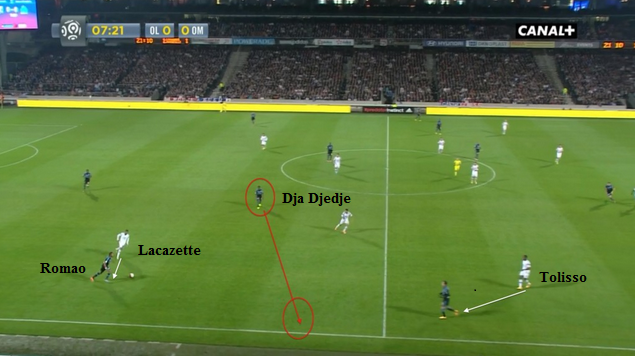 Early in the match, Dja Djedje tried to remain centrally when his side had possession. This actually made the defensive work for Lyon easier as Dja Djedje's positioning on the pitch dictated where Marseille could play which was into the natural positioning of Tolisso, which then allowed Lacazette to focus on Romao.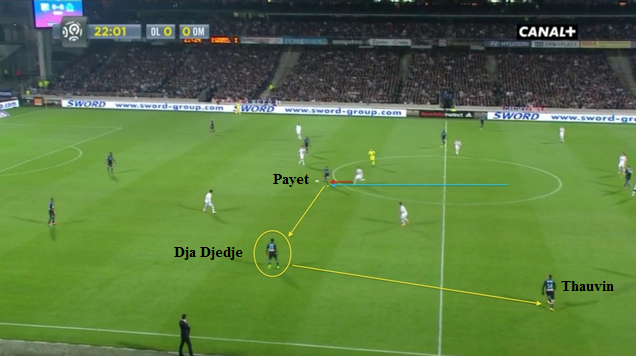 However, as the match progressed, Payet would begin to check back deeper Marseille. He was able to better dictate the pace of play and find ways of efficiently connecting with his wide players in advanced positons such as Thauvin (as seen here).
Marcelo Bielsa then made his adjustments' on the flanks. First, Payet moves laterally across the width of the park engaging in the activity out wide.
Second, Dja Djedje received a knock in the 38th minute that limited his activity in the busy corridor, so Lemina was brought on in his place. Unfortunately, Lemina was excessively discreet and left Thauvin the task of creating on the dribble and via his pace all alone.
In the second half, OM continued to raise their game. Lyon had a much more difficult time going about maintaining possession in advanced positions. Fekir and Lacazette were less aggressive in their pressuring of Morel or Romao, respectively and Nkoulou, now seemingly left free by Lyon to make the first pass, has started to become an integral piece of Marseille's game plan.
Now, the truth be told, the Cameroonian obviously needs players available to him in order to really be effective with the ball. This is where that previous movement of Payet checking-back to help create really becomes a key-factor for OM. Followed by Gonalons, they repeatedly take advantage of this and speed up the pace of the match by finding both flanks; Thauvin on the right and Mendy on the left.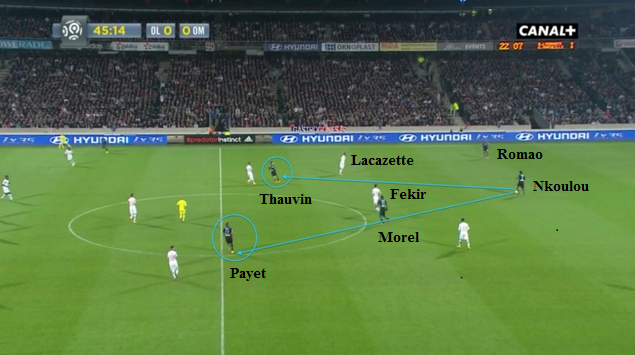 Upon gaining possession, Payet (with Thauvin in this sequence) would drop-in deeper to provide options for Nkoulou. This was important as Fekir and Lacazette would have Morel and Romao on lock.
Now capable of brining the match to Lyon, Marseille begins to really turn up the pressure and stay there. OL finds it increasingly difficult to stand out and opportunities for OM are increasing by the minute forcing several key saves from Lopes. In short, OM finally dominates the match in almost every category except the one that matters; the scoreboard…and punishment for not doing so came quickly.
As expected, this meeting was very rich from a tactical perspective. Lyon are well into their season, putting pressure on a Marseille side that is used to playing that very role since the beginning of the season.
Subsequently, however, they suffered in this match while Marseille continued to build and eventually succeeded in showing how dangerous they can be. Never the less, Lopes kept his team in the match as OM ultimately lacked any realism and finally paid the price for such.
…Lyon knowing how to tactically avoid Marseille's pressure, withstand the late Marseille push and the individual efforts of players such as Lacazette and Gourcuff were all factors in How The Match Was Won!
What do you think?
I would love to hear your thoughts about this or other tactics of the match that were an important factor in its outcome. Let's discuss it below in the comments section.
HOW THE MATCH WAS WON by Keith Scarlett, Assistant Women's Football Coach – Perth Glory FC, Australia, former U.S. Soccer National Staff, follow him on Twitter @keithscarlett and catch his personal blog, "An American Coach Down Under:" http://keithscarlett.blogspot.com