Is it time to start 'Fall' practices again already! If you're like me you found yourself asking this question this week. I don't know where the summer break went but it's gone.
Like the first few series of the football game, I like to plan out my first few weeks of training way ahead of time. I know I want to cover a number of topics including some technique to knock the rust off. I also want to start talking about how were going to defend and attack. With older teams this involves our formation and the roles and responsibilities of each player. I also want to set a tone the attitude I want the teams to play with.
So this year I decided to start with a 1 v 1 defending session that John Walker, Head Women's Soccer Coach at Nebraska, presented at our Nebraska WORLD CLASS COACHING International Seminar. This session includes technical and tactical aspects while also emphasizing a competitive mentality.
1 v 1 Defending with Transition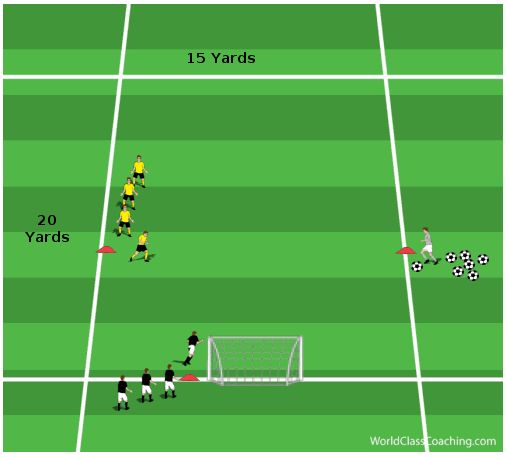 Coaching Points
Closing down with pace
Making attacking predictable
End point
Body Position: low,side on, weight on back leg
Contact with arms, legs hips - be big
Get body between the opponent and the ball
Transition to attack: keep ball (not kicked out of play) by passing, shielding or dribbling
1 v 1 Defending to Goal with Transition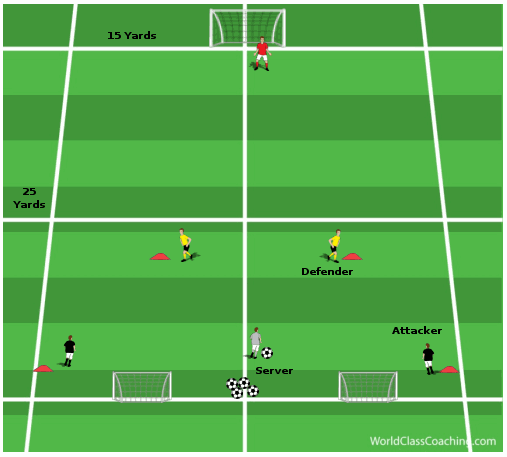 Coaching Points
All key points as above plus the following
No separation as will lead to free shot by attacker
Preparation to block shot or take away half of goal to aid the Goalkeeper
Add a wall play for attackers - so now the defenders are dealing with defending against a give and go around the top of the box
Transition to attack
These simple exercises create a lot of opportunities to coach.  You can focus on the aspect that your team needs to work on the most. It's also a fun and engaging session because one you add the wall passer the exercise every aspect of the game.
What sessions do you like to start the season with? Do you focus more on attacking or defending?
Have a Great Day,
Tom