By Alex Trukan
This exercise combines tactical theme of counter attacking from the middle areas with conditioning emphasis on speed endurance. Physical side of transition from defence to attack is based on quick reaction and forward runs both with and without the ball. Focus on speed endurance will enable players to sustain the quality of each counter attack throughout the whole match.
Set up and directions
Set up a 30x40 m. rectangle around the middle area of the pitch. Divide the team into 2 groups of 4 players and organise additional 3 neutral players. Place the goalkeeper in the goal. Team in possession tries to play the ball between two wide neutral players (1 point if the ball is played from one side to another using middle players), and into deep lying neutral player (2 points). That creates realistic scenario of possession for penetration. Defending team is trying to gain possession, at the same time preventing attacking team from scoring.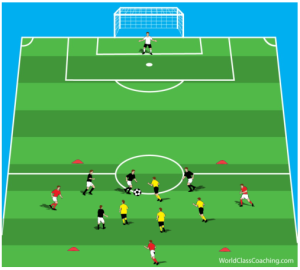 As soon as the defending team gets in possession, their aim is to attack full sized goal. Two wide neutral players join the attacking team what creates 6v4 situation. That forces defenders to recover as soon and as effective as possible.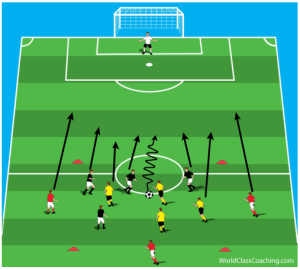 The aim of the attacking team is to score a goal not exceeding the time limit of 10 seconds. After that, the teams swap their roles or third team comes in as a counter attacking team (depending on numbers).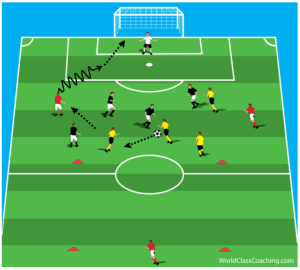 Timing:
Duration of play is between 10-12 mins. in 1'30'' – 2'' mins. intervals. The timing of counter attacking will be managed naturally according to game situation.
Variations:
5v5 + 2/3/4 neutral players
5v5 in counter attack (neutral players don't join)
Vary the area location (distance/time of counter attacking)
By Alex Trukan, Development Coach, Nottingham Forest