By Alex Trukan
Passing backwards is generally considered by many fans as boring and rather pointless. Although, going backwards is probably more common for possession tiki-taka type of tactics, it is still considered as undesirable, with the highest priority to go forwards whenever possible. Completely agreed, however, regardless of the team's style of play, a pass backwards can be used strategically, to create a better chance for penetration or goalscoring opportunity. It can also be a last resort option when under pressure or a strategy to keep possession for longer and get the momentum back. The emphasis should be on getting the ball forwards or at least sideways after it's passed backwards. Two backwards passes in a row usually lead to opposition getting reorganised and pressing higher up the pitch.
One of the first reasons to pass backwards might be when a team can't penetrate directly forwards and no options are available to go sideways. In this case, passing the ball backwards and recycling it through the back or midfield lines gives an option to switch the point of attack and start again. It might also help in avoiding pressing traps set by the opposition in wide areas of the pitch.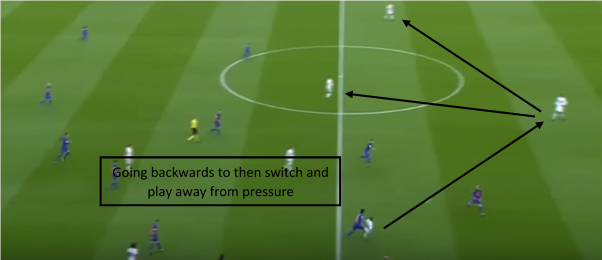 Another option is to set the ball back when facing the own goal and under heavy pressure. This will enable the player facing opposition's goal (receiver) to see more options and get the ball forwards more effectively. Immediate support and quick play off one touch is crucial to make this option work.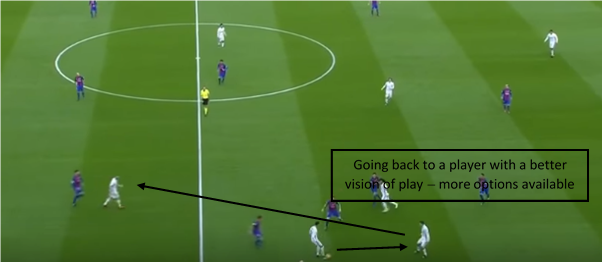 Player on the ball might choose to play forwards and then receive the ball again to relief or delay pressure. This is a form of 'teasing' the opposition and forcing them to apply pressure on the player that will pass the ball backwards straight away off one touch. This might help the initial player on the ball to have a quick scan of the pitch and consider better options to play forwards.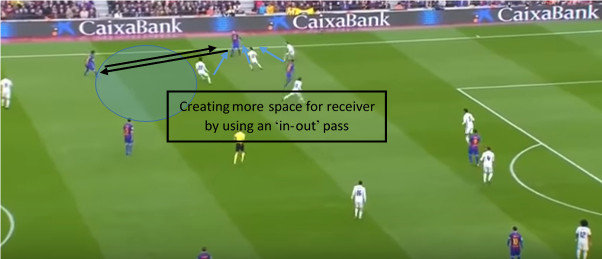 Set and go type of combinations using a pass backwards are very popular in and around the box. These can be used to create a direct shooting chance but also to play one two around the opposition players. This can be especially effective when the opposition plays flat line without defensive midfielders. Before a pass back is played, a player on the ball should commit defender to create more space for other players. This is similar to the way handball attacking tactics look like.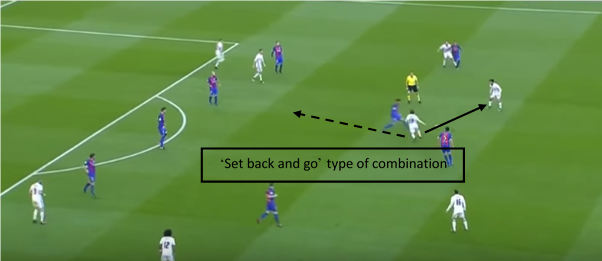 Set back might be also used to deliver the ball into the box or exploit third man runs. Timing of the runs to avoid off side are crucial as the opposition will move forwards as the ball is set back. These combinations are often used in half spaces around the corners of the penalty box. If strikers are not yet available inside the box, another option might be to get the ball sideways onto overlapping full backs.
Whenever a player decides to go backwards, he should know a reason for it and use it strategically. From a psychological point of view, if a player commits couple of mistakes, a good strategy to get the confidence back again might be to make couple of 'easy' passes, some of which might be backwards.
By Alex Trukan, Development Coach, Nottingham Forest
@AlexTrukan