By Anthony Hazelwood
The following activity has two groups of players initially playing a 3 vs. 2 possession game. The two defenders play in numerical inferiority for the first 20 seconds and then are joined by two teammates turning the activity into a 3 vs. 4 exercise. The idea is to have two types of fluid possession games within the time of play while having both teams play in numerical inferiority at some point.
When preparing the practice, if needed, concentration and difficulty levels may be increased by having players execute something extra unique by setting more restrictions. Every activity may be modified, and it is up to the coach to be creative. However, it is important to respect the parameters of the exercise time, the rest, the types of actions used and the weekly periodization of the activity.
Additionally, it is beneficial to train a soccer team and its players with all the elements of the game being present in the session. By doing so, it will promote soccer specific adaptations to the player's body, mind, and emotional triad. Ultimately, these adjustments will enhance their real-time game performances on a physical, emotional, conscious, and subconscious mental level.
Area Size: Square: 15 yds. L x 15 yds. W; Triangles: Base: 15 yds. x Sides: 7 yds.
Total Activity Time: 10 Minutes.
Sets: 1 set.
Activity Repetitions: 5 repetitions.
Time of Activity Repetition: 1 minute.
Recovery Time: 1 minute.
Intensity: High.
Objectives:
• Tactical: Defending in numerical inferiority – possession based principles in attack.
• Fitness: Muscle Tension activity with anaerobic capacity training adaptations.
• Technique: Proper fitness and off/on the ball execution/techniques.
• Mental-Emotional: Players fully engaged and concentration is high.
• Concentration Level: High.
Setup: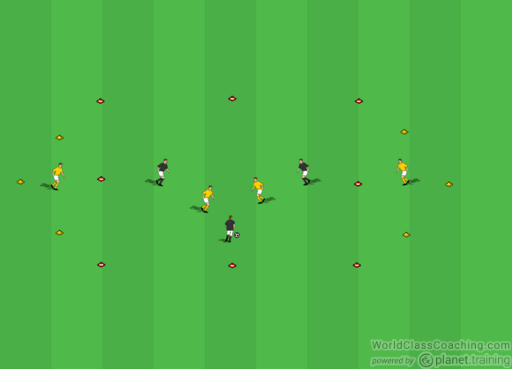 • Mark out a 15-yd. x 15 yd.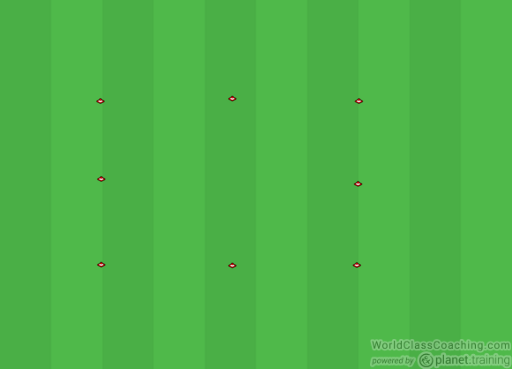 • Then Mark out a Isosceles triangle on the outside and at the sides of the square.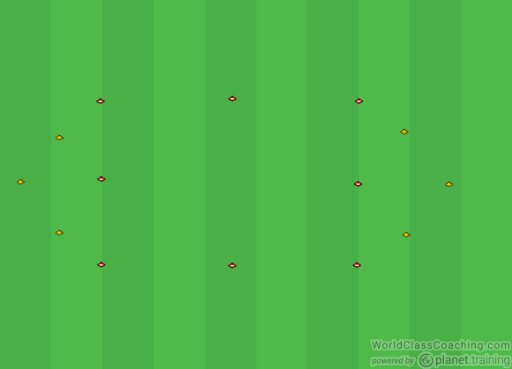 • To begin, three players in black and two players in yellow (numerical inferiority) play in the square. Two yellow players are put on the outside of the square and inside the triangles.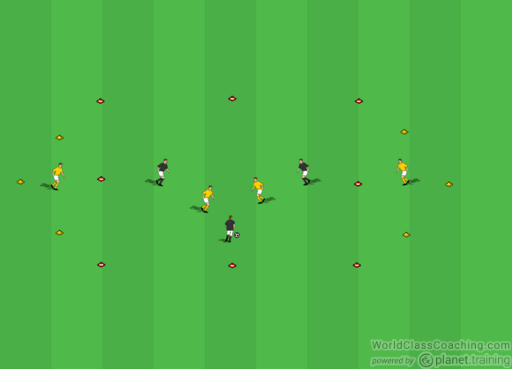 • The yellow players located inside the triangles will be doing different types of exercises (pushups, squats, planks, etc.) for the first 20 seconds.
• When the 20 seconds are complete, the activity turns into a 4 vs. 3 activity using the whole shaped grid (square and triangles).
• Black team are now in numerical inferiority.
• Points are scored for every 5 passes.
Coaching Points:
• High competitive mindset when defending down in numbers.
• Ability to display proper ball speed.
• Correct supporting angles and distances when in attack, defense and transitions.
By Anthony Hazelwood
Current Seattle Sounders Academy Performance Coach with previous European academy coaching experience as an assistant fitness and strength/conditioning soccer coach with Levante U.D. (2013-2014) and Getafe SAD CF (2015-2016) in Valencia and Madrid, Spain respectively. A USSF "A" licensed coach with a BSc in Physical Education and an MSc in Sports Training and Nutrition.