By Sean Reed -
Objective
This session is a continuation of the 3 v 2 activities in previous weeks but now includes an additional defender making a recovery run that will encourage the attacking teams to finish as soon as possible.
Session 1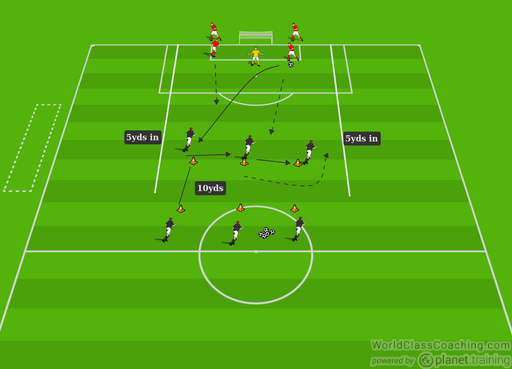 Diagram 1
Set Up
Working within one half of the pitch 5yds inside of the penalty area each side
3 (Attackers) v 2 (Defenders)
Attacking players start on cones outlined (with a 2nd set of cones 10yds away from 1st set of cones)
Defenders start on the edge of 6yd area
1 defender plays a pass out to one of the attackers (who must play a pass and overlap to attack)
Defenders then close the ball down to prevent attacking team from scoring
Regardless of the outcome when the ball is out of play the attacking players make a recover run. Increase pace to 1st cone then increase to 2nd cone
If you are working with small numbers increase the rest between attacks
There are offside's
Progressions
Introduction of 2nd and 3rd Ball (Time limit 8 secs and 6 secs)
Coaching Points
1st touch to play into attacking player then next movement
Forward runs, overlapping, running in behind to disrupt defending players
Movement to create space and angles of support
Creating 1v1 and 2v1 situations
Be positive
Decision-making in possession drive forward or pass
Timing of pass and movement
End product / finish on goal
Tempo of play to exploit overload and isolate defender
Timing of movement of when to come in (high up) or stay wide (deeper)
2nd phase recovering runs
Defending players, nearest player up to the ball – looking to reduce size of the pitch
2nd defender supporting distances, body shape on the cover
Isolate attacking players – prevent option to play out (especially nearer to goal (keep them going down one side / weaker side)
Session 2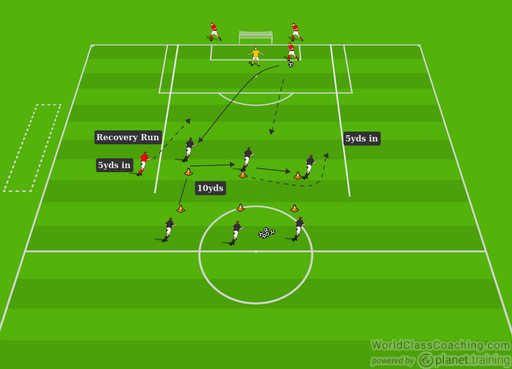 Diagram 2
Set Up
As with previous session, but one of the defenders now starts alongside one of the attackers
Once the ball has been received by one of the attacking players the defender can make their recovery run
Progressions
The attacking player does not have to make a pass, can run with the ball
Introduce 2nd & 3rd ball (Limit time 8secs and 6secs)
Coaching Point
Attacking player positive with 1st touch
Use space available with only 1 defender, move the ball quickly
Tempo of play
Speed and line of recovery from the defending player
1st defender looking to hold play up allowing the recovering defender to get back in
Session 3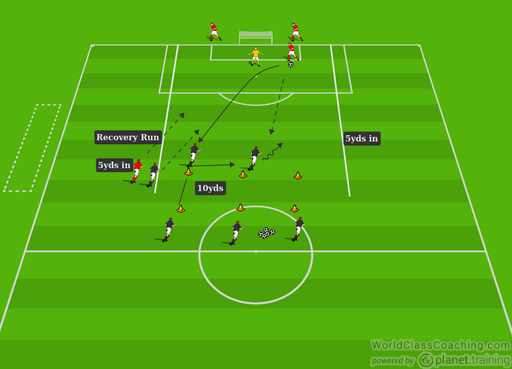 Diagram 3
Set Up
As with the previous session.
Within this session both 1 defender and 1 attacker will be making recovery and forward runs respectively
Progressions
Limit touches in defending half to encourage quick play (use GK)
Change the side the players recovering start
Coaching Points
As within previous sessions
Speed of players joining in (recovery and attacking)
Exploit the overload, move the ball quickly, play into space
End product
By Sean Reed
Former First Team Coach of Championship side Fulham FC. Sean is a UEFA A Coach with a Masters in Sport Coaching. He has over 15 years of experience working in professional football from Academy through to First team in the Premiership and Championship.
Web - www.seanjreed.com
Twitter - @SeanJReed