This is my favorite possession game because it includes so many aspects of the game as well as a great fitness component. It's also very scalable to the number of players you have as well as the ability level of the players.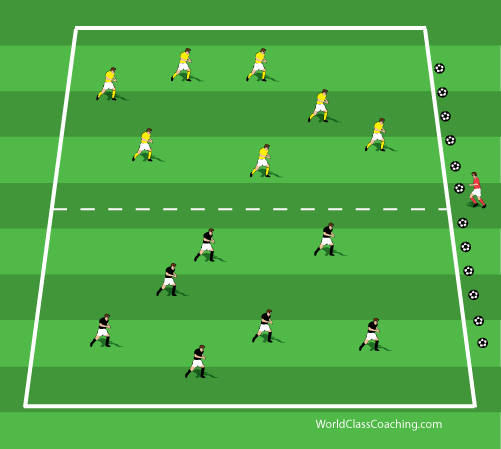 Two teams of players are assigned one half of the field. They're also numbered one to seven. The coach passes the ball into one half of the field and two defenders move from the other half to try to win the ball. The team in possession receives one point for every five consecutive passes. The defending team is allowed to send an extra defender to pressure the ball each time the team in possession completes five passes.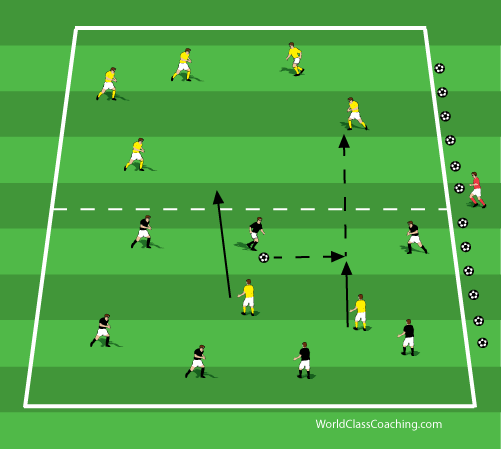 If the defenders win the ball they pass it to their teammates on the other half and start to connect passes. Only passes made in their attacking half of the field count. The attacking team should work to keep the ball in their half if a defender gets a touch or wins the ball.
When the ball goes out of play for the first time player number one from each team sprints to a ball near the sideline. The first player to reach a ball starts passing to their teammates. Player number two sprints the next time and so on. The game continues for a set period of time or until a team reaches a certain score.
With less experienced teams I'll allow the team in possession to make five passes BEFORE a defender is allowed to pressure. This gives them time to spread out and get into a rythm before being pressured. With older, more accomplished players, the entire team moves into the other half to try and win the ball.
Having a game that involves possession, defensive pressing, transitional play and conditioning makes this a very economical activity. It's also a fun game that the players enjoy so they'll play it again and again.
I first saw this game played by Dave Tenney on our, "Modern Conditioning" DVD. Here is a clip of this game from the DVD.
Please share any thoughts or suggestions by leaving a comment.
Have a Great Day!
Tom Mura