By Justin Cresser Author of Total Soccer Conditioning: A Ball Orientated Approach
In this week's article, we continue with our series that focuses on developing position-specific conditioning needs. The exercise presented below targets both central defenders and strikers and is taken from my book entitled: Total Soccer Conditioning: A ball-Oriented Approach.
The objectives of this activity are to i) coach defenders and strikers the technique and tactics required in 1 v situations close to goal; ii) improve the ability of the striker to receive under pressure; and iii) develop anaerobic endurance.
Set-up and Directions: This activity uses the 18-yard box and the area just outside it for the playing area. Have 5 to 6 players, with a ball each, stand 5 yards outside of the 18-yard box. They should be spaced equally apart. Instruct your central defender and your striker to stand at the penalty spot facing the players with the ball (Figure 1).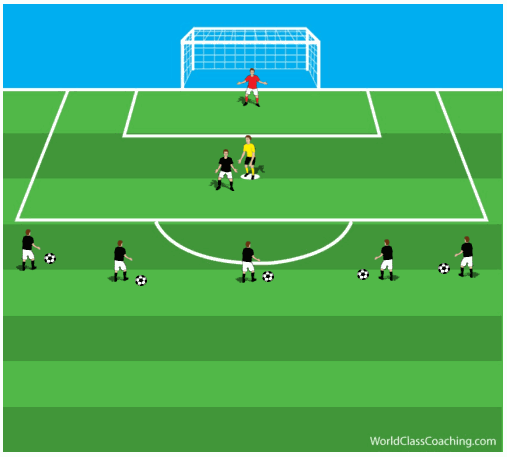 Play is initiated by the striker who tries to evade their marker to receive a ball in space (Figure 2). They can receive the ball from any of the players on the
Continue reading