By Vasco Mota Pereira, PortuGOAL correspondent
Playing football it the highest echelons revolves around much more than simply nutmegs and tackles. Despite what the vox populi may have us thinking, results are more than the mere consequence of wanting the win more than one's opponent or "getting stuck into them".
Even though the motivational aspects of the game are all too important, the proper organisation of a team may help players even more - particularly when they are exhausted, hearts beating at 180 bpm and little oxygen actually getting to their brains, impairing the decision-making process. That is why well-oriented exercises in training sessions are vital to get the team to perform consistently week in, week out, rather than succumb to the players or supporters' moods.
As mentioned in the previous post, zonal marking seems to be all but disappearing in England. With the influx of foreign managers and players towards the Premier League, the English game became more Continental and not as insular - in short, less about individual duels as Sir Bobby Robson liked to emphasize during his stint in Portugal. However, with the advent of 4x2x3x1, teams tend to be a little less packed down the middle and to defend in two banks of four, often opening up huge gaps in between their lines.
After breaking down Manchester United's vulnerabilities, it is now time to take a look at Tottenham - specifically their match against Southampton a couple of weeks ago and the Saints' goal.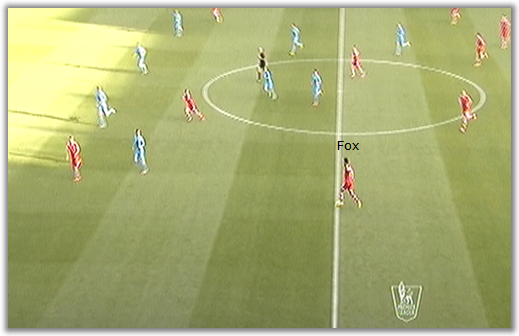 Tottenham had lost the ball a few seconds earlier whilst attacking down their left wing. Southampton followed the textbook and immediately sought to remove the ball from the crowded area. Fox then receives it in acres of space. It should be noted that this is not a lightning-quick breakaway, with Fox progressing swiftly, rather than sprinting.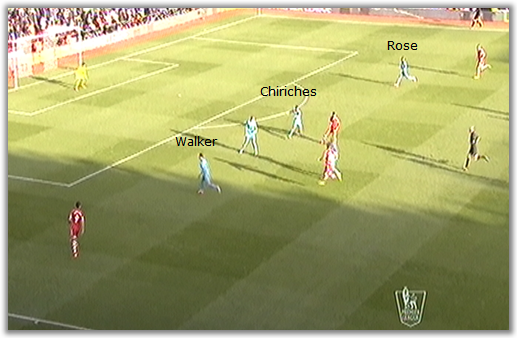 Fox is allowed to venture forward up to less than 10 yards out of the penalty box, with hardly any pressure from a Spurs players. The vigour of man-marking duties could hardly be any clearer, with Kyle Walker focusing his sole attention on his direct opponent. Danny Rose's case is even more obvious, as he does little to shorten the space between him and the left-sided centre-back (Chiriches).
Vlad Chiriches compounds the team's less than stellar defensive approach by miscalculating Lallana's movement and, 1x1 against his opponent, tries to nick the ball on the forward's blind side rather than holding his ground and waiting for back-up. Football's basic rule clearly states that, in such a situation, the defender should cover the line between the ball and the goal, rather than ceding any ground.
Lallana's clever - but hardly unexpected - dummy leaves Chiriches for dead and the Southampton forward with an open avenue for goal. Danny Rose's stance clearly shows the left-back's unwillingness to plug the gap and provide coverage for his ill-positioned centre-back, stopping in his tracks (apparently more concerned with his direct opponent).
[wpsharely id="2988"][/wpsharely]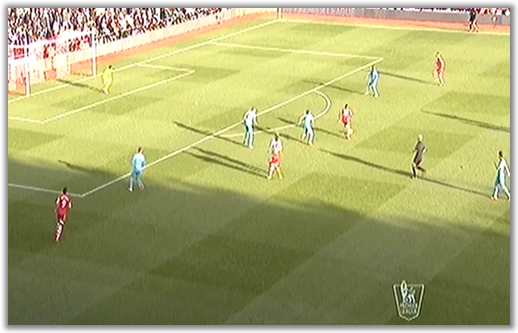 The final picture shows Chiriches completely out of position, Walker slowing down and Danny Rose standing still with little intention of doing what should be part of his duties - staying alert to compensate his defensive team-mates' positioning or even mistimed tackles.
Conclusion
These particular cases (Manchester United and Tottenham) are but a fraction of what goes on weekly in the Premier League. It seems the latest years brought some sort of regression to less systemic defensive approaches. While the average supporter may revel in the amount of goals and clear-cut chances their team may enjoy, it is nonetheless odd that such well-paid elite professionals as footballers are seemingly left to their own devices, rather than working in tandem with each other to restrict their opponents' chances of hurting them. Even though the Premier League is still the most watched football league in the world, it's certainly not the place where the sport is at its peak.
By Vasco Mota Pereira, PortuGOAL correspondent