By Sean Reed - 
Next few sessions will focus on players combining, playing 1-2's to create and maintain possession.
Objective: Session 1
Working on angles of support, body shape, timing of movement and playing the ball in front of the player combining.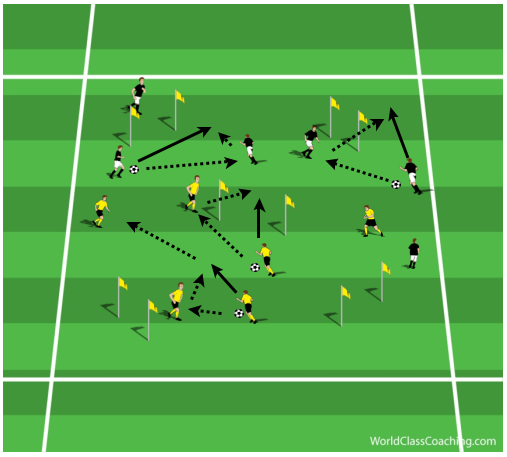 Set Up
Using the example above with 12 players. Split to group into 2 teams. 2 balls per team
Area is 35yd x 35yd but can be changed depending on the group and on challenging the players.
5 gates set up using poles. 3-5 yds apart these can be changed as and when
Stage 1: The two teams passing and moving with own team. Must pass through a gate, when unoccupied
Note: Can progress to play a pass anywhere with the opposition to get it back and only through the gates to your own team – works on the players awareness
Stage 2: Playing 1-2's with their own team anywhere within the area and then laying a pass off through a gate to another teammate.
Note: Can progress it where players play a ½ with the opposite team and then play a pass to their own teammate. Again, encourages their awareness and keeps them attentive to all 4 footballs.
Stage 3: Playing 1-2's using the poles. Players must play a ½ around them then play to another teammate anywhere within the area
Coaching Points
Awareness of areas to receive the ball
Angle of support
Body shape
Playing and receiving on the back foot
1st touch
Playing on angles
Ball position – in front of the player coming on to it
Speed of play – Acceleration or Pass the ball to get away quickly
Next movement
Objective: Session 2
This session focuses on combining round people, where, when and how.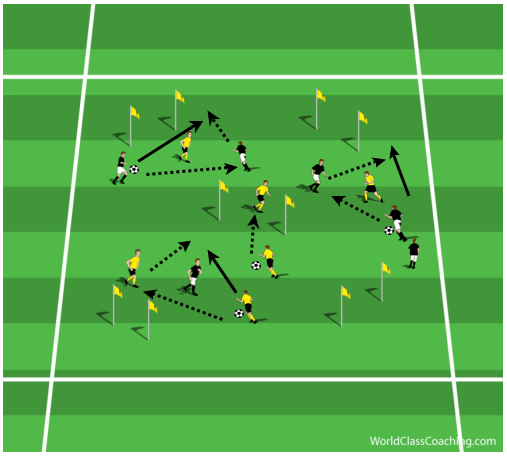 Set Up
The set ups is the same, but this time we are looking for the players to play a 1-2 around the opposition
Then playing a pass through a gate to a teammate to take with them
There is constant traffic with players moving. Therefore, players will need to identify the opportunities of where, when and how to carry this out. Players need to recognize the opportunities.
Coaching Points
As above within the previous session
Awareness / timing of opportunities to combine
Type and speed of movement
Quality and pace on the 1st pass
2nd pass played in front
Acceleration or next pass to get away from the player you have played round
[wpsharely id="1204"][/wpsharely]
Objective: Session 3
The next progression to is now take this into a competitive possession based game.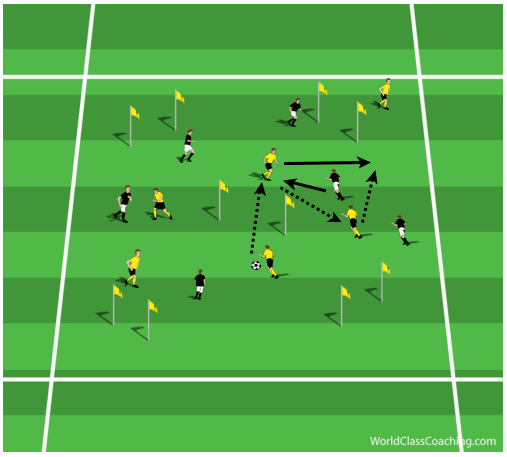 Set Up
Possession based game with a number of options in which the teams can score
Score by either playing a pass through the gate or playing a ½ round an opposition player
The gates can be removed and within the area play a team can score with 10 passes and/or playing a 1-2 round an opposition player
To encourage them to look for ½'s the teams can be rewarded with 2 goals for a 1-2
Coaching Points
Tempo of play – keeping the ball moving
Reducing the time between touches
Patience and decision making in possession (choice of pass)
Movement and angle of support
Quick play when combining
Playing and receiving on the back foot
Next movement
By Sean Reed
Former First Team Coach of Championship side Fulham FC. Sean is a UEFA A Coach with a Masters in Sport Coaching. He has over 15 years of experience working in professional football from Academy through to First team in the Premiership and Championship.
Linkedin - www.developmentofplayers.com
Twitter - @SeanJReed