By Alex Trukan
Attacking pattern play creates a significant opportunity to break through even the most organised defences and create goal scoring chances. It is based on rehearsed, quick and synchronised movements of the players and the ball. Attacking patterns also have to have an end product, whether it is a shot, cross or an opening pass, it is crucial to make it with a certain aim in mind. One of the key areas in which pattern play might be used are the wings. In this zone, it will usually involve a full back, winger, striker and possibly a central midfielder. This articles presents couple of pattern play movements that can be used in wide areas.
Usually, the key two players involved in patterns of play on the wings would be a full back and a winger. This might be further supported by striker's as well as central midfielder's movements. Primary example of a pattern play between these players is combination down the line. In this case, striker as well as winger would make a movement towards central areas (opening up spaces on the wing). As the ball is played from the centre back to the full back, a winger would make a quick movement into the wide area in order to receive a pass down the line from a full back. Striker would still remain centrally to drag the centre backs away and finalise from a cross.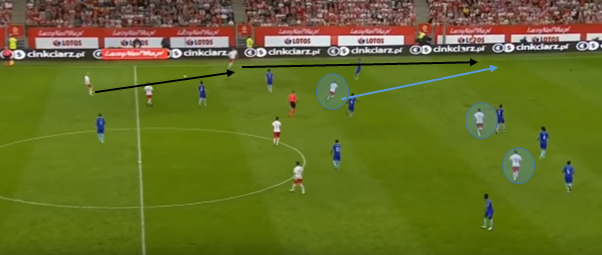 Another pattern is aimed into getting the ball centrally for the midfielder to drive forwards. In this situation, one of the central midfielders would pass the ball to the full back positioned wide, after what, he would then make a run forwards to take the defending player with him. At the same time second midfielder would show into space created and receive the ball back from the full back in order to play forwards. Another option is full back driving straight away into space created by central midfielder's forward run.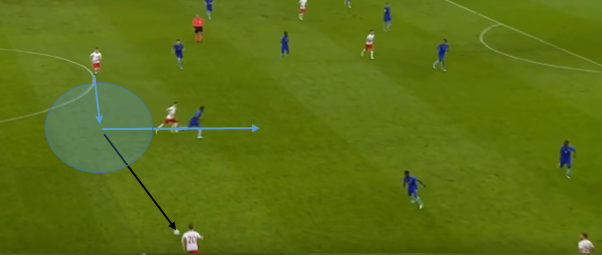 As the ball is played from central midfielder to the full back, winger positioned wide might also choose to run into the middle, and receive the ball from the full back centrally. This type of a run by winger should be ideally made in behind the defending player (usually left midfielder). This pattern could then lead into further play through the centre or through ball into the strikers running wide (into space previously occupied by a winger).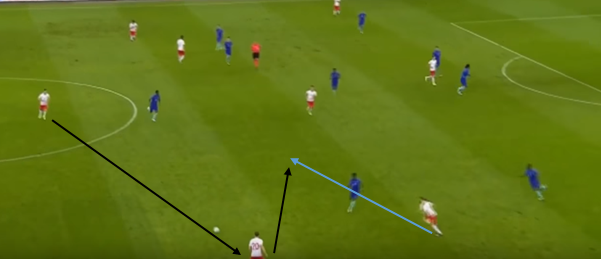 Another option with winger dropping into the centre is when he receives the ball from central midfielder in half spaces to then play it forwards into the full back making a run. Additional run can be also made by a striker what would create extra option and pose a problem for defenders.
[wpsharely id="2988"][/wpsharely]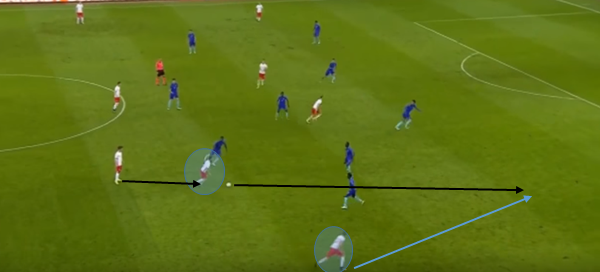 When winger gets on the ball in wide areas, he might choose to drive centrally to then combine with one of the players there. At the same time, full back on his side would make a forward overlapping run to receive the ball again and potentially cross. This pattern helps to get both wingers into the penalty box to finish from a cross. It also creates more space for the full back to run into.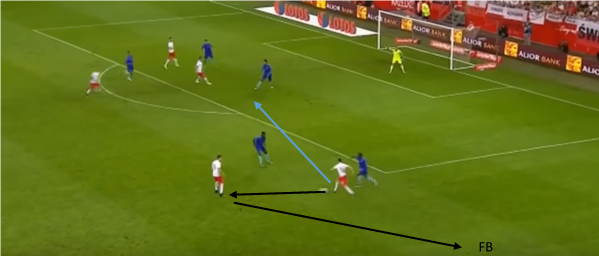 The key in using pattern play is variety. Players should learn different combinations and try to apply them only in relevant situations, based on certain triggers. This will make the attacking more unpredictable and difficult to defend against.
By Alex Trukan, Development Coach, Nottingham Forest
@AlexTrukan